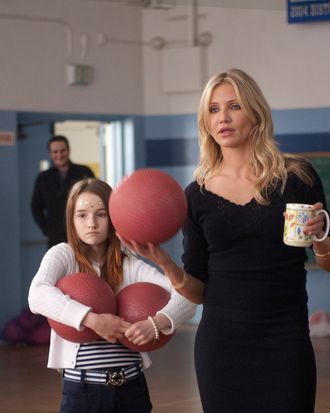 Photo: Photo Credit: Gemma LaMana/?2011 Columbia TriStar Marketing Group, Inc. All Rights Reserved. **ALL IMAGES ARE PROPERTY OF SONY PICTURES ENTERTAINMENT INC. FOR PROMOTIONAL USE ONLY. SALE, DUPLICATION OR TRANSFER OF THIS MATERIAL IS STRICTLY PROHIBITED.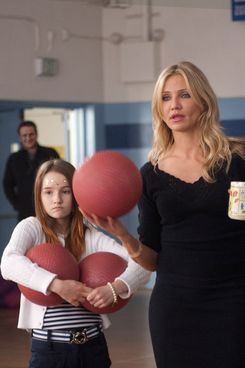 It's been a pretty amazing year for R-rated comedies. The Hangover Part II is nearing a huge $250 million gross; Bridesmaids recently demolished the box-office records for both Judd Apatow movies and R-rated female comedies; and even Bad Teacher, made on a shoestring $19 million budget, has more than tripled that in just its second week in release. How have studios responded to this encouraging trend? Counterintuitively, reports the L.A. Times: They're slashing budgets and making fewer comedies.
The fact that [comedies] typically aren't popular overseas — where culturally specific humor can be difficult to translate — has become a larger obstacle in an increasingly global film business. But even more significant is that comedies have been hit particularly hard by the dramatic slump in sales of DVDs, which have long accounted for the majority of profits on most movies.
DVD revenue for the average comedy plummeted 63% from 2006 to 2010, according to research firm IHS Screen Digest, compared with a 39% decline in the overall market …
"Because of the weakening DVD market, even when we love the material it doesn't make sense for us to make a creatively risky or daring comedy for much more than $25 million," said Doug Belgrad, president of Sony's main film division, Columbia Pictures.
The only problem with his line of thinking here? The "creatively risky or daring" comedies are the ones that are actually making money, as evidenced by the envelope-pushing seen in this year's crop of successful, R-rated laughers, and as further proved by the tame comedies that have recently tanked, including Larry Crowne and How Do You Know (which boasted big budgets to boot). And hey, even with the DVD downturn, there's still an afterlife for safe rom-coms: The article notes that Universal's highest-grossing video-on-demand title ever is the Jon Favreau–Vince Vaughn vehicle Couples Retreat, which made more in that format than the studio's action blockbusters and animated hits. In a year where inexpensive, risky comedies have proved themselves to have few downsides and a huge potential upside that can ameliorate weak foreign grosses, when will studio executives learn that making them doesn't have to be so dramatic?