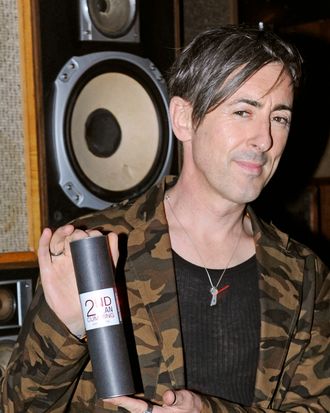 When Vulture caught up with Alan Cumming at a party for his fragrance 2nd (Alan) Cumming at Ace Hotel last night, The Good Wife star had more to celebrate than just the launch of his scent: That morning, he'd received an Emmy nomination for playing Eli Gold on The Good Wife, and the show itself was recognized in several categories. Cumming told us how he found out about his best supporting actor nod (it was a bittersweet moment), and what Eli is up to next.
How did you find out? Who told you?
I was sitting in a makeup chair at work, we were doing a photo shoot, for the campaign for the new season, and I was sitting next to Matt [Czuchry], Little Matt, who's on the show, who told me, and he was like the only person there who had not been nominated, and I felt so bad, actually!
Well, he is in a way, since the whole show is…
Yeah, but of the six people who were there, five of us got nominated [including Julianna Marguiles, Josh Charles, Christine Baranski, and Archie Panjabi] but not him, and I think he's so great! He's lovely. It was lovely because we were all there together, but he is the most darling, he's a Southern gentleman. He's so polite and kind. I just think he's a darling, so that's how I found out, sitting in a makeup chair. And then everyone, my agent, my manager, started calling, and I said, "Why are you calling? It's so early!" "You've been nominated for an Emmy!" "I know…" [Laughs] It was our first day back, and everybody's in good form. We actually start shooting scenes tomorrow [Friday], but this was the photo shoot. It was a nice way to find out, with all those people.
Your show is actually competing against itself in two categories…
Yeah, me and Josh are going to be slugging it out. I may have to kill Josh. Christine and Archie were nominated together last year too, but we may have to keep them apart as well.
Where is Eli going this season? He's in the thick of it now, considering he's going to be working in house at Lockhart Gardner — and he knows about that voicemail Will left.
I'm excited about the fact that he's joined the company, and the politics and the law are like a marriage, so that's a great thing. And I'll have scenes with people like Archie, Christine, and Josh, but I'm usually with Christine. And we'll get to see more of Eli's personal life. The funny thing of doing a show like this, you don't know where it's going. They have a big arc that they tell you about — so I have a daughter, an ex-wife, and now a girlfriend — but I'm looking forward to more revelations. I like that.