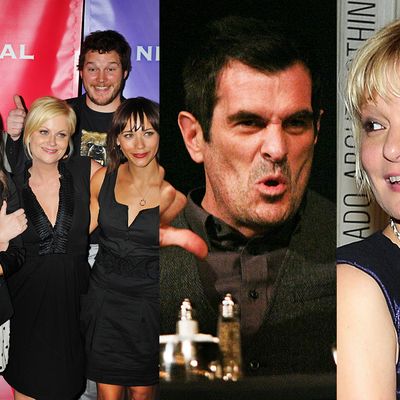 Photo: Jeffrey Mayer/WireImage, Ryan Miller/Getty Images ,Joe Corrigan/Getty Images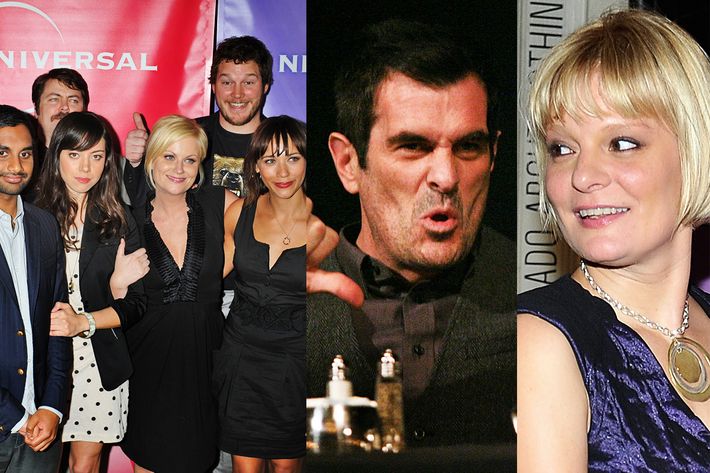 On Emmy nomination day, many of the newly minted nominees spend the morning doing press, and without fail, the most popular anecdote told is some variation of, "I forgot they were announcing the nominations today (even though I have spent the last few weeks of my hiatus doing interviews specifically to raise my Emmy profile), so I slept in and my wife/husband/publicist/kids/BlackBerry/dealer had to tell me I was nominated." This year, though, we have a new contender: the "I've been so busy cleaning up gross barf and poop that I've barely had time to process this" story, which was used by some of your favorites. Let's take a look at this very specific trend!
Raising Hope actress Martha Plimpton had perhaps the most vividly gross story:
"Woke up this morning to the incredible news that I was nominated for an Emmy, and a shower full of dog poop. Apparently my dog is so excited, she has explosive diarrhea. I truly could not be more thankful to the Emmy voters for including me in this brilliant company of extraordinary women. Every single one of them is an actual hero of mine and I'm really blown away. And I could not be more grateful to Greg Garcia for creating this fantastic character and this wonderful show. Now, if you'll excuse me, I have to go clean up an enormous amount of dog poop out of my shower. Yay!"
Meanwhile, Modern Family's Ty Burrell went for the two-fer, claiming that not only was he in "denial about what day was nomination day," but he "celebrated" the exact same way he did last year:
"It's a good luck omen. My daughter woke up and I changed her poopy diaper. This is two years in a row."
And finally, Parks and Recreation showrunner Mike Schur had double the reason to celebrate — today is also his daughter's first birthday — but there was a bitter, acidic twist:
"Yeah, she doesn't seem to care that much. Last night, I was rocking her to sleep and she truly vomited all over me. I know it's a cliché, your kid throws up on you, but it actually happened to me last night. It was amazing. And it was, like, voluminous. A tremendous amount of vomit came up. It was pretty awesome."
They are all winners.