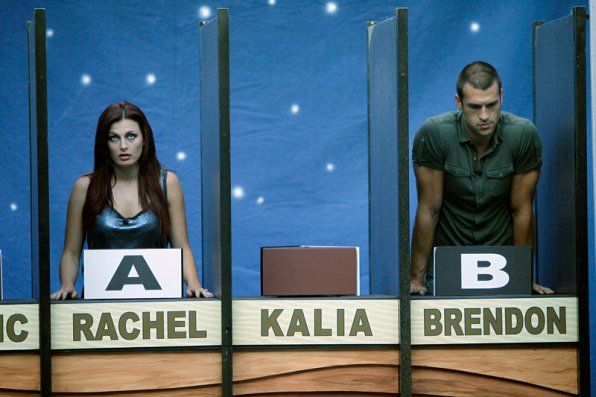 DETAILS I REMEMBER FROM MY EROTIC DREAM ABOUT RACHEL:
1. She was wearing a sparkly dress.
2. She was extremely tall.
3. It took me awhile to notice the beige sedan parked beside us in my parents' driveway.
4. The man in the passenger seat had his shirt unbuttoned. (Was it Bernard Henri-Levy???)
5. Rachel panicked when we realized the men in the sedan were cops.
6. She was fired from Big Brother for having an affair with a recapper.
7. I was fired from Big Brother recapping for having an affair with a contestant.
8. When I woke up, I worried that I was spending too much time thinking about Big Brother.
9. A deep and abiding shame was my companion for the week.
MAJOR DEVELOPMENTS THIS WEEK, ENDED WITH EXCLAMATION POINTS TO WHIP YOU INTO A FRENZY:
1. Cassi was evicted!
2. Rachel and Jeff had a fight!
3. Rachel won Head of Household!
4. Thursday's live audio feed caught the sound of somebody urinating (Twitter says it was Rachel)!
5. My brother mailed me his old TiVo to make recapping easier!
6. The mouse in my kitchen continued to outwit my attempts to murder it! (Embarrassing Personal Secret No. 4!)
THE TWO PEOPLE WHO BETRAYED THE NEWBIE ALLIANCE BY VOTING TO EVICT KEITH LAST WEEK:
1. Shelly
2. Kalia
REASONS WHY SHELLY'S BETRAYAL IS ESPECIALLY SOUR:
1. She lied to the other newbies about her vote, even though she has always told her daughter to tell the truth, meaning she will have no one to blame but herself when her daughter grows up to become a Ponzi-scheme mastermind and cyber-assassin.
2. Her actions inadvertently led to Cassi being evicted.
3. Cassi, unaware of her partner's deception, continued to heap praise upon her until her (Cassi's) last moments in the house.
THINGS LAWON COMPARED HIMSELF TO IN HIS FRUSTRATION WITH WHOEVER BETRAYED THE NEWBIE ALLIANCE
1. "A volcano on a hot day in Hawaii getting ready to erupt."
2. "A double-decker bus playing the piano underwater." (JOKE)
WORDS DEPLOYED BY CASSI THAT SURPRISED ME AND MADE HER RISE IN MY ESTIMATION:
1. "Shenanigans" (re: Rachel and Porsche's contempt for her, which Jordan attributes to Cassie's physical beauty — see below).
2. "Heart-wrenching" (re: Being put on the chopping block with Shelly).
3. "Cower" (see below).
4. "Deontological, yet vapid" (re: Kant's philosophy). (JOKE)
WAYS I MAKE MYSELF FEEL SUPERIOR TO BIG BROTHER CONTESTANTS, EVEN THOUGH THEY ARE MORE FAMOUS AND ACCOMPLISHED THAN ME, AND ENJOY A DEEPER UNDERSTANDING OF STRATEGY AND COLLABORATION:
1. Writing snotty pseudo-intellectual jokes at their expense.
2. Leaving my house and wandering around aimlessly whenever I want.
3. Drinking beer and belching at the television while watching the show.
THINGS CONTESTANTS SAID THAT ARE PROBABLY TRUE, WHICH MAKES THEM SAD:
1. "Flirting with Daniele is the only way to connect with her." —Dominic, on his strategy of lounging around in hammocks and beds with Daniele so as to gain her trust and make sure at least one veteran is on his side.
2. "Thank you, America! I love jerky!" —Adam, after being told that BB viewers had voted on a diet of jellybeans and beef jerky for the Have-Nots.
3. "I am so incredibly determined and pumped to not lose the Have/Have-Not competition." —A contestant whose name I forgot to write down.
4. "People are throwing you under the bus. It's because you're pretty, you're gorgeous … girls are intimidated by that." —Jordan, to Cassi, on why Rachel and Porsche were determined to see her evicted.
THINGS YOU SEE PEOPLE DO ON BIG BROTHER THAT YOU RARELY SEE DONE ON OTHER PRIME-TIME TELEVISION SHOWS:
1. Smoke cigarettes.
2. Clean their feet (Jeff cleaned his feet for like 30 uninterrupted seconds on Sunday's episode while Dominic grilled him about which newbies flipped to vote Keith off the show).
3. Appear on-camera without makeup.
4. Send me coded messages about the coming Insect Wars (see below).
BADDEST-ASS THINGS SAID BY CONTESTANTS THIS WEEK:
1. "Guess what: It's on and crackin'." —Lawon, registering his disgust that two newbies broke rank and voted to evict Keith, after he (Lawon) "stuck my ass out for everyone on my team." (NOTE: After delivering this badass statement, Lawon proceeded to do absolutely nothing, which makes me think he uses "crackin'" in place of "takin'-a-nappin'").
2. "You messed with the wrong girl; I'm not gonna cower in the corner because you're Rachel." —Cassi, in a cutaway after sharing the kitchen with Rachel in surly silence.
3. "Adam is dead to me." —Dominic, after Adam admitted to being approached by the old-timers and agreeing to vote against Keith, even though in the end he didn't.
4. "Tell me who you wanna target, and let's go." —Dominic, offering to team up with Daniele in the aftermath of the newbie alliance's breakdown.
5. "I was home-schooled." —Dominic, to Cassi, while lying in bed and playing with her hair in the most erotic pedagogical discussion on TV since TLC's Michelle Rhee Answers Questions About Education Reform While Wearing An Oil-Soaked Bikini.
EVERYTHING YOU NEED TO KNOW ABOUT THE FIGHT THAT BROKE OUT BETWEEN JEFF AND RACHEL DURING WEDNESDAY'S VETO COMPETITION, AS WELL AS ITS DRAMATIC SHRUBBERY-BASED AFTERMATH, BECAUSE YOU REALLY NEED TO KNOW ABOUT THIS BECAUSE IT'S IMPORTANT:
1. The competition involved chewing gumballs while walking across a balance beam, then sticking the chewed gumballs onto a board. First person to fill the board with gumballs wins! (TRY IT, IT'S FUN.)
2. In a surprise twist, the three pairs of contestants were told that they were competing separately — a boon to Dominic and Adam both, since Dominic wouldn't be hampered by his "300-pound paperweight," and Adam could lose the competition (per the old-timers) without hurting Dominic.
3. Jordan, the first to fall, requested two weeks of slop as the price for reentry into the game. Jeff yelled: "Don't do it!" ("The last thing I want is for her to go on slop for no reason.") Jordan, who knows that the highest duty of a woman is to obey her lunkhead boyfriend, left the competition.
4. At this point Rachel made a snide comment, which I didn't catch because I was too busy parsing the strange poetry of "to go on slop for no reason," but Jeff sure heard it — because he got pissed!
5. Rachel then proceeded to fall, and made a big show of taking two weeks' slop — UNLIKE THAT WIMP JORDAN. Rachel hopped back on the balance beam: She was fired up! She was unstoppable!
6. Rachel promptly fell again.
7. Now relegated to the sidelines, Rachel turned her attention to Brendon and shouted this helpful advice: "Don't fall!" (This was good advice, because they were on a balance beam. Did I mention that?)
8. Jeff, in a cutaway, complained: "I can't focus (on my gumball-chewing and balancing); all I hear is Rachel's loud annoying voice."
9. After the competition was won by Dominic (the first newbie to win a contest, mind you), the old-timers convened off to the side, where Jeff told Rachel, "I didn't appreciate your comments during the race." Apparently, "Rachel is running wild with her comments, someone has to set her straight." Jeff's theory is that Rachel took the slop just to shame Jordan. (I think Rachel took the slop because she's a born competitor who just wants to be the best at whatever she does, and that's why I think she'd make a pretty good astronaut.)
10. Rachel, pouty, petulant, and mortally offended by Jeff's criticism, then threatened to end the old-timers' alliance: "No. Unh-uh. It's done."
11. This open tension among the old-timers left Dominic ecstatic: It was "music to his ears." Mine too!
12. Later, Rachel apologized to Jordan in a half-assed way (more like a fifteenth-assed way, truth be told). Jeff was still pissed: "You're on slop for two weeks for no reason." (What does he care? Do the upcoming contests involve stool samples?)
13. All this to say, we are left with the sense that the old-timers alliance is not as strong as it initially looked; it seems vulnerable to exactly as many fissures as ways in which Rachel can take umbrage: infinity-squared, according to my calculations.
14. Oh! One last thing: At the height of the slop-comment argument, Rachel hid in the shrubbery to cry.
THINGS CONTESTANTS SAID THIS WEEK THAT COULD WORK AS DIALOGUE IN A MAJOR MOTION PICTURE:
1. BRENDON: You need to keep all your emotions inside!
RACHEL: I am! That's why I'm hiding in the bushes!
(From Bushwhackin', starring Ryan Reynolds and Anne Hathaway)
2. KALIA: Every single time I fell, the ground smashed me in the face.
(From Attack of the Ground, directed by M. Night Shyamalan.)
NOTE: This line of dialogue was delivered during Sunday's Head of Household competition (see below).
3. RACHEL: Some of us like Porsche, that's all I'm going to say. [She exits.]
Beat.
CASSI: [With contempt] I'm not gonna be bullied.
(From Trapped in High School VII: Final Exxxams, directed by Terrence Malick.)
4. JULIE CHEN: (crazed, enthusiastic) From hanging on to a giant banana to being stuck together as ants, Big Brother games look like they can be a lot of fun!
(From "America 2011: The Spasmodic Death Throes of a Doomed Nation, a documentary made entirely of reality-show and C-SPAN footage, release date TBD.)
MOVIES THE PRODUCERS ARE OBVIOUSLY OBSESSED WITH, GIVEN THAT SUNDAY'S HEAD OF HOUSEHOLD COMPETITION REQUIRED TEAM MEMBERS BE JOINED TOGETHER IN ANT COSTUMES:
1. The Human Centipede (2010)
2. Antz (1998)
3. Empire of the Ants (1977)
4. Ants (1977)
REASONS TO BELIEVE RACHEL IS ACTUALLY A HUMAN/INSECT HYBRID, OR AT LEAST A DOUBLE-AGENT ENLISTED BY INSECTS TO OVERTHROW HUMAN CIVILIZATION:
1. She and Brendon easily won the ant-themed competition and she seemed entirely too comfortable in the costume.
2. Jeff repeatedly compared her to a gnat, and he seems to know her pretty well (he's trying to warn us!).
3. Her rise to fame coincided with last year's mysterious honeybee colony collapse.
4. She has a purple-reddish exoskeleton and crushes grubs with her enormous mandibles.
5. At one point, she ran into the Diary Room crying and said, "I'm so sorry for what I'm about to do … but the insects are my masters and I will fulfill my duty of undermining human civilization. ALL HAIL OUR INSECT OVERLORDS!"
6. She's dating Brendon, a guy no real human would find appealing. (This is the dead giveaway, as far as I'm concerned.)
QUESTIONS I WROTE DOWN WHILE RECAPPING:
1. "Do contestants only get letters if they win Head of Household?" (Jordan read an awkward letter from her family after settling into her digs as this week's HOH.)
2. "Panic attack?" (Re: Kalia's screams of agony at the end of the ants game.)
3. "Producers, where are you?" (Re: Same, before Kalia was eventually cleared by the "Big Brother medic" — the most glamorous job in all of medicine.)
4. "WHY???" (Re: Adam admitting to the old-timers that he went against their wishes and voted to evict Porsche; Adam has an obsequious, confessional impulse that hits a little close to home for this recapper.)
5. "Why does everyone hate Cassi?" (I wrote this down twice.)
6. " Why would Cassi hug all these punks?" (RE: Cassi hugging everyone after they all — every single one of them — voted to evict her.)
THINGS ADAM SAID TO THE OLD-TIMERS THAT CONFIRMED MY SUSPICION THAT, DESPITE HIS "HEAVY-METAL" PERSONA, HE IS A QUISLING:
1. "You know how to play this game better than we do."
2. "I'll give you whatever you want."
THINGS IT WOULD BE MORE INTERESTING TO HAVE A CONVERSATION WITH THAN PORSCHE, BASED ON HER CONVERSATIONAL OUTPUT SO FAR:
1. An actual Porsche.
2. The globs of silicone inside her chest.
3. Any inanimate object.
4. The concept of boredom itself.
HARSH THINGS CONTESTANTS SAID ABOUT EACH OTHER BEHIND THEIR BACKS:
1. "Adam is a 300-lb paperweight." -Dominic's analysis of his partner's worth, before the Veto Competition (later we learn that Adam literally use to weigh 300 pounds; he lost 100 pounds to appear on Big Brother 8212; this makes me respect him a little more).
2. "She's so pretty but she's not good at playing this game." -Rachel, on Cassi
3. "Cassi cannot be trusted … she is so fake." -Rachel, on her arch-nemesis
4. "Cassi is a snake and a liar." -Rachel, on the dark obsession that consumes her every waking moment
5. "She's a freakin' nut." -Jordan, on Rachel
HARSH THINGS CONTESTANTS SAID ABOUT EACH OTHER TO THEIR FACES:
1. "I know you're a sweet person and I'm not calling you naïve or dumb by any means…" -Cassi, to Jordan, trying to convince her to back-door Rachel and Brendon rather than acquiesce to their demand to dump Cassi
2. "Your gameplay is horrible, bottom line." -Rachel, to Cassi, the woman whose body she wants to lay 1,000 eggs inside of so as to appease the Lord of the Insects, her master
3. "You're catty, you really are … you're an ugly person inside." -Cassi, to Rachel
NUMBER OF SHOTS OF CASSI LOOKING LONELY WHILE EVERYONE TALKED ABOUT HER BEHIND HER BACK:
1. 5,000
THINGS JEFF AND BRENDON DON'T SEEM TO LIKE:
1. Wearing shirts with sleeves
2. Each other's girlfriends
3. Any moment in which they are not actively condescending to their own girlfriends
REASONS I LIKE JORDAN:
1. On Thursday's live show, I saw her yawning during the Hostess's preamble.
2. I imagine Amy Sedaris playing her in the Off-Broadway adaptation of this season's Big Brother.
3. When Rachel started complaining about Cassi for the 100th time ("She's so manipulative, she used every single one of my weaknesses against me!"), Jordan said, "You come across as bitchy. You get so wrapped up in being so competitive that you don't realize what you're saying. Don't cry," in the same exasperated tone my mother used when I didn't want to practice the piano or eat spaghetti squash.
4. The producers want me to like her, so they manipulate footage and editing to present her in the best possible light, especially in contrast to Rachel, thus fulfilling the Veronica/Betty dynamic we all learned from Archie comics, in which women with blonde hair are good and women with dark hair are bad.
MY FAVORITE CONTESTANTS, IN ORDER, AS OF WEDNESDAY 9:01 PM EST:
1. Dominic
2. Cassi
3. Lawon
4. Jordan
5. Kalia
6. Daniele
7. Adam
8. Shelly
9. Jeff
10. Rachel
11. Porsche
12 - 500. Imaginary contestants in my head, including "Crazy Tony," "Kyrsten Sunshadow the ukulele addict," and "Dr. Zoogz Rift"
501. Brendon
AS OF THURSDAY, 10:01 PM EST:
1. Cassi
2 - 501. Everybody else (500-way tie for last)
NUMBER OF LISTS LEFT IN THIS RECAP:
1. 4
QUESTIONS ASKED OF CONTESTANTS DURING THURSDAY NIGHT'S HEAD OF HOUSEHOLD COMPETITION, THE WINNER OF WHICH WAS RACHEL, THE CORRECT ANSWERS TO WHICH WERE DETERMINED BY BIG BROTHER ENTHUSIASTS WHO VOTED ONLINE:
According to America …
1. … which houseguest would they rather get mouth-to-mouth resuscitation from?
A. Jeff; B. Brendon (CORRECT ANSWER: Jeff)
2. … which houseguest is more likely to warm the pool with something other than their charm? (i.e., their urine)
A. Adam; B. Kalia (CORRECT ANSWER: Adam)
3. … which houseguest is more likely to steal someone's lover?
A. Rachel; B. Porsche (CORRECT ANSWER: Porsche, which is intriguing insofar as it suggests Porsche may eventually out-bad-guy Rachel and throw the Archie Comics "hair color as determinant of moral character" paradigm into chaos.)
4. … which houseguest is more likely to save someone from a burning building?
A. Shelly; B. Brendon (CORRECT ANSWER: Brendon, an answer with which I strenuously disagree; in fact, let me now state for the record that if it comes down to me dying in a burning building or being rescued by Brendon, I would prefer to watch my own skin blister and fall off in blackened ribbons, knowing my dignity was intact)
5. … which
REASONS I THINK MY COMPUTER IS TRYING TO SAVE MY SOUL:
1. It crashed three times while I tried typing out the above questions, at which point I gave up. (Oh no! You'll never know the answer to which contestant America would rather see in a bikini! Fax me for the answer.)
THINGS I IMAGINE BRENDON WHISPERED TO JEFF DURING THE AWKWARD, STUMBLING LIVE FEED IN THE AFTERMATH OF CASSI'S EVICTION:
1. "Dude, we should go work out again; it's been like five minutes."
2. "Do you think the people at home can see my muscles?"
3. "Soda tastes good."
4. "I am the opposite of Thelonious Monk."
THE SINGLE STRANGEST WAY IN WHICH A CONTESTANT TOOK UMBRAGE DURING THIS WEEK'S BIG BROTHER:
1. Brendon was offended that Cassi "swore on my Bible on my father" that she's not a liar, huffing: "I have family members! I would never swear on their life!" (He also said, "You want me to draw you some pictures?" in response to her request for clarification re: why everyone hated her, at which point she retorted: "No I don't need you to draw pictures, I'm not a dumb-ass," which made me love her, because "dumb-ass" is one of my favorite compound words.)