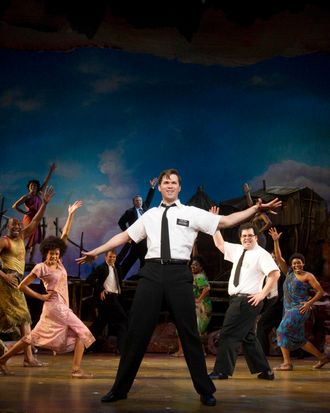 Photo: ?2011 Joan Marcus/?2010, Joan Marcus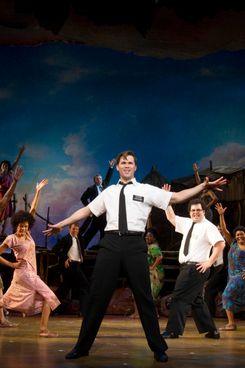 Since the multiple-Tony-winning The Book of Mormon opened three months ago, anywhere between 450 and 600 people have showed up to each show hoping to snag one of just twenty reduced-price lottery tickets, leaving a total of around 13,000 people to walk away empty-handed. Faced with such overwhelming fan response and high percentage of disappointment, last Friday the show's producers put on an extra, ninth free show only for unlucky lottery entrants (and a few journalists). Needless to say, there was quite a turnout.
In the spirit of egalitarianism, tickets were general admission, and by 30 minutes to curtain, the line outside the Eugene O'Neill Theater wrapped three times on itself, extended around the block, and into the breezeway of the shopping center next door. Delia Torres, the first person in line, had gotten there at midnight the night before, and said that a second person didn't arrive until 3 a.m. After multiple losses, Torres was taking no chances that she wouldn't get in. "I tried the lottery about ten times, but I know people tried so many countless times more," she said. "I'm just so happy we were able to win these." Said Mormon composer Robert Lopez before the show, "They've basically assembled all of these people who've put in the time, stood on the lines, just really, really fans of the show. Just coming here and seeing this huge line really confirmed it for me. I can't wait to see how the show plays in there." Added co-star Josh Gad after the show, "It's like a Star Wars premiere."
The performance was recorded for the New York Public Library's theater archive, and it will make for a proud historical document for Mormon, as the amped-up audience roared and cheered for every joke and musical number. "That's the kind of stuff that really jazzes you up," explained Nikki James, who won a Tony award for her performance in the show. "But at the same time, you want to give them a real show, so you have to match their energy but not top their energy. They're excited, but they came to see our show."
It's been heady days for the Mormon cast and crew, with all the ecstatic reviews, Tonys, and sold-out shows. It seems like nobody can resist the show, not even Mormons … with a few caveats. "We've had a lot of Mormons who'd come and they'd say, 'We didn't like the language,'" said co-star Andrew Rannells. "But they say the show is great, so it's been received well. By Mormons! Who knew?" This sentiment held true for the Mormon gentleman sitting behind this writer at the free show: It was his fifth time seeing the show, and he has tickets to see it again next week.