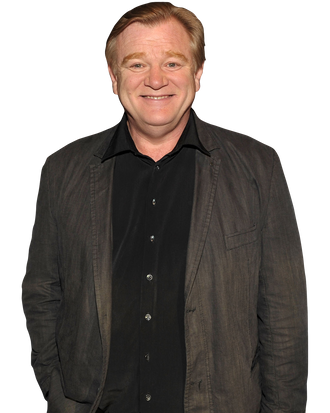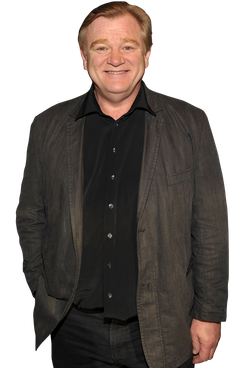 This week, the Friars Club inducted Brendan Gleeson and Don Cheadle into its ranks as the Best New Comedy Duo for their odd-couple act in The Guard, a crime dramedy about an American FBI agent (Cheadle) and an Irish cop (Gleeson) tracking international drug smugglers in Galway. To celebrate the occasion, the club held a lunch in the boys' honor; happily, we were there. Cheadle was in a rush (he popped by to accept the award but skipped the food), so Vulture chowed down one-on-one with his better half. As the jolly actor, and prominent member of the Harry Potter pantheon as Mad-Eye Moody, got serious with his lemon sole, we spoke with him about his directorial debut (an adaptation of Flann O'Brien's 1939 metafictional classic, At Swim-Two-Birds), playing with himself onscreen, and Harry Potter spoofs.
Congratulations! You don't get an honorary membership into the Friars Club every day.
Not every day!

Do you have any time to enjoy New York while you're here?
I get a couple of hours on before I fly out. I used to go up and do the Empire State every time I came — that's the most amazing thing I'd ever seen — but not anymore.

You probably wouldn't go, but they have the traveling Harry Potter exhibit in Times Square now, with the props and costumes. They have Mad-Eye Moody's magical eye …
Oh, really? So that's where it went! I was looking for it! [Laughs.] They can use it. I'm dead at the moment. I used to use it to show kids visiting on set, startle them.
[Don Cheadle leaves the event.] Can you really be honored for being a buddy duo if your buddy's gone?
That's the whole point. We can't stand each other! It's all for the best. [Cheadle laughs, waves good-bye.]

Your character's constantly ribbing him with racist remarks and jokes. Did you ever take the piss out of him on the set in Ireland?
I didn't have to. The weather did that for me. I think it was the wettest winter ever. But we only lost one day of shooting.

Did you have a lot of fun with the little Derringer you used in the film? In the scene when you grab it out of your crotch, it almost looks like you're playing with yourself!
It went off. It was a very unfortunate place to go off.

What? Where?
In the kitchen. Those are funny little things, all right. That's a ladies' gun, really. In the opening scene, when I get out of bed, I do a little rummage [in his crotch], hoping that would lead people to believe I'm doing that all the time anyway. First thing in the morning, that's what he does. What do you do? Especially with that person. And especially when there's danger, death. Sex and death, both very arousing, one way or the other.

Did you ever see the spoof "Harry Potter and the Deadly Hollow Points"? Where they trade their wands for machine guns?
Oh, right, right. Fantastic. [Laughs.] If you had a choice between a wand and a gun … absolutely. Voldemort's everywhere.

Next it looks like you'll be shooting At Swim-Two-Birds in the spring? And Michael Fassbender was just announced to join the cast.
I've had a great cast; I've had them [lined up] for the past three or four years, even if I didn't announce it. About two years ago, we had a reading, partly because I wanted to get a handle on the way it was going to work, but everybody apart from, say, Michael Fassbender was involved then: Colin [Farrell], Cillian [Murphy], Gabriel [Byrne], and more. There were four generations of Irish actors in the room at times; it was like a radio play. We have [financial] backing at home [in Ireland], so I can see it happening. And the momentum at this point — I'm more optimistic than I was before, but I never believe it until I see it. [Laughs.]

So what was your approach in adapting the book?
It's a tricky book, but I understand the work, and I've come to a place where I no longer have an aversion to the book, really, from over-reading it. Some people say you should only read the book three times and then never go back to it. For me, the priority is setting the context, so you don't get lost. There will be three different palettes, visual palettes, so you know where you are, which world. There's a level of the real, and a level of the imagination, and a level of the mythic, and each one will have its signature look. But it's not just about the different worlds. I had asked Cillian if he thought this story was still relevant today, would it still work? And he said yes, because it's about being lonely, not being accepted in the world, being compromised by it, being trapped by it, and having to create these characters. I love how mad King Sweeney is really half-man, half-bird. This story is really funny. It's hilarious.

Who will Colin, Cillian, and Michael play?
I'm not telling you that! [Laughs.] I will tell you that Gabriel is the Pooka. He's so good. So urbane. So wicked. He's brilliant. And I'll be the uncle, and Domhnall [Gleeson, his son, who played Bill Weasley in Harry Potter and the Deathly Hallows] is the narrator. But you'll never fully know who everybody is.