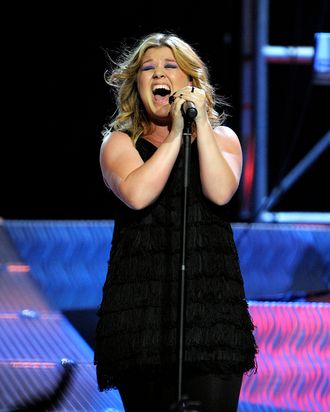 Photo: Martin Philbey/2000 Martin Philbey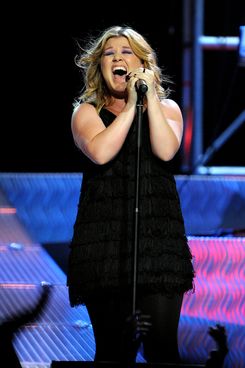 Last week, three new Kelly Clarkson songs — perhaps off her much-delayed fifth album, though an official tracklist has yet to be released — made their way online, much to the delight of the Kelly-starved masses. "What Doesn't Kill You Makes You Stronger," "I Forgive You," and "Dumb + Dumb = You" have since been pulled from the Internet, but this particular Vulture correspondent managed to catch a few listens, and the good news is: Kelly is still Kelly. As you probably could have guessed from the titles alone, the leaked songs stick to her tried-and-true formula: a hurtful ex or parent, an unforgiving (but ultimately happier) narrator, some nonspecific lyrics, and a killer, belt-it-at-the-top-of-your-lungs chorus. If it ain't broke, etc. But sadly, the songs are now gone and the new album isn't due until the fall, so we, the Kelly fans of the world, find ourselves without a new angst anthem for the summer months. To ease this pain, Vulture has devised a handy guide for writing your own Clarkson song; mix and match any of the choices below, and then sing away like Kelly taught you. (Pro-tip: Unless you are actually Kelly Clarkson, keep the singing to the privacy of your bedroom or car.)
Select the mood of this song.
1. Angry-shouty (Like: "Since U Been Gone," "Behind These Hazel Eyes," "Because of You," "Dumb + Dumb = You")
2. Dancey-shouty (Like: "Miss Independent," "I Do Not Hook Up," "What Doesn't Kill You Makes You Stronger," "Breakaway").
Decide who you want to address in this song, so you can imagine them while you're singing.
1. An ex who treated her cruelly and then dumped her, allowing her to achieve inner peace and demonstrable career/life success.
2. Someone from her adolescence, who disappointed her with a lack of emotional accountability and a fundamental misunderstanding of her hopes and dreams.
Settle on a traumatic event:
1. "Finally struck out on my own"
2. "Sat at the kitchen table alone"
3. "Found those pictures on your phone"
4. "Tried to leave the Friendship zone"
Insert said event into the following verse:
1. "And how could I have ever known
when I______________
that you wouldn't throw this dog a bone
you didn't care, you were never there
but now…"
2. "And how could I have ever known
when I___________
That it'd all turn out fine
That the last laugh would be mine
Like Oprah says:
I'm living my best liiiiiife

Now pick a common English phrase to be sung repeatedly as the chorus:
1. All Grown Up Now
2. I'm Not Having It
3. Karma's a Bitch
4. That Was Then (This Is Now)
Pick a high note to belt at the end:
1. C5
2. D5
3. E5 (really go for it)

Make up a tune (really, any tune — unless you're Kelly, your belting will really all sound the same anyway) and rock out.