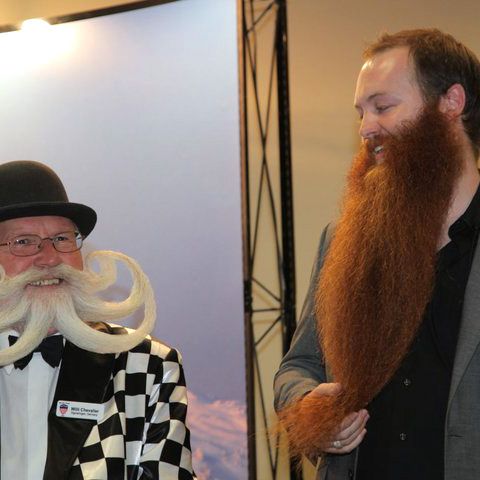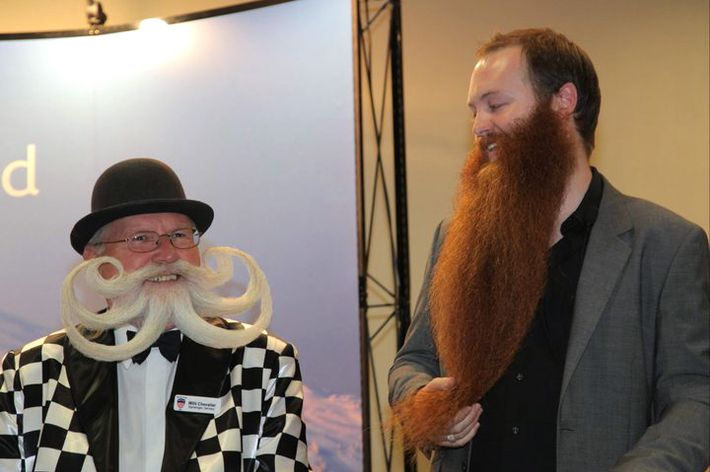 A&E announced its newest series today: American Hoggers, about a family of "hog hunters" who wrangle the wild beasts. "They may be called in to help a farmer save his crops, a scrap yard owner who is being harassed by an aggressive boar or an airport official who is crippled by hogs on the runway; no matter how dangerous the situation, the Campbells are prepared for anything," says the press release. Apparently, half the wild boars in America live in Texas! Between this, Whisker Wars (pictured), and the multiple taxidermy shows, it seems like just about anything can be turned into a reality show. Can you tell which of these series is real, and which Vulture made up?

1. One Man's Treasure
Who says there's no such thing as a free lunch? Dumpster diving grows up with this peek inside the world of New York's hard-core urban "freecylers," who scavenge everything from gourmet food to high-end furniture, all from the trash. (IFC)
2. Hillbilly Handfishin
Tourists get wet when they travel to Oklahoma to try catching catfish with their bare hands. It's called noodling! (Animal Planet)
3. Inkmasters
Who is America's best tattoo artist? There's only one way to find out: a reality contest show. (Spike)
4. Beer Man
Climb inside the cutthroat world of beer vendors at Yankee Stadium, where carrying the tray is a badge of honor. (YES Network)
5. Big Rich Texas
Follow five mother-daughter duos trying to break into Dallas's high society. (Style)
6. Don't Mess With Texas
Everything's bigger in Texas — including the cleanup jobs. Enter the Rothman family, whose Amarillo-based company can tidy up anything, from a rodeo venue to an abandoned subdivision. (HGTV)
7. Texas Women
A country singer, a barrel racer, a wild stock contractor, and a party girl — and they're friends, y'all! In Texas. (CMT)
8. Design My Dog
Dog owners pair up with fashion designers to compete for who can create the best "canine couture." (Logo)
9. Vision Quest
It's not just the clothes that make the man; it's the glasses. And when fashion meets philanthropy, those glasses are probably made by Warby Parker. Get to know the duo behind New York's newest spex symbols. (Bravo)
10. Sweet Home Alabama
Flashy big-city guys go head-to-head with down-home country boys to win the heart of one blonde beauty. (CMT)
11. Pony Up
The Hamptons are home to some of the world's most competitive dressage athletes, but it's not just a sport — looks matter as much as technique. The horses aren't the only ones getting groomed! (Bravo)
12. Moonshiners
Welcome to Appalachia, where the community is close-knit and the booze is homemade. (Discovery)
13. Father of the Bride
Brides-to-be are given the big budgets of their dreams, but with one hitch: They don't get to plan the wedding themselves. If they want a full to-do, it's their proud papas who are signing off on everything from linens to bridesmaids dresses. Some dads want to do more than just walk you down the aisle! (TLC)
14. South Beach Tow
Cars in South Beach get towed sometimes. Even the cars owned by rich people! (TruTV)

1, 4, 6, 9, 11, and 13 are tragically fake. For now!