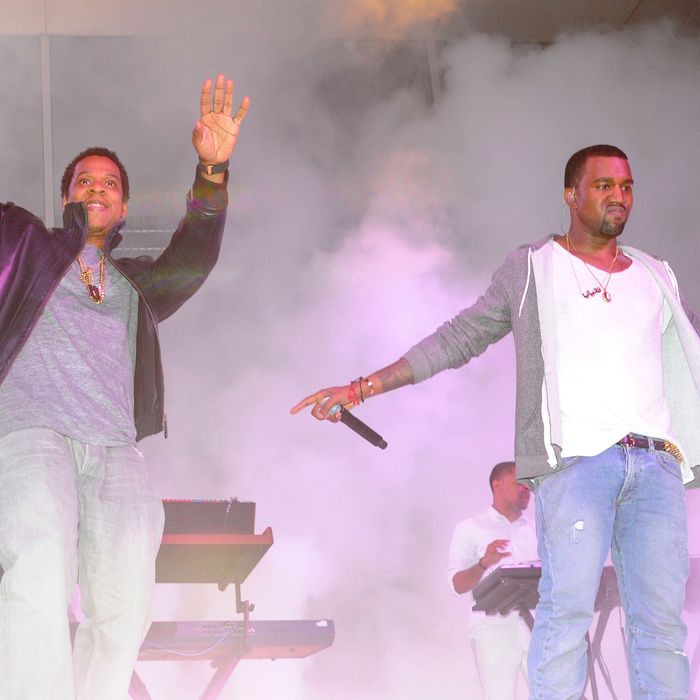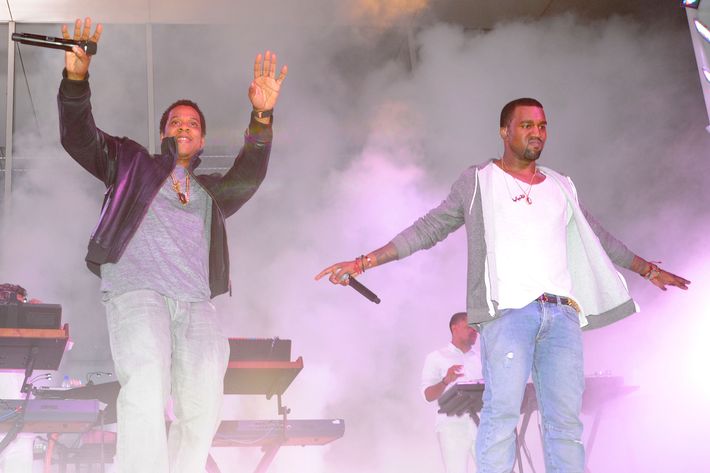 Breathless speculation is now turning into actual information for Jay-Z and Kanye's Watch the Throne. No, there still isn't a confirmed release date (making the possibility of a surprise release seem more likely), but there is a confirmed track list.
01 No Church in the Wild (ft. Frank Ocean)
02 Lift Off (ft. Beyoncé)
03 Niggas in Paris
04 Otis (ft. Otis Redding)
05 Gotta Have It
06 New Day
07 Prime Time
08 Who Gon Stop Me
09 Murder to Excellence
10 Welcome to the Jungle
11 Sweet Baby Jesus (ft. Frank Ocean)
12 Why I Love You (ft. Mr Hudson)
Bonus tracks:
13 Illest Motherfucker Alive
14 H*A*M
15 That's My Bitch
16 The Joy (ft. Curtis Mayfield)

"The Joy", which samples Curtis Mayfield's "The Makings of You," was originally released during the G.O.O.D. Friday series and is really pretty great. It also means that, no, Otis Redding has not risen from the dead to guest on "Otis" — he'll be making an appearance via "Try a Little Tenderness." "H.A.M." and "That's My Bitch," both of which have seen the light of day, are now shoved on as bonus tracks. And finally, a big congrats Mr. Hudson for getting to close out the album despite his relative anonymity and for continuing to prove that being friends with Kanye is the best career move ever.
WATCH THE THRONE: Deluxe Tracklisting [Life + Times via Pitchfork]