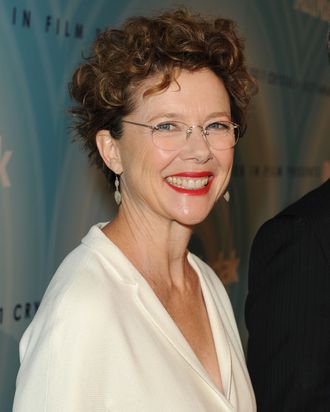 Photo: Jason Merritt/2011 Getty Images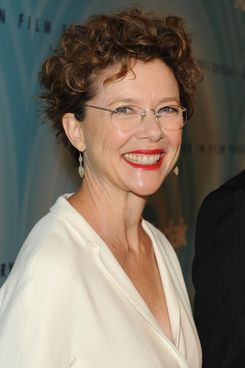 Kristen Wiig recently lined up her first post-Bridesmaids project, Imogene, about a woman who fakes suicide to get back with an ex but ends up having to go live with her gambling-addict mom, who will be played by Annette Bening, instead. Last week, buried in a Deadline story, was the rumor that Glee's Darren Criss would also appear in the film in some capacity. Well, last night, at the premiere of The Whistleblower, we spoke with Celine Rattray — who produced that film and will also be producing Imogene — who confirmed Criss's involvement and also shared some details about his and Bening's characters. The takeaway: Wiig will be making out with Darren Criss, and Annette Bening is going to look like she's on Jersey Shore. As if we weren't already excited for this movie!
Talking about the plot of Imogene, Rattray explained that Bening's pretty much going to be getting a spray tan and a push-up bra. "Kristen Wiig plays a girl from New Jersey, who … is embarrassed about her family in New Jersey, like it's Jersey Shore," Rattray said. "She gets sent back to live with her mother in New Jersey, played by Annette Bening, who is a tacky Jersey Shore mother, and then it becomes about her family reconnecting." Just how tacky? Rattray described Bening's character by saying, "Her outfits, her makeup. She's the mother who's a little inappropriate all the time, nothing is ever too much, and it's going to be fun." Annette, both the cast of Jersey Shore and Real Housewives of New Jersey are obviously on stand-by for a consult if you need one!
As for Criss's role, Rattray said he would play "a younger love interest. When Kristen goes back home from New Jersey she falls for someone." Presumably someone who does a cloyingly great cover of "Teenage Dream."