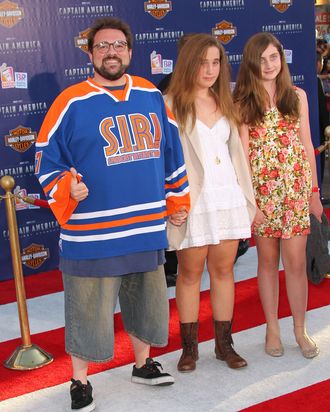 Photo: Frederick M. Brown/2011 Getty Images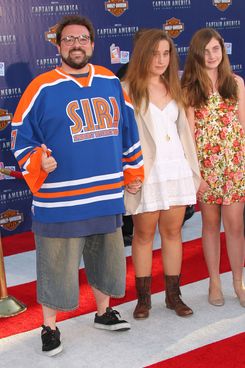 Filmmaker Kevin Smith has never had an issue speaking his mind (just ask the folks at Southwest Airlines). So perhaps this news isn't so surprising: Vulture has learned that the director of Clerks and the upcoming Red State is developing a daily, half-hour, syndicated talk show that would blend celebrity chat and comedy. Work has already begun on a pilot for the potential talker, with Smith asking his legion of Twitter fans Tuesday to e-mail him if they want to be in the audience. So just what would a Kevin Smith talk show look like? Vulture got its hands on an e-mail the show's booking staff has been sending to potential guests, and it provides a pretty good idea of what's brewing.
According to the message, Smith's reps are telling celebs that the tentatively titled Kevin Smith Project will be "a daily 30-minute entertainment talk show for syndication … The idea is a Regis and Kelly talk show at the opposite end of the day for the opposite kind of audience — the 12-34 demo. Kevin and his co-host will talk water-cooler topics at the top of the show, followed by a celebrity interview and a comedy segment from the field (a la The Daily Show). Each show will feature one celebrity interview." The message also gives a hint as to which studios might be behind the project: "The show is being positioned to air following TMZ, in the 6-8pm time period on the Fox stations in all the major markets." TMZ hails from Warner Bros. Television's Telepictures unit, so that studio could be a likely home for Smith; the Fox stations also could be behind the show via their sister studio, Twentieth Television. (Vulture is in the process of contacting those studios and we'll update you if we find out more specifics, including the identity of the aforementioned co-host: Will it be Scott Mosier, his partner for his online SModcasts? Or a reunion with Jay?)
Smith has been dropping hints about this career direction. Just last week, he told USA Today that he'd love to be paid to just be himself and talk. But at first blush, Smith does not seem an obvious fit with the usual syndicated talk-show archetypes: He's not aspirational like Oprah, journalistic like Anderson Cooper, or downmarket like Jerry Springer. His fame also isn't nearly as widespread — or mainstream — as past celebrity chatters, from Whoopi Goldberg to Tony Danza. But he does have a core audience of younger, slightly more male fans who might welcome a daily dose of Smith's unconventional, somewhat Howard Stern–esque manner. He's gotten lots of experience in a talklike format via his regular SModcasts and recent Internet radio show. Smith is also friendly with tons of celebs, giving him access to potential guests. The potential problem we see with this show: Smith has a dirty, dirty mouth, and loves to talk very openly about his sex life and fantasies. While stations could air the show in late night, broadcast TV could be a somewhat tougher sell for Smith than, say, a show on Spike or G4. That said, we're pretty sure his show will be a lot more fun than Katie Couric's.