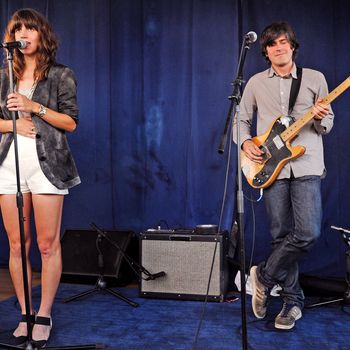 Photo: Bryan Bedder/2010 Getty Images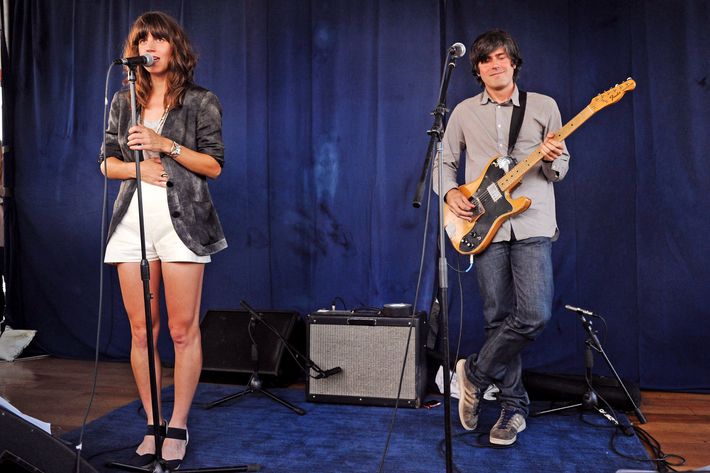 If any fans of the brother-sister indie act Fiery Furnaces feel like playing a time-honored rock game — the one where we speculate about which member is responsible for which aspects of a band, then take sides over it — 2011 offers plenty of evidence to work with. This week, the group's singer, Eleanor Friedberger, released her first solo album, Last Summer; it's breezy, charming, and one of the most modestly likable records of the summer. Her brother Matthew, meanwhile, is releasing eight whole LPs, on a subscription basis — each one recorded entirely with one instrument. (So far he's gotten through piano, harp, and guitar; the series should finish early next year.) It's probably unfair to make comparisons between Eleanor's pop record and Matthew's experimental lark, but the difference between these projects underscores what's always seemed to be the case: that their best work together involves Matthew pulling heaps of knotty, technical ideas out of his head while Eleanor supplies the sense of human character that makes the songs work as pop. Which of these things strikes you as more impressive or important may possibly say something about you as a person.
Eleanor's "sense of human character" still comes from the tough, declamatory lilt of her vocals, which tend to sound like an extremely poised, grad-school version of Patti Smith — the deadpan chatter of someone's internal monologue, or a committed eccentric innocently explaining herself. The title of Last Summer is meant literally, and if it seems like the kind of thing someone might name a Facebook photo album, that's appropriate, too. On this record, she devotes her chatter to an impressionistic whirl through the summer of 2010: subway rides, the neighborhoods of Brooklyn, thoughts of California, a guy who shaved his beard and saw The Girl Who Played With Fire, imagining Governors Island as Shutter Island, e-mail, a trip to Coney Island to buy bicycle parts, the opinions of boys on the subway concerning said bicycle parts. Lines about photos and snapshots are littered throughout: Friedberger posing next to a photo of someone else with the same haircut; Friedberger posing next to a white Lamborghini on Manhattan Avenue; "I brought my camera and I have a shot of us / You and that guy who died down in Philly, on the beach." Last Summer is a cutup of specific images and vague feelings, stitched and quilted together until the album takes on the confused quality of actual memories: You remember the general sensation, and maybe some strange details like the clothes you were wearing, but it's damnably hard to pin down whether one thing happened before or after another, which of your friends were there, and how you wound up at that bar in the first place.
Nothing about this approach will shock fans of the Friedbergers' main band, but the simple, human scale of it — as opposed to Fiery Furnaces' love of arcana, opacity, and obscure early-twentieth-century history — feels new, and remarkably affecting. Same goes for the music, which steers well clear of any knottiness. Almost everything about Friedberger's style (the voice, the unchanging haircut, the penchant for high-waisted pants) seems to strand her forever in a medium-hip version of 1978, and Last Summer offers up the kind of breezy singer-songwriter pop-rock you might have heard on car radios or New York rooftops back then: strutting pianos, acoustic guitars, mildly funky clavinet on the terrific "Roosevelt Island." The mellow-gold saxophone lines tend to be the best parts.
There's something slightly rare about all this, and I think it's the sound of an indie record whose ambitions revolve around the human-size details of life rather than the grand gestures of style. The album's closing track, "Early Earthquake," sounds like a sweet response to a love song written about Friedberger herself: Franz Ferdinand's "Eleanor Put Your Boots On." There's a modest, open quality to that — singing lines like "my heart's trembling just for you," replying to love letters in public — and it's spread across the whole record.
In contrast, the albums Matthew Friedberger is releasing this year sound, for the most part, like fans-only woodshedding, technical research that may or may not inform any pop music he writes later on. (The record he recorded on harp, Old Regimes, is filled with terrifically muzzy, overdriven sounds, and the guitar installment, Meet Me in Marimas, contains some nice turns into rickety, DIY rock.) But the records are filled with opaque gestures and lyrics borrowed from as far afield as the Elizabethan era; listening to them is a little like being invited into the home of a person who collects strange things and is a little too awkward to have a good conversation with. Put them together with Last Summer, and you may wind up with a very clear sense of how much the appeal of Fiery Furnaces revolves around the woman putting a face, a voice, and a sense of humanity into all those raw ideas. Given the number of Fiery Furnaces fans who are more interested in the feel of their pop songs than the elaborate concepts and prog-rock breakdowns that surround them, this realization might turn out to be pretty significant.