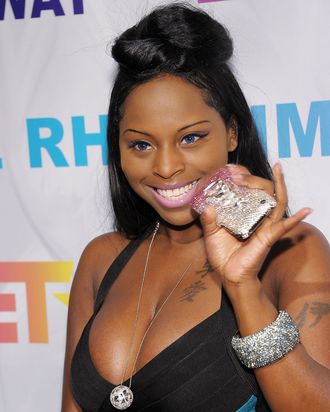 Photo: Michael Loccisano/2011 Getty Images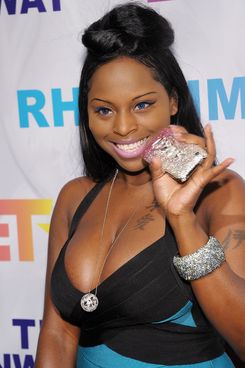 Foxy Brown is, for the first time in a long time, not in trouble with the law. Last week, a judge threw her high-stakes mooning case out of court, leaving Brown free and clear to get her long-discussed comeback started. And the first step in any real comeback, of course, is giving excellent quotes to the New York Post about how misunderstood one is. And also, if possible, revealing one's secret best friendship with Naomi Campbell. (That's right, Foxy and Naomi: BFF. If you see them coming, you better run.)
Foxy employs a number of tried and true rhetorical tricks in this interview, which have been proven, over time, to guarantee delight.
The talk-about-yourself-like-you-are-two-people move (See also: Beyonce, Lady Gaga, Deion Sanders etc.)
"The Foxy character and Inga Marchand [Foxy's real name] are two different people. My fiancé calls me Inga. No one around me calls me Foxy. I go to church every Sunday. I go to Bible study every Friday night. I'm saved."
The talk-about-how-classy-you-are move (See also: Real Housewives, Lindsay Lohan.)
"The mooning thing bothered me more than anything else in the past — because I'm a lady. I'm cut from a different cloth. I would never moon someone. I was raised in a good family."
The talk-about-the-famous-people-you-hang-out-with move (See also: Lindsay Lohan, The Situation.)
"It was 2005 and Jay-z said to me, 'You and Naomi are the most misunderstood female celebrities ever. You have to meet. He set up a meeting in office at Def Jam. We came in, and we've been like sisters ever since."
The talk-about-Lindsay-Lohan move (See also: everyone)
"If Lindsay Lohan was black, she would have done two years, at least. Is there no equal standard?"
The more-famous-than-Obama/ unverifiable-claim-about-epic-popularity move (See also: Charlie Sheen)
"You'd have thought Obama was in the building when I walked in [to Riker's]: The girls loved me. The officers were jealous because I was getting hundreds of thousands of letters a week."
And, finally, one highly entertaining juxtaposition courtesy of the writer of this profile:
"I live a different life," [Foxy] says. "I'm not at every party; I'm not seen everywhere. That's why people still care about my brand. I've never whored myself out."

She says she's still debating whether to accept Hugh Hefner's $2 million offer to pose on the cover of Playboy.