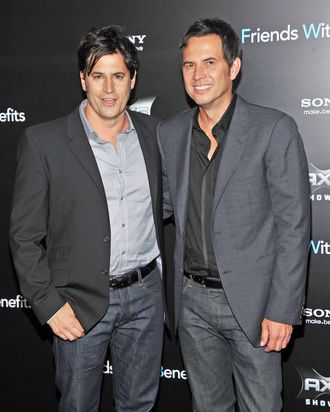 Photo: Stephen Lovekin/2011 Getty Images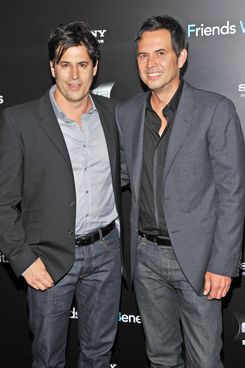 Friends With Benefits writers David Newman and Keith Merryman say their film was born out of frustration with the current state of rom-coms — none more frustrating than the ostensible look-alike, No Strings Attached. Not that they've seen it. We caught up with them at the premiere party last night to chat about Jews, gentiles, and the perks of collectively having nine older sisters.
How did you come up with this story idea?
David Newman: We had started with characters. We had a woman with a fear of abandonment and a man with a fear of commitment, and the premise Friends With Benefits came to fit.
Keith Merryman: Well, you know what part of it was: We were looking at all of our straight, single girlfriends and what they were going through.
Newman: True. [laughs]
Merryman: And we actually got frustrated that romantic comedies were not kind of reflecting what was going on in modern love.
Newman: With our friends, our generation. We also had this theory about Jewish romantic comedies and Christian romantic comedies; in Christian romantic comedies, all the barriers are external, like you make a bet that in ten days you can fall in love. We wanted to do a Jewish romantic comedy, where the barriers were internal, and so Friends With Benefits, when we thought of it, was a big enough premise to make a movie, but small enough where they could still be real humans.
Merryman: It turned into Judeo-Christian.
Newman: They behave the way people really behave in real life.
That's interesting. But then you didn't cast Jews.
Newman: Oh, you know, we tried. [Laughs] [Ed note: Actually, Mila Kunis counts herself among the chosen people.]
 
 What about when [Timberlake's character invites Kunis's] to meet his family. Was that based on reality?
Newman: We just thought it was great because he would never bring a girl home.
Merryman: A guy who was into a woman, a guy who is a commitment-phobe, would never bring a woman that he was into home to meet his family.
Newman: We knew there would be good comedy in that, but we really wanted to bring his father and his sister, Jenna Elfman's character, into the story in a really big way. Because we actually have nine sisters between us, nine older sisters; we love brother-sister relationships. And it's very special. I think Justin's character is really humanized in a wonderful way by the Jenna Elfman character and by that relationship.
 
No Strings Attached — what did you think when that movie came out?
Newman: It was difficult, because we had been first.
Merryman: We couldn't even see it.
Newman: Yeah, we never saw it. For a minute there, we couldn't see Black Swan, but we saw it.
 
What do you mean? Because you expected this to be Mila Kunis's first starring role?
Newman: No, it wasn't that it was a starring role, it was just that they were both in it. We're very sensitive writers. But really, to be honest, there's two volcano movies, there's two Snow White movies; hopefully there's room enough for both. I'm glad that film did well. We would love for our film to do well; we want movies to do well.
Merryman: And even though they deal with similar premises, they're apparently very different movies.
 
How are they different?
Newman: We're not sure, because we never saw it. We just hear that they're different.
 
How do you know that they're different if you've never seen it?
Newman: Because everybody told us.
Merryman: Everybody we know who's seen it.
 
Were you still writing this when that came out?
Newman: No, we registered the title way before that.
 
When the movie came out, what did you think?
Newman: Well, we were devastated because the movie went into production with our title, and we registered the title first.
Merryman: Yeah, we thought we were going to lose the title.
Newman: That's why we couldn't even see it.
Merryman: You can imagine what that felt like.
Theirs was originally called Friends With Benefits?
Newman: No, it was originally called Fuck Buddies, and then they changed it and they were going to try to be Friends, which you can't blame them, that's the title, really. And then we had to change.
 
So yours was always called Friends with Benefits?
Newman: Ours was always Friends.
 
They changed theirs because they couldn't call a movie "Fuck Buddies?"
Newman: Right.
Merryman: It became a legal battle, and we won.
Newman: We won. So now we can see the movie after tonight. [Laughs]