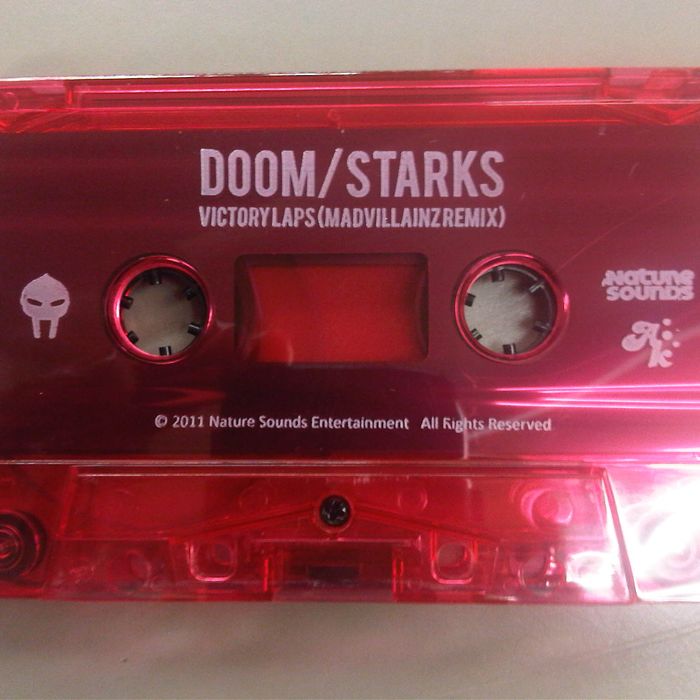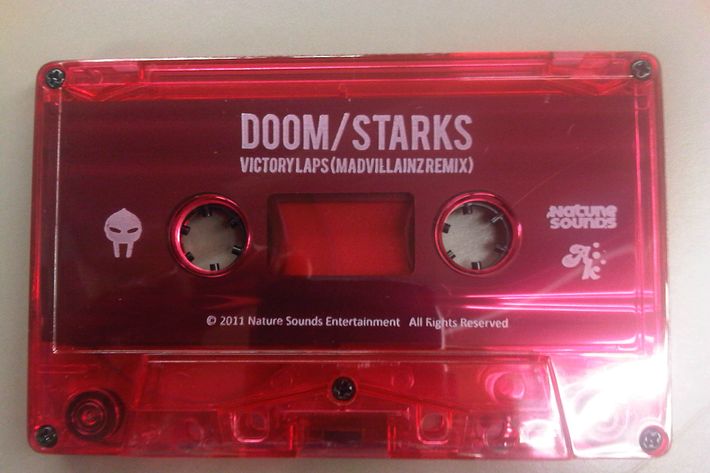 Six years ago, brilliant rap weirdos Ghostface and DOOM covered Mass Appeal magazine in anticipation of their then-imminent collaborative album. Last night, the first actual release from said album saw the light of day, via Hot 97's Peter Rosenberg. But, hey, no complaints about the tardiness here; it's unbelievable this thing even exists!
The track is called "Victory Laps (Madvillainz Remix)," and it's credited to DOOM/Starks (the latter part of the name a nod to Ghost's alter ego, Tony Starks). According to Nature Sounds, the label that's releasing it (first via the rad cassette tape you see above, then iTunes on July 26), it's co-produced by DOOM and his Madvillian partner Madlib. The string of information preceding means rap nerds worldwide are hyperventilating right now, but you don't have to have an opinion on KMD's back catalogue to appreciate this one. Over a chopped-up soul sample, the two spit trademark wordy verses, with DOOM up first: "bring rings around clowns / got 'em bowing down, a surround sound, drown." He then graciously transitions to his pal ("pass it off, Starks go"), who doesn't waste a breath: "army tanks, fuck a bodyguard, it's me and the iron / I'm secure like federal banks."
Two spare thoughts: Is there a reason that all these dream scenario hip-hop collaborations are happening all at once? And does this mean that the Thom Yorke–DOOM album is really going to happen, too? And now, if you'll excuse us, we have a cassette tape to purchase.
New Music: DOOMStarks "Victory Laps (MadVillianz Remix)" [Rap Radar]
DOOMSTARKS - "Victory Laps (Madvillainz Remix)" Cassette [Nature Sounds]