Photo: Brian To/2010 Brian To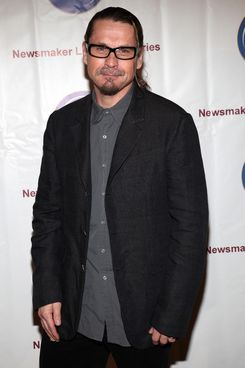 The moment yesterday's Emmy nominations were announced, and FX's Sons of Anarchy was snubbed, it was just a matter of time before creator Kurt Sutter would take to Twitter (like he did last year) and unleash a few F- and C-bombs over a TV Academy that somehow thinks three actors on The Kennedys are worthy of an honor that nobody on SoA is. So yesterday afternoon, Sutter did just that, unleashing an over-the-top tweet tirade about the awards. We decided to call him up and see if he wanted to elaborate on his tweets and how much he was hamming it up, as well as the Emmys' dis.
First, Sutter repeated what he noted on Twitter yesterday: "If I was really pissed off, I wouldn't be on Twitter ranting about it," he says. And while he has no problem with media outlets reporting his comments, he wished they'd do a better job putting them in context. "All the people who follow me on Twitter know my sense of humor," he says. "I sometimes forget the blogosphere will give it more weight than I intended … [But] 10 percent of all that is what I feel and 90 percent is me just throwing shit up." Sutter said Thursday's rant began as just a couple of jokes, until he "got a great tweet from Damon [Lindelof]. So then I said, 'Fuck it,' and went off and have some fun."
Sutter also made clear to us that his frustration yesterday wasn't just with the Emmy process; some of it was self-directed. "I get more pissed off at myself for having expectations [of Emmy nominations] than not getting them," he explains. "You don't want to get invested, but then then Katey [Sagal, Sutter's wife] wins the Golden Globe and you do these roundtables and panels and you get so pumped up." He also acknowledged that one of SoA's strongest constituencies — critics — weren't unanimously in love with season three of the show. "Critically, I think the general sense was that it started strong and ended strong but some people struggled in the middle with some of the episodes," he says.
Finally, during his Twitter-fest, Sutter at one point seemed to suggest that he was peeved at his FX bosses for possibly favoring some of the network's other shows over SoA. But Sutter clarified to Vulture that that's not the case. "I don't think they had a meeting and said, 'Let's bail on Sons,'" he says. "But I do believe there's a huge machine [designed to] get nominations and it involves a lot of money. I'm not saying it's underhanded or illegal; it's just all about drumming up attention. And I can't bitch or moan because they've thrown a ton of money at my show … These cats are really good to me and supportive." And what about Sagal, who was arguably the biggest victim of Emmy theft among the SoA gang? On Twitter, Sutter indicated she had asked her old man to mind his tongue. So was she peeved that he spoke out anyway? "Some of the stuff she understands and some of it she's sort of like, 'What the hell are you doing?'" Sutter says. "When I see TMZ and THR and New York Magazine picking up my rants, I start thinking maybe my wife is right."