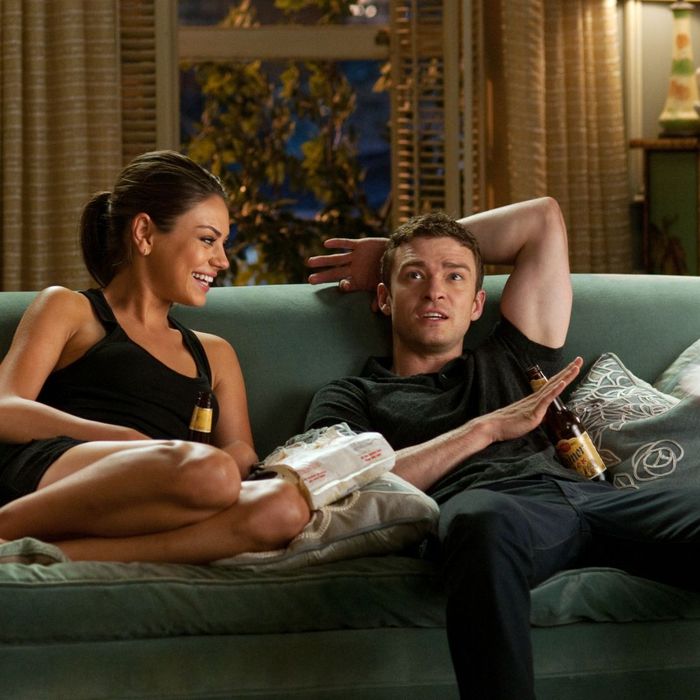 Photo: David Giesbrecht/?2010 CTMG, Inc. All Rights Reserved. **ALL IMAGES ARE PROPERTY OF SONY PICTURES ENTERTAINMENT INC. FOR PROMOTIONAL USE ONLY. SALE, DUPLICATION OR TRANSFER OF THIS MATERIAL IS STRICKLY PROHIBITED.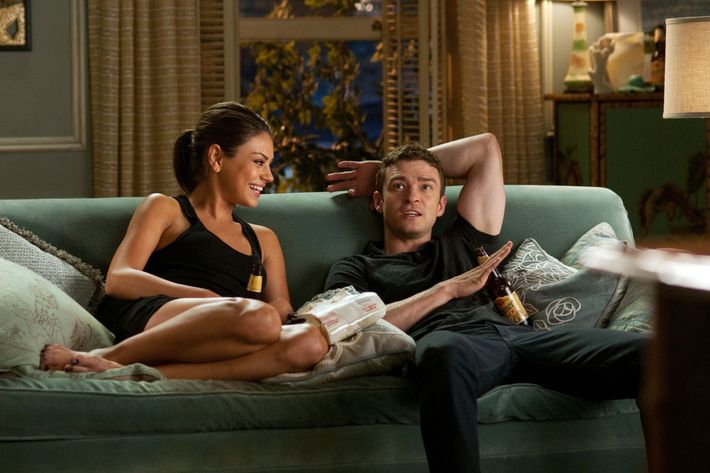 Fast-paced and fabulously fake, Friends With Benefits is the Red Bull of romantic comedies, unapologetically delivering a hyperactive, synthetic buzz. Justin Timberlake is always charming, but never clueless. His studied studliness works here, where he plays Dylan, the goofily arrogant art director, just as it did as the plastic mover-shaker Sean Parker in The Social Network and, for that matter, in his self-aware bits on SNL. His performance as "emotionally unavailable" ass man opposite "emotionally damaged" wiseass Mila Kunis gamely lets her steal the show. Kunis plays Jamie, a headhunter who recruits Dylan for a fancy job at GQ (a magazine for which Timberlake is the ur–cover model these days). She's crass, sassy, and so quick she never leaves time for the audience to stop and think too much. She teeters over a luggage conveyor belt in bare feet, straddles Timberlake like she's riding a mechanical bull, and tosses off dick jokes with utter ease.
The rest of the character actors in the cast prove that they can be hilarious caricature actors too. Patricia Clarkson plays Jamie's cussing, heavy-drinking free-love burnout mother with deadpan timing and a potty-mouth relish. Woody Harrelson is cartoonishly ridiculous as a horndog gay man who says things like "I like cock — I'm stricallly dickally." In the middle of all that madness, the great Richard Jenkins somehow gets away with something like dignity playing the part of Dylan's Alzheimer's-suffering father.
We all know films like Sleepless in Seattle or Love, Actually or Bridget Jones's Diary have little relation to real life. We find them compelling maybe because of that. Gluck's smartest move is embracing that escapist fairy tale despite our qualms about the commercial genre — an idea he nods to in the film's two sweep-you-off-your-feet set pieces. Early on, Kunis gives Timberlake a brightly lit touristy romp through Manhattan that's so romantic it makes Woody Allen's rose-tinted vision of Manhattan look post-apocalyptic. It's capped with a ridiculous, totally fun flash-mob performance in Times Square. It's a blast, and Dylan triumphantly rips off the spontaneous performance for a GQ advertising campaign. The gambit resonates because that's exactly what director Will Gluck is doing himself, and is, after all, what all rom-com directors do: gleefully packaging romance. Gluck, who co-wrote the script, crossbreeds the giddy vulgarity of Knocked Up and the Manhattan glamour of The Devil Wears Prada into some kind of hardier commercial mutant. He's a quick-witted, inventive director with a natural's touch for contrivance. Most of all, he's a Hollywood director who seems to love making fast, light Hollywood movies. The better for all of us looking for something to do on a Saturday night in the air conditioning.