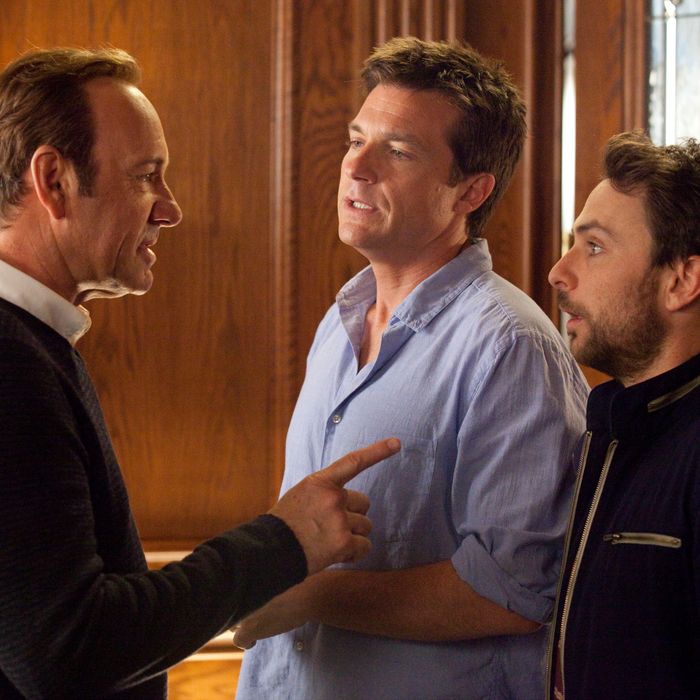 Photo: John P. Johnson/? 2011 New Line Productions Inc.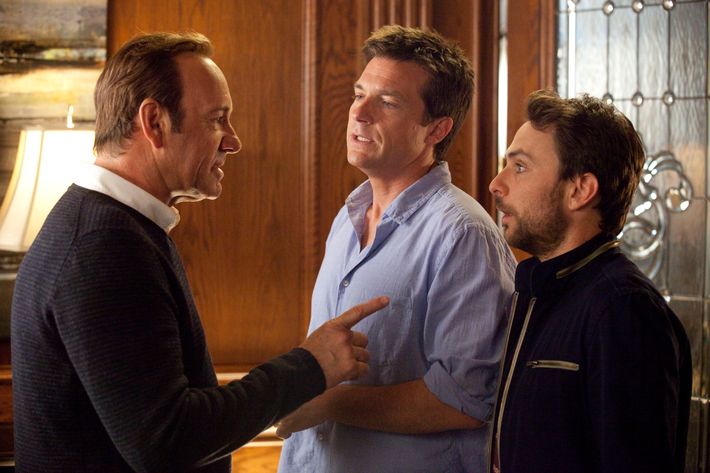 Even if we weren't in a time of chronic unemployment, where just keeping your job (and sucking it up and liking it!) is the new getting ahead in life, no movie pitch could seem like more of a sure thing than an angry comedy about three frustrated guys who want to off their employers. It's potent wish fulfillment. But the best thing about Horrible Bosses is that the actors nail their roles.

The film's three oppressed white men who want to kill the Man are played by Jason Bateman (tart as ever), Jason Sudeikis (game as ever), and It's Always Sunny in Philadelphia's Charlie Day (better than ever). Bateman gets tortured in his white-collar office job by Kevin Spacey, who really knows how to play a Swimming With Sharks–meets–Glengarry Glen Ross dick. Sudeikis is tortured in his blue-collar manufacturing job by Colin Farrell, who solidifies his comeback path as a combover-sporting, coke-snorting douchebag who orders Sudeikis to "Trim the fat: I want you to fire the fat people."

The most perverted pas de deux is the lewd union of Day, as a shrill, exasperated dental hygienist, and Jennifer Aniston, as the sexual harassing dentist he works for. Not only does she grab Day's crotch and suggest they make out on top of an unconscious patient, it turns out she once posed him like a Ken doll in ridiculous, compromising positions while he was knocked out on gas, in order to blackmail him into having sex with her.
The plot really gets ridiculous when Sudeikis decides he wants to sleep with her.
This isn't to say that plenty of director Seth Gordon's bits don't miss their marks: The action gets repetitive, Bateman and Spacey have no comic chemistry, and there are too many heard-it-before jokes about things like prison rape. Still, Day's scene involving a mountain of cocaine is hyperspeed-hilarious, Farrell's unhinged, irrational fuming is marvelously cretinous, and Aniston's fully committed sex-addict sexpot act is wickedly absurd. So if this is an employee review, and not a movie review, I'd say they more than earn their paychecks.