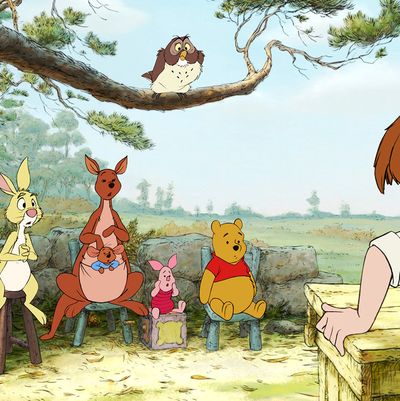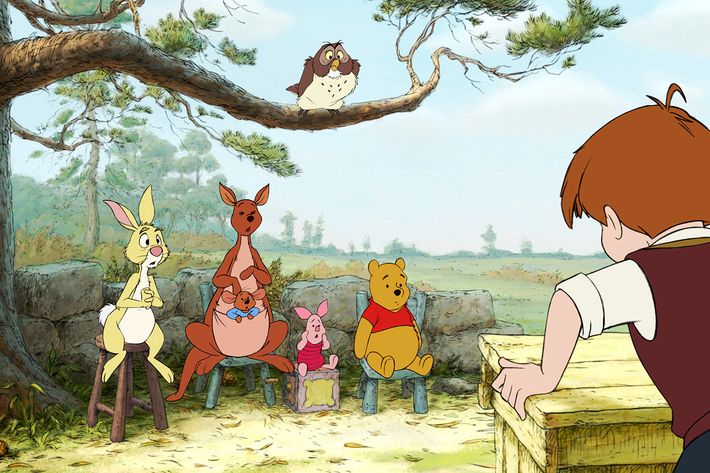 In the radical new 3-D IMAX aroma-vision reboot Winnie the Pooh, the once-gentle bear is forced to defend his forest against the nefarious energy conglomerate that clear-cut his forest under the secret direction of the evil genius "Triggerman" who — SPOILER ALERT — in a surprise dual role, is actually his old pal turned nemesis Tigger. Pooh gets stung by a radioactive bee, transforms into a superpowered grizzly, and wreaks havoc, but not before both Roo and Piglet become dinner.
Okay, not really. In Disney's warm bath of a film, there's nothing even as potentially upsetting as shampoo-froth horns. The yellow bear's motivation couldn't be more sweet: Pooh craves Hunny.
Unlike most new kids films, which pack in adult references, new settings, and new characters, the new Pooh is very much the old Pooh. Clocking in at barely more than an hour, and never leaving the Hundred Acre Wood, this wisp of a story stitches together a few familiar story lines involving Christopher Robin's brief absence, Eeyore's debilitating but unpathologized depression, and Pooh's adorable appetite. Rabbit nudges, Owl pontificates, Tigger pounces, Piglet scurries. That's about it.
The hand-drawn animation is old-school, clean, and spare (question for Etsy shoppers: does that make it artisanal?): Pooh, Piglet, and friends all look exactly as you remember them. Zooey Deschanel lilts a few lullabies. The film's only distinct visual signature is some delightful playfulness with typography. As if crawling through the pages of a book, Pooh scrambles atop one letter, swings from another, and crashes down in a messy alphabetic pile. Some films seem like they were made for DVD; this may be the first that seems like it was fashioned for the iPad.
With its abbreviated run time and anodyne plot, this slight tale is geared toward very young children and doesn't have much to offer if you're older than, say, 6 — but the film isn't irritating, either. And as a parent, it's something of a relief that it's so much like what we thought children's entertainment was supposed to be like. Instead of cringing at every dumb poop joke, overreaching meta-reference, or annoying bit of product placement, parents will likely find the film adorably, if forgettably, soothing. After a summerlong rampage of Hollywood's obnoxious misbehavior, Pooh is mercifully without sting.