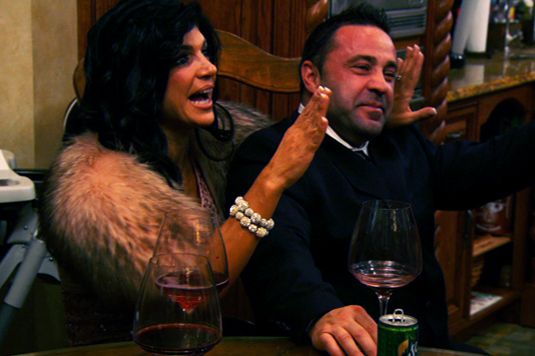 Twas the week before Christmas,
When all through Teresa's house,

Not a piece of living room furniture was remaining,
Thanks to her juicy, juicy spouse.
Who says you need a Reagan-era bed in the Catskills and a vibrating cock ring to have a romantic time? This week, Teresa and Joe make do with a pair of booty shorts and what Joe calls a "living room picnic," our favorite new euphemism for a court-mandated liquidation of one's chaises. The lovebirds sit in front of the fire and drink wine, Teresa convinced that things are going to be fine because she knows she can trust her husband to get them through. I'd say that she has the wool pulled over her eyes, but really, it's more her hairline than the wool.
At the Manzo boys' apartment, the pepper-flaked stockings were hung with care,
As sister Lauren's mental neediness sucked up all the air.
Albie and Christopher had nestled all snug with the delightful Greg,
Listening to Mariah Carey's Christmas album as they tapped out the keg.
After this episode, it's clear that, next season, the producers will need to fire Kathy and give her slot to Albie and Christopher's gay roommate Greg. He's already ousted Lauren Manzo, who cries that her brothers have traded her out for a new bottom. Even after they give her the key to Manzbro City, she's still not happy because one night they had people over to eat pasta and they didn't ask her to make the hour drive to come eat pasta, too. She sobs a Sephora store's worth of eyeliner into a tissue, thinking about her brothers doing the Lady and the Tramp move with someone besides their sister. And, surprisingly, it is Caroline who gets Lauren in check because Mom's suddenly all about embracing change. Out with old, charming, fragrant Christmas trees with actual pine needles; in with soulless lime-green feather cones! Out with clinginess and unreasonable emotional dependency on the Manzo boys; in with accepting the cruel twists and turns of life!
And the children Gorga in their unexplained Union Jack jumpers
Tried to avert their eyes as Joe told Melissa he wanted to pump her
When from their mother's mouth there arose such a clatter,
That father had to marvel at this singing receptacle for his baby batter.
After extensively lotioning herself up, Melissa is ready to meet with R&B/hip-hop producers K-Mack and Corté Ellis, otherwise known as "Soul Diggaz." And boyyyyyy are these the right guys for the job: They're going to have to get out their best shovels to go digging for the soul in Melissa's voice. Her breasts sing the number about the burden of "being on display," and Joe is loving it until he hears that Melissa might have to practice in the studio up to fifteen hours a day (I'm guessing "Soul Diggaz" just randomly chose fifteen because "infinity" seemed too overwhelming a number to start with). But she can't be outta the house that long because she's a motha, Joe says, and then a lightbulb goes on in his penis. If he builds a studio right in his basement, then he can put up a two-way mirror and watch her sexually frustrate the guys who have been hired to Auto-Tune her. It's a win-win for everybody!
Away to a new restaurant space Kathy flew like a flash,

The Lebanese Jon Lovitz promising to put up the cash.


The chandelier competing with the glow of his lips,
So loose and flappy you dare not take him on ships.
The moment that Kathy sees a lamp with crystal ricrac around the shade, she knows that this is a place that shrieks class. Before we can see any more of the place, the scene cuts to Rich interviewing, with never-before-seen graying facial hair shaved in a perfect frame around his lips — my personal version of the decaying girl from The Ring stumbling into my living room. When I come to, Lebanese Jon Lovitz and Kathy are sitting down with Albert Manzo at the Brownstone, seeking his advice. This is his opportunity to tell LJL that he should grow a real thick, bushy, biblical kind of beard, the kind where you can't even tell where the opening for the mouth is supposed to be unless food's going in, but instead Albert just laughs and laughs and laughs. Why don't you try catering first, he says when he finally calms down, and Kathy's eyes bulge with an almost relieved acceptance of her limits, and possibly a touch of hyperthyroidism.
When, who to my wondering eyes should appear,

But the harpy Kim G., trying to force her TV career.
With a lift of her hair, and neck awkwardly bent,
She coaxed Jacqueline's hand up to finger her dent.

It's Christmas in July, and my gift is the reappearance of Franklin Lakes's greatest shit stirrer, now with a brain tumor backstory. I've never wanted a 3-D television set before tonight, but as Kim G. tried to show her missing skull fragment to Jacqueline, I longed for a technology that could illuminate its contours, rendering this episode Bravo's equivalent of Herzog's Cave of Forgotten Dreams. Inexplicably, Jacqueline isn't at all eager to get a feel for Kim's head, and she doesn't want any of her Giudice fraud trial gossip either. She says that this is because she's a loyal friend, but it's really because she's going to have to hear it all over again when Teresa comes to her holiday cocktail soiree that night.
Tre arrives at the party in a fur made out of Joe's shaven chest hair (times are hard) and tells Jacqueline about one "Monica Ciccone," who is Joe's ex-business partner's lawyer's wife (we do not learn what's really important, which is whether this Monica is a distant cousin of Madonna). First we hear Teresa's version, which is that she assertively confronted Ms. Ciccone about cavorting and scheming with known Giudice enemy Kim G., then maturely walked away. But Joe is simultaneously Rashomon-ing the event in the kitchen, saying his wife is "fucking nuts" and was on the verge of getting arrested. I lean toward his interpretation when Teresa explains to Jacqueline that she just needed "to silence the lamb."
The Gorgas are in attendance, as they're testing out co-partying with the Giudices, and not only do we learn that Joe is just as good at pretending to pound a table in anger as he is at actually pounding a table in anger, but also that he can't resist a dare. When he gets dared to go put on Jacqueline's sequined bodysuit, the man cannot be stopped. It's almost like he wants to jam his balls into that Lycra onesie, like he totally, completely revels in dancing and running around in it, glittering like a sugarplum whose weird body shape you will never get out of your head. Too bad Teresa and Melissa can't just delight in his obvious joy together; they're busy making passive-aggressive digs at each other about sisterly love and brothers and husbands and weekend vacations and family — basically the same old shit that they said they were leaving behind the last time they were together in Jacqueline's house. As Melissa invites Teresa's friends to her Christmas party, Teresa just performs a series of pained blinks, her mouth hanging open like an animatronic singing bass that ran out of batteries.
On Melissa! On Teresa! On Joe One and Joe Two!

On Caroline! On Kathy! On Kim G. and Jacqueline!

To the Gorga Christmas party next week! To your next brawl!

Now flip tables away! Flip tables away! Flip tables away all!