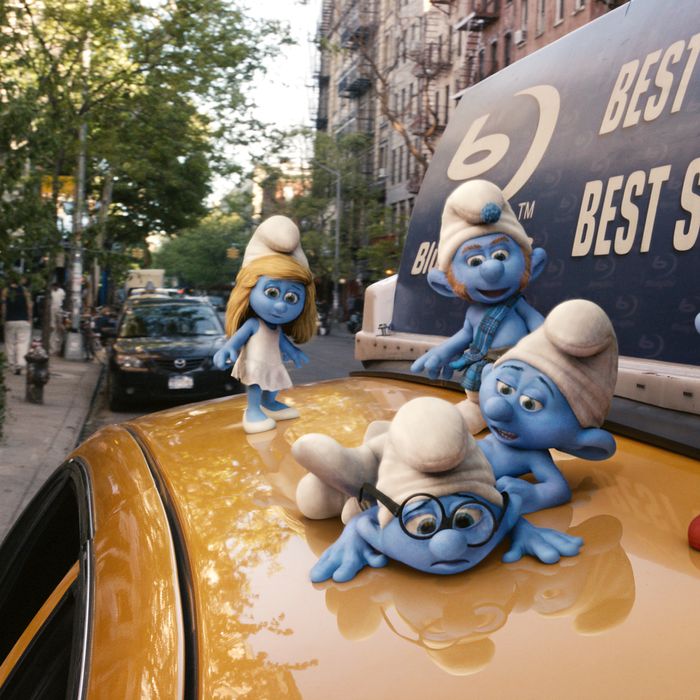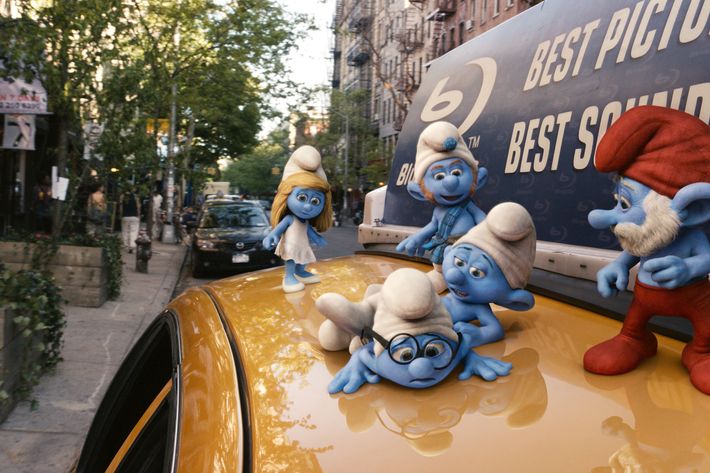 Here's how I imagine the Smurfs came out of retirement and into 3-D: Papa Smurf walks into a talent agent's office and says, "I've got this great smurfin' act." The talent agent says, "Well, what the smurf do you do?" Papa Smurf says, "I've got 99 little blue guys who smurf in trippy mushrooms and one bodacious blonde, Smurfette, who was smurfed into existence by an evil wizard named Gargamel in order to seduce and corrupt them. They all jump in a wet magical tube where they get smurfed the smurf to New smurfin' York. Smurfette pulls her skirt up; Gargamel chains me up in a dungeon and sucks the smurfin' essence out of me and sticks it in his wand. They meet Sofia Vergara, that smurfin' hottie with the big smurfs from Modern Family, and Neil Patrick Harris, who plays the guy who smurfs every chick he sees on How I Met Your Mother. The Smurfs smurf this, they smurf that, they smurf all over Manhattan: FAO Schwarz, even. Eventually, all the Smurfs get together and smurf the smurf out of Gargamel. And his cat! And Smurfette gets a new dress." The agent says, "Well, what the smurf do you call the movie?" Papa Smurf says, "The Aristocrats."
The agent says, "Nah, we'll make more money if we just call it The Smurfs and smurf the kids with expensive 3-D." Which is actually the oldest joke around: take a long-in-the-tooth franchise and move it to — New York! Bound to work, right? If nothing else, just think of the clichés to mine. While director Raja Gosnell (Beverly Hills Chihuahua, Scooby-Doo) does wink at the ridiculous Smurf gender imbalance, that grating "la-la-la" song, and the pig-latin-like idiocy of using "smurf" in every sentence (often as a cover for playing blue with inappropriately lewd jokes), this is lazy at best.
Really, who makes the hero of a children's film a cosmetics marketing executive (speaker-phoned in by Harris, who should probably stick to hosting awards shows and skip Hollywood smurf like this and Beastly)? His character's abysmally uninteresting conundrum is that he's got to create a brand-new advertising campaign in 48 hours? For, of all things, a smurfing anti-aging cream? And why would a misdirected e-mail from this man to his CEO (Vergara) ever be a major plot point? How smurfing clueless are these people? Still, with extensive blue-chip marketing and brand recognition, Smurfs will no doubt do well enough at the box office.
The original Smurfs cartoons were harmless enough kiddie nonsense, but at least they conveyed some basic idea of decency, and they were gleefully slight. The rest of us stuck watching it might want to quote the words of a legendary NYC tourist T-shirt that's one of the only clichés not trotted out in this reboot: Smurf you, you smurfing smurf.