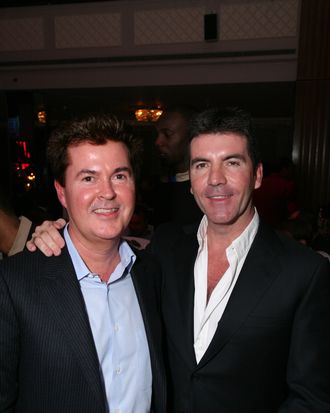 If you know the name Simon Fuller at all, it's likely only because you've seen it flashed in front of you twice a week for the past decade every time American Idol airs: He gets credit for creating the franchise, which began life as Pop Idol in the U.K. We're very sure you know who Simon Cowell is. What you might not know is that both Simons are longtime frenemies whose battles over who's more responsible for the success of Idol seem to end up in court every few years. And that's what's happened today: Fuller is suing Cowell (along with Fox and the FremantleMedia production company), claiming he's been cut out of the loop of their upcoming musical-competition series The X Factor. So will any of this impact what you see on TV anytime soon?
The short answer is: No. Today's legal action doesn't appear to ask the court to put a halt to September's U.S. launch of X. Instead, Fuller is accusing Fox and Cowell of going back on an alleged 2005 promise to make Fuller an exec producer on any American version of X, and, even more importantly, pay him a fat producing fee. According to The Hollywood Reporter, which first reported the suit, the pledge was made as part of a settlement of another court case, one in which Fuller basically said X Factor (which has run for many years in the U.K.) was a ripoff of Idol. The parties seemed to reach a détente in 2005, but Fuller now says Fox, Cowell and FremantleMedia (which also produces Idol) are trying to pull a fast one by cutting him out of the action. "Fox and Fremantle made hundreds of millions of dollars thanks to the creative efforts of Fuller," the suit states. "Now, when it is time to finally perform on these unequivocal promises, Fox and Fremantle refuse to … pay Fuller an executive producer fee commensurate with his duties and stature in the entertainment industry."
Fox's response pretty much boils down to, "Wait, you're suing us now?" Per a statement from the network and Fremantle provided to Vulture, "Mr. Fuller has not been hired, nor performed any duties, on the U.S. version of The X Factor. His suit seeks payment and credit as an executive producer despite his neither having been approved by the required parties, nor hired, as such. We believe this lawsuit is without merit and we expect to prevail."
Here's what we really think is going on: While Fox's stated goal is a world in which X, Idol, and So You Think You Can Dance all co-exist in harmony, allowing the network to dominate music-and-dance competition on TV year-round, Fuller knows that if X is big in the States, there's a good chance Idol could be weakened as viewers tune in to watch the newer kid on the block. Sure, Idol got a boost this past season with a new panel of judges, but by the end of the season, the buzz around the show had faded: Steven Tyler and J.Lo said the same boring things each week and the finalists were dull. What's more, the surprise late-spring success of The Voice has given viewers another alternative to the touchy-feely vibe seen on Idol this season. Assuming X is a big hit, and Idol fades, it's easy to imagine Fox putting an end to the costly Idol in another couple years. Could it be that Fuller simply doesn't want to take the chance that, in a game of musical chairs among music-competition series, he's left without a show?