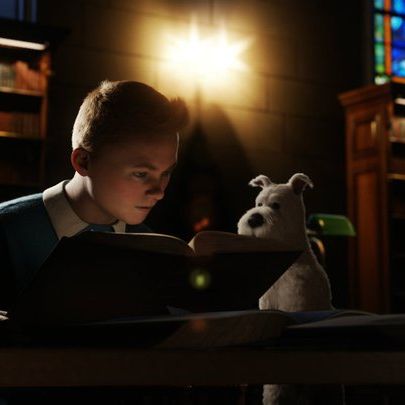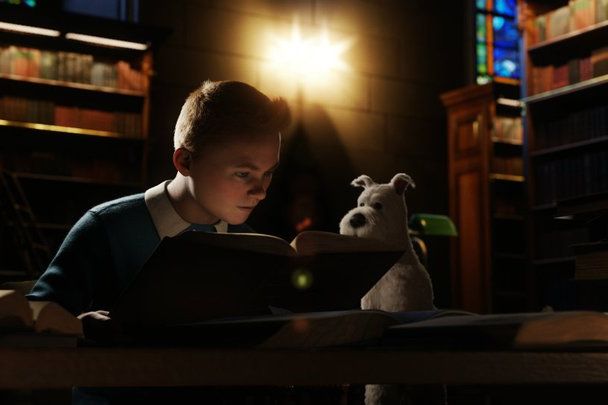 Most Steven Spielberg movies are an easy sell to the general public, but The Adventures of Tintin: The Secret of the Unicorn is a different case. The Tintin comics, while beloved abroad, are virtually unknown in the United States, and the recent trailer for the movie had its doubters. Today at Comic-Con, Spielberg and producer Peter Jackson replayed the trailer and showed off some new clips, and while the movie came off better in a lot of respects, there's still one potential trouble spot: the main character.
First, the good news: It's often said how much motion capture allows actors to play wholly different-looking people, and Andy Serkis proves it yet again with his character Captain Haddock. Already a motion-capture pro with apes and dessicated Hobbits and this time asked to play a normal human, there's still no recognizable trace of Serkis in this stout, big-nosed, bearded man, even though the mannerisms, physicality, and line readings came straight from the actor. It's fascinating to just watch Haddock, and he's been appealingly animated, his facial features exaggerated just enough to surmount the uncanny valley so many motion-capture productions fall into.
Unfortunately, Tintin himself didn't escape the same fate. There's something off about this character, and it's clear why he's been minimized in the trailers for his own movie. Aside from the swoop in the front of his hair that lends him some cartoonish verve, Tintin looks simultaneously too-human and not human at all, his face weirdly fetal, his eyes glassy and vacant instead of bursting with animated life. The voice performance by Jamie Bell is fine, but the look is lacking.
"If we don't do something new every time, we get bored with ourselves," Spielberg explained during the panel, and it's clear that he loved shooting the movie, especially since he got to operate the camera himself. Still, he'll have more work ahead of him to convince audiences that motion capture was the right format for translating Hergé's classic comic book hero. The ironic thing is that as a joke, Spielberg showed off a live action test reel he'd made that cast Jackson as Haddock and featured Snowy the Dog as the only animated element … and it actually looked pretty good. While the extended action sequences that Spielberg played for us had his usual kinetic zip, that mock Tintin test reel proved that some things are just more fun in the flesh.