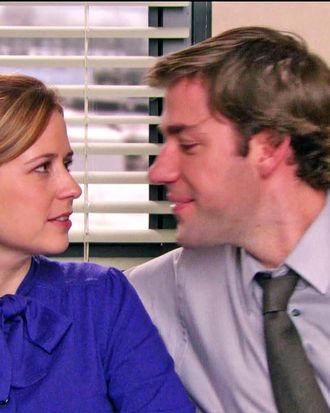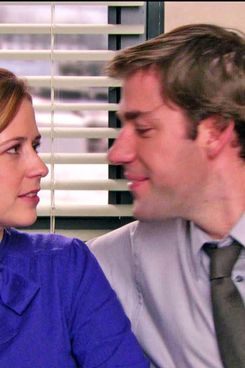 Jenna Fischer confirmed to Vulture that her real-life pregnancy has been written into season eight of The Office. "Pam will be pregnant when the season starts," she told us in an interview. "Pam and Jim snuck away last season on Valentine's Day, and they had sex. The story is that they conceived this baby at that time and were keeping it a secret until we come back from the summer."
It will be the second child for Pam and Jim, and the plot development conveniently overlaps with Fischer's real-life pregnancy, which she announced back in May. "When we started shooting that [Valentine's Day] episode, I thought to myself, If everything goes well, this is going to be a very, very convenient coincidence," Fischer said. "And I think I found out I was pregnant when we were shooting that episode." Guess this means Fischer won't be needing to lurk behind furniture and big purses once pre-production starts next week!
Fischer also told us that a Michael Scott replacement has finally been picked, but she's not allowed to say who. Whoever it is must be willing to serve slavishly under new Sabre CEO James Spader: So perhaps it's Maggie Gyllenhaal?