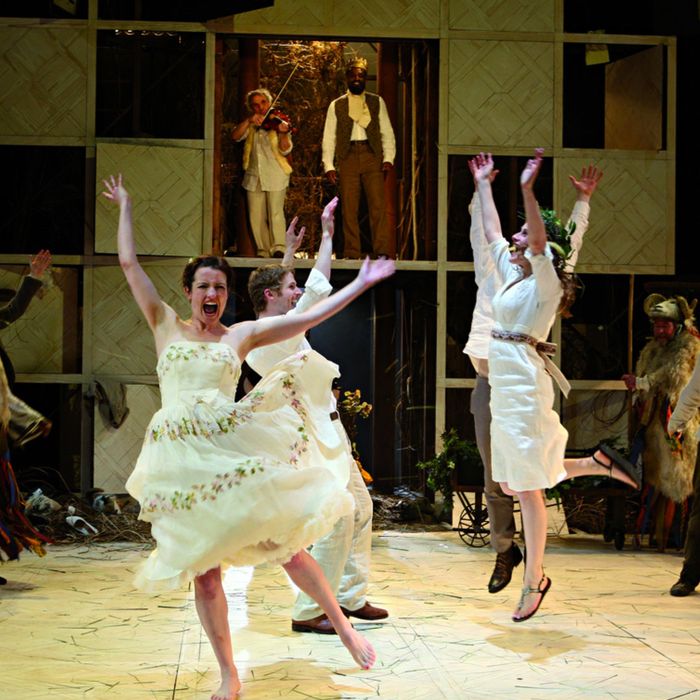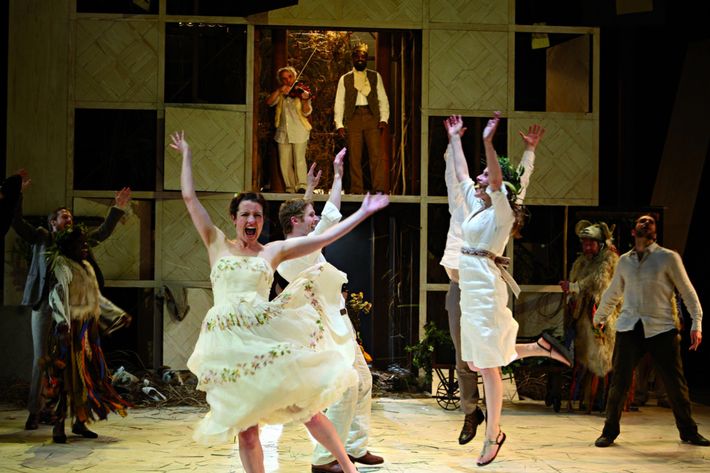 Fond of women who don't — correction, won't — know their place, confine themselves to their appointed range, or answer to any authority other than their own instincts, even if it means their almost-certain destruction? Still hurting for some untrammeled femme-dom energy, even after getting worked over by Tyne Daly in Master Class? Well, then, unwrap your hard candies now: You're going to be spending a lot of time in the theater this month.
Begin in bondage: South African playwright/director/conceiver Yael Farber has done the seemingly impossible — she's merged the horror of apartheid with the horror of The Oresteia, and somehow come away with a show that's inescapably … optimistic. Which isn't to say her MoLoRa ("Ashes" in Sesotho) is warm and fuzzy. Farber's tale is written in blood yet never circumscribed by it. Her mode is fable, but with nothing literal or simplistic or picturesquely folkloric. MoLoRa can be hard to watch — domination should be difficult to watch — yet it leaves you with a more encouraging vision of humanity than anything you're likely to see anywhere else, in any medium. And it has history on its side: You may remember (though we don't remember nearly often enough) that South Africa's fight for liberation had a decidedly un-Greek ending. Somehow, through several conjoined miracles of good governance and superhuman grace, a nation ended up not haunted by Furies and endless cycles of violence, but palliated with Truth and Reconciliation. Hell, they even named a commission after it. MoLoRa explores why that was so. We'd do well to pay attention.
For the most part, Farber lets the women tell the tale. Or rather, tales: There are two titans here, both angels, both Furies, both their own versions of events. They're locked in narrative and physical combat, and portrayed by two fiercely brilliant actresses. Dorothy Ann Gould is Klytemnestra, her face stony as an Easter Island totem, her garb that of a white farmer. She opens the show with the murder of Agamemnon (Sandile Matsheni), the vicious husband she hates and fears. He's "buried" center-stage, in a dusty rectangular plot that becomes the central playing-space. Klytemnestra subjects her daughter, the iconically black-African Elektra (Jabulile Tshabalala), to servitude and torture, interrogating her over the whereabouts of her baby brother Orestes (Matsheni again), whom she fears will return to avenge his father. (A 2,600-year-old spoiler alert: He does.) Seated around them, there's an implied "commission" of traditionally attired Xhosa women (and one man), played by the ghostly vocalist-musicians of the Ngqoko Cultural Group. They function as both Chorus and ad hoc Eumenides. The theatrical trappings are spartan and flawless; the stage is mostly cleared for the standoff between Gould and Tshabalala — the women are the future here, even though they're also lugging the guts of the past. Every object onstage, human or inanimate, is heavy with cost and consequence: the weight of a pickax hitting the floor, the thump of a gumboot, even the mist of ash in the air. We all know how this story turns out, or at least we think we do. Yet we keep on forgetting, as individuals and as a society. Farber and her stunning company make it impossible to forget.
If you're up for another oft-told tale — featuring one of the liveliest heroines in the English canon — come see the Royal Shakespeare Company in residence at the Park Avenue Armory. They've constructed, in the hangar-size drill hall, a full-scale re-creation of the National Shakespeare Theater in Stratford, and this summer, in conjunction with the Lincoln Center Festival and Ohio State University, they'll be running five plays in rep. First out of the gate is As You Like It, the greatest of the cross-dressing comedies. There's so much to recommend this lovely, lucid, laugh-packed production, from Michael Boyd's witty yet unintrusive direction to John Woolf's piquant pseudo-period musical arrangements, it's hard to know where to begin. Perhaps with plucky Rosalind (Katy Stephens), daughter of an exiled duke and soon exiled herself by his usurping brother. Roz, as a role, is often swallowed up by the drag she adopts (first to survive, later to get her groove on), and actresses who play her tend to mark time until they reach the outskirts of Arden, the primeval pastoral retreat of all banished refugees from corrupt court. And really, who wouldn't prefer the heteroflexible dizziness of Arden, where Rosalind, with "a swashing and a martial outside / As many other mannish cowards have," woos her winningly dim intended Orlando (made a likable, slightly bi-spurious lunk by Jonjo O'Neill) by pretending to be his wingman and love guru?
Stephens and director Boyd work hard in those early court scenes, building a case for Roz as more than a bird in a gilded cage forced to find her true calling as a resourceful trickster: She's a philosopher, "deep-contemplative." But once forced out of her comfort zone by political exigency, Rosalind has no trouble acting on her impulses — in fact, that's more or less all she does, letting her intellect catch up as she goes. She's a keen pursuer of what she wants, and Stephens charts Rosalind's progress from sexually imprisoned girl to sexually liberated boy to full-bodied woman masterfully, nimbly, and naturally. We soon stop decoding her performance and simply enjoy it, because she's just having so much fun up there.
Meanwhile, on the other end of the serotonin scale, two manic-depressives, the melancholy ex-libertine Jaques (the superb comic actor Forbes Masson, a master of deflation) and the libidinous fool Touchstone (the superb comic actor Richard Katz, a master of puffed-up-ness), go toe-to-toe for solidly earned, textually derived laughs, unenhanced by excessive business, forcible gesturing, or actorly super-titling. (Orlando's haplessly evil brother Oliver, played by Charles Aitken, runs a close third for good clowning.) As You Like It is 90 percent fun and games, but there's also an usurpation at issue, a civil war in the wings, and always the threat of a final reckoning on the horizon. "And you may avoid that too," Touchstone reminds the exiled duke, in the spirit of compromise, "with an If … Your 'If' is your only peacemaker." Rosalind, it turns out, is that "If" — in today's parlance, she "flips the script." She's a "game-changer," the plot twist that actually works, the deus ex machina that actually satisfies. And thus, improbably, peace is made. Will it hold? Boyd's too canny to be blue-sky about it. But anything's possible in a world where the lady, against convention, is given the epilogue. And even Furies take a sabbatical every now and then.
MoLoRa is at the Alvin Ailey American Dance Theater through July 24. As You Like It is at the Park Avenue Armory in rep, running July 8, 9, 23 and 31, and August 6 and 14.