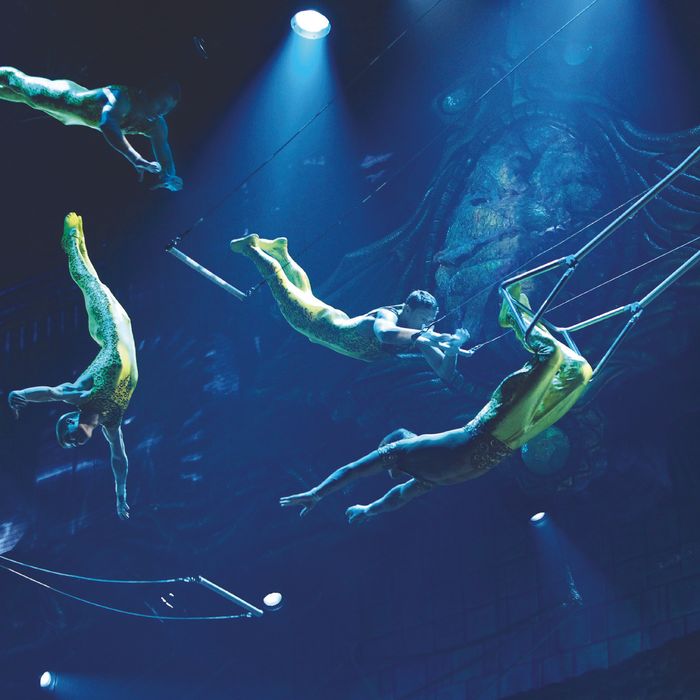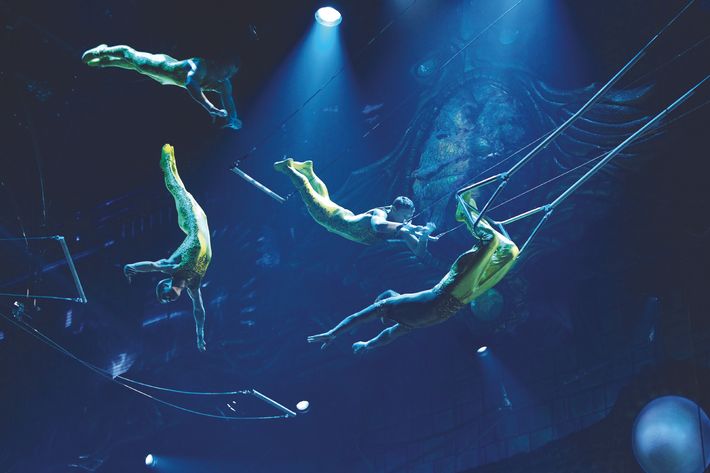 Just what we need: another aerobatic rock opera prominently featuring circus arts, gravity-defying wirework, and a sinister lady-spider. Zarkana, the latest mega-spectacle from Quebec's Cirque du Soleil, is far more surefooted than its hapless American cousin down the street—and, like the rest of us, the Cirque troupe makes sure to get a few Spidey digs in—but the two shows share a certain commitment to flashy nonsense.
As a "rock opera," Zarkana doesn't really rate. I'm not sure what I was listening to could be classified as "rock" (composer-producer Nick Littlemore's music is more like the electronic albumen an electropop album might've gestated in). As for the opera part, correct me if I'm wrong, but I think that requires some sort of story. Narrative has never been the Cirque's strong suit, but this time, they keep insisting on a love story that just isn't there. Supposedly, we're following mono-monikered magician Zark (mono-monikered Quebecois singer Garou) as he journeys through a Carrollian theater-world in search of his mono-monikered true love/beautiful assistant Lia (mono-monikered Quebecois singer Cassiopee); only when he finds her will his powers be restored. Who are all the tiny white-clad stock players up there, gumming up his quest with their stage business? Who's the knife-wielding Chinese chef? The squeaky schoolgirl with the whip? The mad scientist? Maybe they're ghosts of the abandoned theater we're in? N.B.: I didn't know I was in an abandoned theater until I carefully perused my two 30-plus-page programs. I simply assumed I was at a Cirque du Soleil show, where LED walls sprout snakes for obscure reasons, and bit players are transformed into hideous, hydrocephalic, eight-armed CG water-babies, just cuz.
But who are we kidding? You're not paying Cirque prices for a story. You're there to watch lissome endomorphs dangle from the ceiling and take death-defying leaps into the great gaping maw of Radio City Music Hall. Which they do, with gusto. The circus portion of Cirque du Soleil is as soul-stunning and brain-melting as ever: The aptly named Wheel of Death is especially noteworthy/horrifying, and the high-flying trapeze artists of the Grand Volant—even performing with a visible net—make frighteningly good use of Radio City's Hindenburg-hangar proportions. Nothing's really of-a-piece here: The circus performers have little to do with the rock-opera arc, and the two often feel vaguely at war with one another. (The costumes don't even match—maybe a nod to the bricolage of theater? Or maybe just a bad design decision?) Intriguingly, one of the biggest applause-getters is the least physical demonstration of skill: Sand-painter Erika Chen, who brings images of amazing depth, breadth and complexity to life with handfuls of blue grit, tossed casually on a magnified screen. With nothing but her hands and a few tablespoons of common silicate, Chen outclasses all the CG you've seen this summer, the roiling LED backdrops of Zarkana included.
Lush, expensive nonsense can be fun, especially when it's live, and lives are on the line. It's only when Zarkana slows for a comic interlude (the clown acts, with one or two exceptions, are mostly swallowed up by the space) or an "emotional" beat that we realize how substantively spartan this overstuffed show really is. My advice to theatergoers: Don't stop when the show does. Let that momentum carry you out into the lobby for some overpriced kettle corn. By the time you're back, someone's sure to be almost-dying again.
Zarkana is running at Radio City Music Hall through October 8.