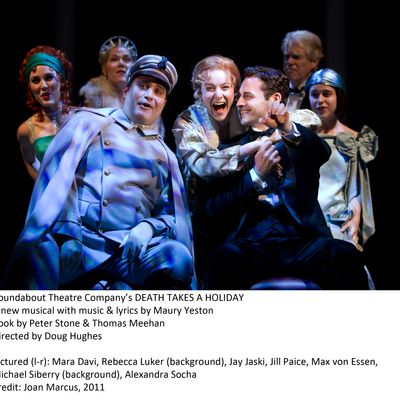 Photo: Joan Marcus/?2011 Joan Marcus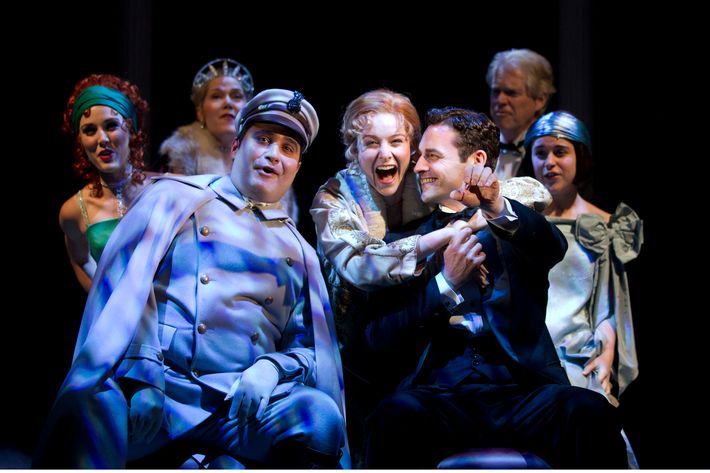 Death (Julian Ovenden) isn't exactly proud in composer Maury Yeston's just-serviceable, never-soaring new musical adaptation of Death Takes a Holiday. He's just a little peremptory and gimme-gimme. As originally adapted for the American stage from Alberto Casella's 1924 Italian goth-omedy, the Reaper is half impetuous child, half Starman-esque naïf. He's come to the infelicitously christened Villa Felicita—the household of unlucky Duke Vittorio Lamberti (Michael Siberry) and his family—for a three-day holiday. "My first ever," he explains to the Duke, "since the dawn of time." He comes in the guise of the dashing Russian Prince Sirki, and tells Lamberti (his sole confidant) that he hopes to blend in, get a taste of human life, and learn "why do all men fear me / Cling to life so dearly." But Death's got a not-so-hidden agenda: What's really attracted him is Lamberti's moody and passionate daughter Grazia (Jill Paice), who's involved in an accident in the opening moments of the show, but walks away mysteriously unscathed. Death's so taken with her that he can't bring himself to take her, and he spends the remainder of the show reconsidering his decision. Meanwhile, Grazia's retreating more and more from the world of the living—especially her understandably temperamental fiancee, Corrado (Max von Essen)—and gravitating towards this alluring outsider.
But what is it about Death that draws Grazia? The chiseled good looks? The endless capacity for wonder? The irresistible scent of Eternity for Men? The book (by Broadway veterans Thomas Meehan and Peter Stone) leaves this a little mysterious, as does the original play. We initially meet her as a woman who lives every moment as if it's her last (her motto: "To live, and to die, too, while following your heart"), but after her initial brush with the Infinite, we barely see her: She disappears into the show's foggy recesses, as unattainable as Annabel Lee. Paice does an excellent thousand-yard-stare, but a woman obsessed with Oblivion is almost as difficult to play as, well, a man who's the personification of Death. The oft-charming Ovenden bears an eerie resemblance to a scaled-down Schwarzenegger circa The Terminator—the more soulful his singing, the more cybernetic his expressions. His primary mode is a Pinocchio-like giddiness: He wants to be a real boy! When these two get together, there's no one on stage left to identify with. It's like watching a pair of robots fall in love. Both of these characters are, in the end, entirely self-involved, and our empathy for their high-concept plight is, as a result, severely limited. There's little that director Doug Hughes can do with this—it's been in the cards since the paint dried on this play, nearly a hundred years ago. Hughes hasn't directed a lot of musicals (I don't see any on his New York resume), and in this one there's a lot of standing around, standing in lines, delivering recitative directly to the audience. But then, that's more or less how the show's written: a lot of standing around, nervous drinking, and over-describing.
Meanwhile, the lush swells of Yeston's music rise and fall beneath us, breaking the calm surface every so often, like whale flukes. The composer of Titanic and (the other) Phantom knows a thing or two about the gothic, the romantic, and heroic head-on collisions with Fate. (And he's not afraid to wade boldly into the obvious to meet it: "What is that darkness I see ahead?" Corrado sings, and the cast answers,"Some kind of darkness I see ahead!") I admire Yeston's commitment to large-canvas ambition in an age of general musical penury, but his lyrics are (forgive me) deadly. Duchess Lamberti (Rebecca Luker) on her late, lamented son, Roberto: "He sat at his window / Stared at the moon / Wrote in his diary / Played bassoon." Really? "Played bassoon"? Not "ate a prune"? Or "Re-read Dune"? Because those options sound equally uneuphonious and just as vaguely silly. Yeston's lyrics always sound merely functional to me, indifferent little marzipan ornaments on his endless ribbons of lush musical frosting. He's got a bad habit of recapping what we've already seen, experienced or intuited, instead of using music to deepen the psychological breakthroughs of the book. (At least one song should've been titled "Previously on Death Takes a Holiday.") Thank goodness for Luker: Even in a modestly sized role, she can sell just about anything: Her "Losing Roberto" is a highlight of the second-act, though I'm not certain it would be with anyone else interpreting it. Siberry, who's good in just about everything he does, also ennobles a role that, on the page, consists mostly of sputtering and excuse-making. Matt Cavenaugh shows up in a strange, dangly role that movie nerds generally call "Captain Exposition."
One final note on Ovenden: He's no giant; in fact, without the heels of his formidable spats, I doubt he'd find himself at eye-level with Paice. As a vertically challenged man, I'm happy to see a more petite mort: Where's it written that the reaper has to be built like Yao Ming? But I sense I may be in the minority: At intermission, I heard one woman say of Death, "I thought he'd be taller." Famous last words, lady.