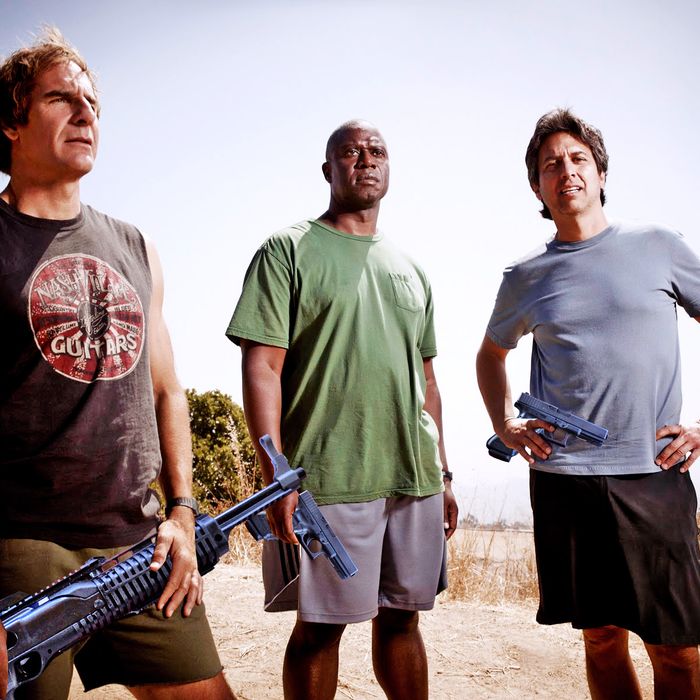 Photo: Mary-Louise Price; Photos: TNT (Men of a Certain Age), KAREN BLEIER/AFP/Getty Images (guns)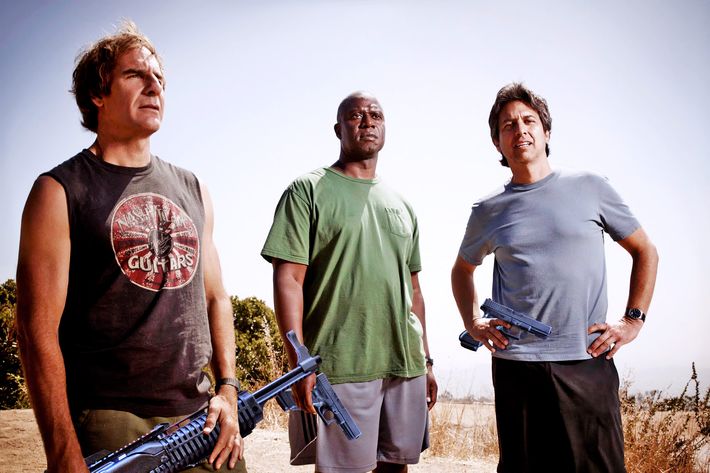 Men of a Certain Age finishes its second season tonight, to the dismay of dozens of viewers. The poorly rated series hasn't been renewed yet for a third season, which is too bad, because the show is terrific. Part of the problem is that the series — a serious, sometimes depressing look at middle age — doesn't quite fit in with TNT's programming ( Franklin & Bash: not very serious!). But that's nothing a little marketing magic can't fix. Herewith, some rebranding strategies that might help the show appeal to more viewers.

Trick TNT Viewers Into Thinking It's a Cop Show
TNT's big shows are The Closer and Rizzoli & Isles. Capture those eyeballs with a tiny bit of trickery: add guns or handcuffs to the posters, and edit a promo from the scene where Ray Romano gets his ass kicked to make it look like he was, oh, undercover or something. (That scene was so sad! But the uninitiated don't need to know that.) You can add some shots of Scott Bakula driving crazily, and anything with Andre Braugher yelling. Ta-da! By the time these people discover that MoaCA is not actually a cop show, they will have become all emotionally invested in the characters and stuff, so they won't even care.
Suggested New Title: Law-Abiding Citizens
Suggested New Tagline: They Know Right From Wrong. Mostly.
Make It Look More Lighthearted
Despite its bright aesthetics and frequent outdoor shots, Men can be pretty bleak. It's hard to rope people in with the promise of "it'll make you think about how your dad thinks about dying," though. So let that part be a special secret you unlock with hours of devoted fandom. Until then, bank on the fact that people want Ray Romano to make them laugh. Use the banter-y stuff in the promos, make the poster look a little bit sexy, and ta-da, Bob's your uncle.
Suggested New Title: Boys Will Be Boys
Suggested New Tagline: Older. Not Wiser.
Consider Networks Other Than TNT
If Men upped its sexuality quotient, it could air on Showtime. (Or they could murder people?) If it were mysterious or gritty, it could be on AMC. Sunny and funny? USA, of course. It wouldn't be completely out of pace with Curb Your Enthusiasm on HBO, plus that would obviate the weird split-season schedule endemic to basic cable. Ideally, though, there'd be a way to program it with FX's Louie in some kind of "experience my middle-aged ennui, but also the power of storytelling" bloc, or with the last gasp of Rescue Me in a stand-up-goes-serious lineup. Men is a weird programming challenge, particularly on TNT, where there's no real companion series for it: Hawthorne, Falling Skies, Franklin & Bash — none of these mesh all that well with the lightly plotted dive into the psyches of three dudes who should really be a lot happier than they are.
Suggested New Title: Man Up (USA), Middle Ages (Showtime), Nice Guys (FX)
Suggested New Tagline: New Network. Same Show. Mostly.