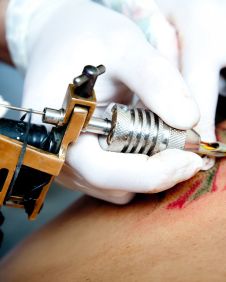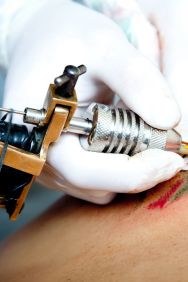 TLC's upcoming Tattoo School, which airs Thursday, chronicles a two-week program that trains tattoo artists — which is several years less training than any reputable artist has. So far, Tattoo School is just a one-off and not a whole series, though it's common on TLC for these specials to work as backdoor pilots. Given the widespread consternation about the show within the tattoo community, it seems like a weird fit for an otherwise pro-ink network. TLC is home to Miami Ink, LA Ink, and now New York Ink; the tattoos people get on those shows aren't always particularly interesting (must everything be a "tribute" tattoo?), but they're all impeccably executed, which is pretty much impossible for someone with two weeks of training. TLC focusing a show on ham-handed newbies and amateurs — uncharitably known as "scratchers" — is like Bravo suddenly launching a series about poor people who get along really well.
TLC says School just shows another side of the tattoo industry. "TLC has had a history of showing a number of different aspects of the tattoo community," a spokesperson told us. "While this method is considered controversial by some tattoo artists, including some on our air, it does exist and we chose to document it. People can come to their own conclusions." Lisa Fasulo, who runs the tattoo school profiled on the show, writes on her blog: "We don't proclaim that students will be masters upon completion [of the course] … We are just laying a safe groundwork."
The gallery of student tattoos is definitely worth a thousand words, particularly if some of those words were, "Ugh, why would you get a tattoo of a toothy pot leaf?" Some of the shading seems competent, and you can't blame the artist if people want a cat with butterfly-wing eyeballs. But by and large, these student tattoos are lousy: They're uneven, the lettering is wobbly, the animals look cracked-out, and the lines are crooked. Getting a shoddy tattoo from a student is not unlike getting a cheapo haircut at a beauty school, or an affordable teeth-cleaning at a dental school: People have to learn somewhere, and maybe you'll luck out and get one of the prodigies. (But probably not.) Maybe Tattoo School does have a useful take-home lesson, though: It's a pretty clear demonstration of why you should go to a pro.