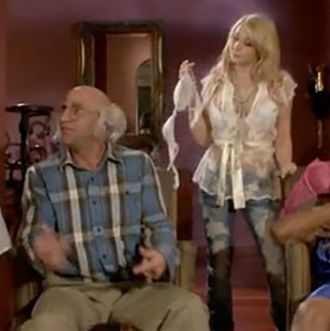 Curb Your Enthusiasm's eighth season premiered last week after a painfully long 20-month hiatus, and what better way to celebrate its triumphant return than by reviewing a porn parody of a show with basically no sexual figures? What could possibly go wrong?
This Ain't Curb Your Enthusiasm XXX is the first porn parody I've reviewed under the Hustler name, which means no Lee Roy Myers, no James Deen, no Ashlynn Brooke, and worst of all, no Evan Stone's giant dong (a single tear drips down my cheek). Watching it, I suddenly felt like an outsider at a party I invited myself to. And this party was full of really, really fake boobs.
This Ain't Curb starts with an odd sequence where, as "Larry" waits for her downstairs, "Cheryl" slowly puts on lingerie as circus-y music plays. I began to worry that Hustler did not know what the word "parody" meant. Also, apparently there is only one wig store in Hollywood, and it's terrible. I'm not saying someone should burn it down, but here's a million matches and someone please burn it down.
After Cheryl comes downstairs, she and Larry (Barry Scott, whose natural speech patterns just happen to sound similar to Larry David's) head out to dinner. In their absence, Leon invites a girl over and has sex with her. "Leon," by the way, sounds nothing like JB Smoove, has a mustache and goatee, and looks alarmingly like Montel Williams. So there's that.
The scene between Leon and Random Girl (Courtney Cummz, sigh) feels, at times, like a parody of a sex scene. At one point, RG is blowing Leon so fast that it's flat-out comical. This is how conservative people who don't watch porn imagine porn — a well-endowed black guy telling a girl with a tramp stamp and a clitoral piercing that she's "off the chain" as she goes Tasmanian Devil on his junk.
From here we cut to Larry and Cheryl's double date with "Jeff" and "Susie." Jeff is slightly overweight and Susie looks like this (NSFW but hilarious), so needless to say they took some liberties with the casting. While the ladies are in the bathroom, "Funkhouser" stops by (a vaguely accurate impression by Otto Bauer) with a story about his doctor's new nurse. Flashback time!
The nurse in this scene (Bobbi Starr) is so cute and normal-looking (she reminded me of Ginnifer Goodwin) that I felt like an uncomfortable dad watching her get plowed. That being said, amongst this veritable freakshow of plastic-boobed, tattooed, pierced ladies of the night, she was a breath of fresh air. She also gave what seemed (to me) like a fantastic blowjob. My only complaints are with Funkhouser, who a) wore a wedding ring (gross) and b) apparently has a tattoo of a fart on his chest.
Meanwhile, Larry and Cheryl have headed home from their date, and arrive just in time to catch Leon and Random Girl in the act. Larry, now horny, tries to put the moves on Cheryl, but when she turns him down, he gives her a super creepy look (pictured) that we soon find out is what Barry Scott thinks "getting an idea" looks like.
Larry then pretends to be suffering from a "groin injury" (more like groan injury guys), and gets an appointment with Funkhouser's doctor. He clumsily hits on the nurse, who kicks him out in a gratuitously ass-less gown. Larry goes to Jeff's house looking for clothes, but Susie tells him "get the fuck out of my house you nasty son of a bitch nasty cunt whore." These writers are so good, that is TOTALLY something Susie would say.
Larry heads home with his tail between his legs and tries to sneak in, but Susie already called Cheryl and she knows everything. Larry is "cut off", and Susie will punish Jeff in her own way.
Cut to Susie MAJORLY DOMMED OUT and WHIPPING A NAKED JEFF'S ASS! Did not expect that one. While this scene is not an inaccurate sexual representation of Susie and Jeff's relationship, the whole thing made me feel as awkward as Jeff looked. Also at one point mid-BJ Susie slurped up a string of saliva like spaghetti and ew I can't talk about this anymore bye.
Back at Larry's, Leon offers to call up a couple girls to make Larry feel better. He promises they'll just get lap dances, so it's not cheating. Sure, that logic makes sense! Larry's in. Meanwhile, Jeff tells Cheryl and Susie that the nurse turned out to be nuts, causing Susie to say "Maybe Larry was telling the truth." and Cheryl to say "I guess I should make it up to him."
Which caused ME to say "what the fuck are you talking about?! What truth, that he had a groin injury? Why does the nurse being nuts make Larry's groin injury real?!" This story makes no sense! Luckily, just as we start to realize this, there's more sex to distract us.
Leon has called two girls to come over, and surprise, they're not just going to give Larry and Leon lap dances, first they're going to "give them a show." This scene is solid, although at this point I'm starting to miss boobs that move. The girls finish up and start giving the aforementioned lap dances, right as Cheryl walks in. Oh man, Larry's about to get in so much trouble!!!
Orrrr Cheryl won't care at all for some reason and will instead take him upstairs and have sex with him. Because that's how the world works. This last scene starts off horribly, mostly because Larry's face and ridiculous wig are in frame. Not to mention, there's an earlier plot point where Larry cuts himself shaving and is wearing a tiny band-aid below his lip, and while he's going down on Cheryl the band-aid starts falling off. Which is maybe the grossest thing I could ever imagine happening during a sex scene. Also it seems like an unnecessary plot point, so now I'm just worrying that Barry Scott has oral herpes.
As soon as they can frame out Larry's head, the scene picks up considerably. It's actually pretty enjoyable. The best part is Cheryl's opening line: "You know, everyone wonders why I'm with you. They say 'he's stupid, he argues with everyone, it's just ridiculous.' But what they don't know is you have a nice, big cock." Which I can easily see being someone in the porn industry's assumption upon watching the show.
Then, just as the credits begin to roll, we hear Larry's V.O.: "I pulled my groin muscle!" Sweet, sweet Curb Your Enthusiasm-style irony.
All in all, this porn parody sucked. I really hated the Susie character, who was aggressively more mean-spirited than her show counterpart, and while the plot had some excellent Curb-ish elements (awkward encounters, inconvenient timing, so on), the story BARELY made sense. Plus, most of the girls (save Bobbi Starr, you angel) were just too porn-y for me. The chemistry constantly felt fake. I hate to say it Hustler, but in the porn parody genre, you're being beaten at your own game, and it's a Courtney Cummz-speed beating.
Sarah Schneider has written for Saturday Night Live and CollegeHumor. She enjoys comedy and porn, not necessarily in that order (in that order).