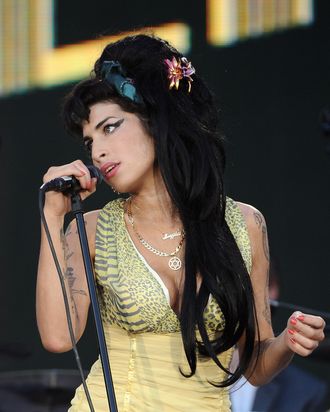 Photo: Carlos Alvarez/2008 Getty Images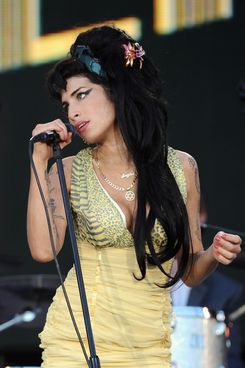 While the police investigation into Amy Winehouse's death is still ongoing, many observers have already turned their attention to the possibility of posthumous material from the troubled young singer. That a third album — following her 2003 debut, Frank, and her 2006 breakthrough Back to Black — will at some point be released seems like a forgone conclusion. The question, then, is whether it will be cobbled together from scraps, or built upon a solid backlog of material that Winehouse recorded before she died.
Roughly a year ago today, Winehouse spoke out about the the album, saying it was due in January and that "it's going to be very much the same as my second album, where there's a lot of jukebox stuff and the songs that are … just jukebox, really." That material never surfaced, of course. (Soon after, Winehouse's relationship with Mark Ronson, who helped produced Back to Black, seemed to have soured.) The last few months were all about new stints in rehab and disastrous stints on the road, without any talk of that rumored third album.
No concrete information has emerged since this weekend, although some reports have already confirmed the existence of a third album. The Telegraph says, "Amy Winehouse's unfinished final record is likely to receive a posthumous release," and then quotes some music writers who agree with that general statement. One Winehouse biographer doesn't seem to know how far along in the recording process this album was, adding, "She definitely wanted to come back, but I think after having left it so long that she lost her nerve a bit." Winehouse goddaughter and protégée Dionne Bromfield, however, says she had heard the album, and that it was "very good." In other words: stay tuned for actual information.
Meanwhile, Amy's father Mitch has just this morning addressed the media and fans assembled outside of the Winehouse home, saying, "I know a lot of you, we've been together for five or six years and I know you've got a job to do. I'm glad you're all here anyway. And as to you people in the street, I can't tell you what this means to us. It really is making this a lot easier. We're devastated and I am speechless. Amy was about one thing and that was love. He whole life was devoted to her family and friends and to you guys as well."