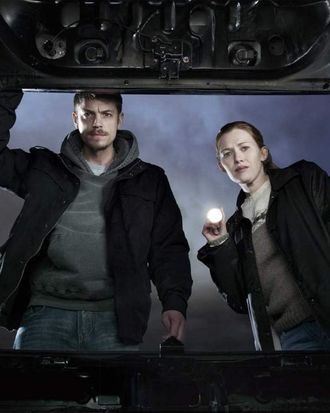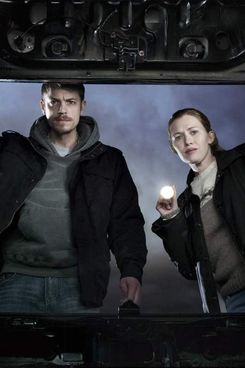 As Vulture pointed out earlier today, The Killing nabbed multiple Emmy nominations this morning, including an Outstanding Lead Actress nod for Mireille Enos, who plays detective Sarah Linden, and an Outstanding Supporting Actress nod for Michelle Forbes, who plays Mitch Larsen. Other than the goodwill and cheer presumably currently being spread in the Enos and Forbes households, the great thing about these nominations is that they give reporters a whole new reason to call up The Killing actors and get them to defend their show since that infamous ending. So: whose defense is best?
Mireille Enos feels vindicated. To the New York Times:
"I was really happy with the end of the season. I thought it was really smart television and smart storytelling to create a cliffhanger like that." The strong reactions to the finale, positive as well as negative, "just speak volumes to how the show has gotten under people's skin," she said, adding: "I wasn't worried for one second that it would have influence on these awards and certainly not on my portrayal. I thought people could probably keep that real separate.
Michelle Forbes doesn't try too hard. To Awards Tracker:
I was quite aware of the backlash, but I tried to stay out of the fray. Am I sounding like a politician?
Joel Kinnaman, a.k.a. Homeboy Stephen Holder, wasn't even nominated, but he got in on the action too. To Show Tracker:
People expect closure and when they don't get it, there's going to be frustration. I anticipated some of that. But not to this extent … Maybe some people are so … off where they say they're not going to watch it. But two episodes in they're going to listen to the people who are tuning in and come back.
Also:
Joel Kinnaman, a.k.a. Homeboy Stephen Holder, wasn't even nominated, but he got in on the action too. To Show Tracker:
There were a couple of people who came up to me so disturbed. And I was like, 'You realize it's not your daughter that was murdered?'
Not your daughter! Good one, Joel. Killing it, even off-screen. But wait. There's one more. An oldie, but a goodie. Take it away, Killing showrunner Veena Sud:
Either it's a left brain journey where you're just connecting the dots of who the suspects are or it's more of a holistic journey where a young girl is murdered these are the potential suspects and this is why.
Holistic journey! So good! And that's the ballgame. Thanks for playing, everyone.