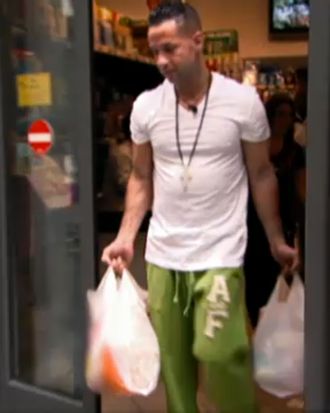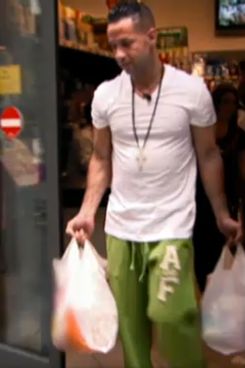 Abercrombie & Fitch has certainly allowed itself to drift a long way from its preppy roots over the years, but the mall staple is now claiming Mike Sorrentino is where they draw the line. In a Tuesday-night press release titled "A Win-Win Situation," the clothing company offered Jersey's most/least favorite son "substantial payment" to stop doing things in public while wearing its products:



"We understand that the show is for entertainment purposes, but believe this association is contrary to the aspirational nature of our brand, and may be distressing to many of our fans.
The letter's authors added that they were "urgently waiting a response," perhaps forgetting that the brand has addressed "the Situation" directly once before, albeit on much friendlier terms. As Sorrentino himself pointed out to us last summer:
'The Situation' — my name, or my character — is known worldwide now. Abercrombie & Fitch, their most popular shirt, they told me, is 'Fitchuation.' I mean, where did they get that from? Obviously from myself."
So, what's going on here? Some kind of joint PR stunt? Or is A&F just experiencing the shame and regret countless grenades have felt upon waking up at 1209 Ocean Terrace after an epic night at Karma and realizing what, exactly, it means to sign a release form?
Abercrombie and Fitch Offers to Pay 'The Situation' To Stop Wearing Its Clothes [Speakeasy/WSJ]
Related Links
Jersey Shore Recaps
The Many Faces of Snooki
Why the Cast of Jersey Shore Is the Most Articulate on TV
Jersey Shore Premieres to Huge Ratings
Jersey Shore Fashion Recap: Waist Belts, So-Five-Years-Ago Headbands, Minimalism, and More
Watch Jersey Shore's Season in Poop