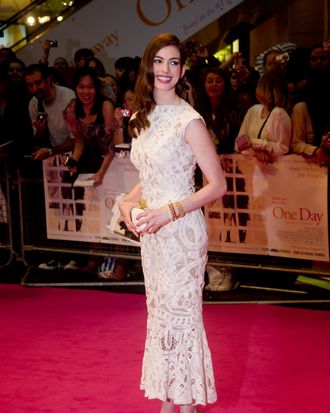 Photo: Ian Gavan/2011 Getty Images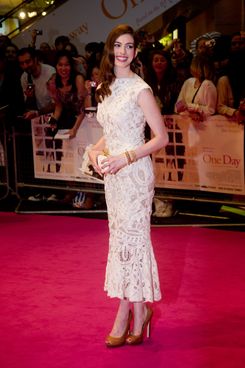 Whether you're a fan of hers or a detractor, there is one incontrovertible fact about Anne Hathaway everyone should be able to agree on: The girl is good at taking criticism on the chin. When people told her that she emceed the worst Oscars ever, she put on a brave smile and admitted that she'd never host again to the Today show. When James Franco called her an overenergetic cartoon character, she politely suggested to him "that a whirling dervish is a more flattering comparison than a Tasmanian devil." And when Batman fans carped about the look of her new Catwoman costume, she had a friend e-mail her the most withering online criticism. We know that Hathaway can take it … but even so, we were unprepared for the following story.
Writer Pamela Ribon used to be a television recapper for the site Mighty Big TV, and her first gig was recapping a 1999 Fox dramedy called Get Real, which starred then-fledgling actors Jesse Eisenberg and Hathaway as siblings (something that would seem creepy later, when they were cast as birds who need to fuck each other in Rio). As Ribon recalled this week, she was pretty brutal in her recaps, singling Hathaway out for particular scorn: She once noted that Hathaway's hair was her only acting tool, and the ensuing sitewide vitriol pushed Hathaway's character to a win over Dawson Leery in a Mighty Big TV poll about the most annoying person on TV.
Eventually, she got an e-mail from an aggrieved insider close to the show who told Ribon to lay off a little, since everyone involved was trying their best to make good television. Then they kept e-mailing.
He said he couldn't tell me his name, but he wanted me to know that as the show progressed, he was starting to get just as frustrated as I was. That things weren't going in the direction they'd hoped, and there were pressures from all sides for things to change. Then he told me about the day one of the actors looked up from his script and shouted, "I can't say this. Pamie will kill us!" …
Just after the cancellation was announced, I got an email from my insider, letting me know that he was going to send me copies of the final two unaired episodes, just so I could have a full set of recaps. I found that to be very nice. He asked me not to say how or where I got them when I posted them, and that he was doing it in appreciation of the relationship we'd formed over the time I'd been recapping the show. He also warned me that they weren't very good.
The episodes arrived, I recapped them, and I sent a final thank you email to my insider. He wrote back, saying not to worry about all the kids on the show, that they were all set out for rather promising careers. That Jesse Eisenberg had things on the horizon that would make him come out from under the shadow of being known as "The Pepsi Girl's brother." Eric Christian Olsen was set to star in a sequel to Dumb and Dumber. And the young, talented, beautiful Anne Hathaway was off to Vassar, but had several promising offers to mull over while she worked on her studies.
"And off the record," my insider concluded, "I'm her father."
Boom? Boom. And yet, it gets better/worse: Months later, Hathaway's incredibly forgiving father e-mailed Ribon to ask if she'd written any screenplays, and when the recapper said no, he replied, "That's too bad. Because Disney's looking for something to do with Annie, and I thought of you."
So that's kind of a big Hathaway family puzzle piece, no?
Tales from the Accidental Asshole: The TV Critic [Pamie.com]