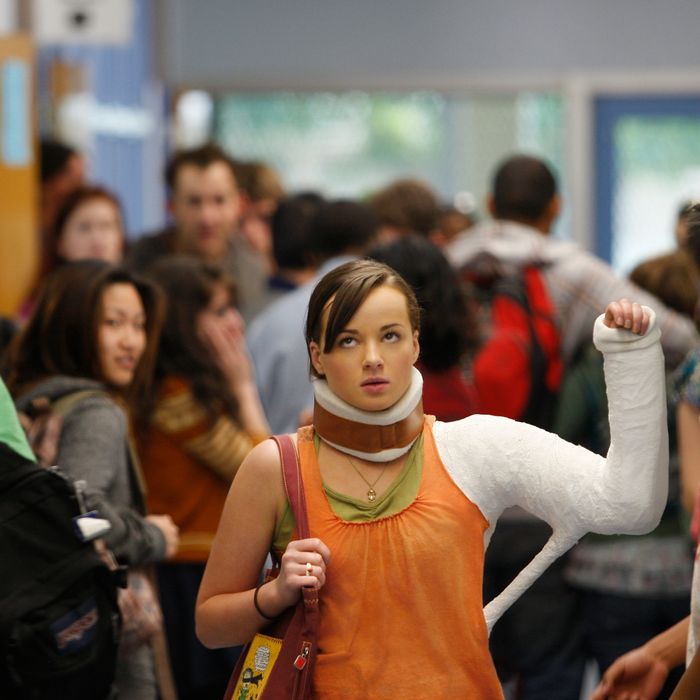 Photo: ELISABETH CAREN/?ELISABETH CAREN 2010 ALL RIGHTS RESERVED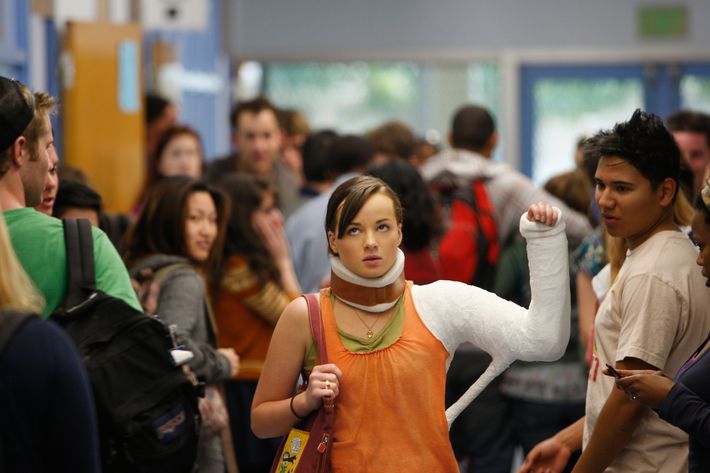 Consider MTV's four most recent experiments in scripted television: an Apatowian show about a neurotic geek with a remarkably large penis; a British import about seriously delinquent kids who hoover lines of anything while stealing cars, sleeping with teachers, and having nervous breakdowns; a Twilight-y remake of the Michael J. Fox cult classic Teen Wolf; and a zippy comedy about a misfit girl and her blog. Now pick the two you'd expect to succeed on the network that Jersey Shore (re)built. Is the show about the blog on your list? No?

But Awkward., the aforementioned "show about a blog," is MTV's best scripted show,* and, along with Teen Wolf, but unlike the canceled Skins and The Hard Times of R.J. Berger, it will return next year. If at first Awkward., with its confessional voice-overs and cheesy Facebook updates, seemed like it might be too earnest for MTV — why watch a timid-but-pretty girl try to conquer high school when you can watch a gang of stoned-but-pretty teens trash the high school, then go to a rave, then almost die, and then do it again? — it's thrived because it understands the real secret of teen television: When it comes to actual teenagers, there's no such thing as "too earnest." Teenagers, as you may recall from being one, have a lot of feelings, and they're desperate to share them. We, as adults who watch teen shows, are desperate to remember them. And so Awkward., a teen show that traffics in emotions (if also some misbehavior), has outperformed shows that exploit drugs and oversize boners.
Here's a synopsis of the feelings the main character goes through in the first seven minutes of Awkward.: Jenna Hamilton, the wallflower heroine, is 15 and recently — secretly! — deflowered by the class hottie (longing, lust, elation, and then humiliation, after he demands the sex be kept on the DL), when she receives an anonymous (confusion) letter urging her to "stop being a pussy" and make herself stand out at school (indignation). The letter leads to a mishap involving a spilled bottle of aspirin, on which she slips, knocking her hair dryer into the tub, and then she falls into the water herself (electric shock). She wakes to find her arm in traction and her parents kneeling at her bedside, convinced she tried to commit suicide. Soon the story is all over school, and Jenna's the freak in a neck brace who tried to kill herself (existential despair).
That this entire sequence is genuinely funny and not at all dark is a credit to Awkward. and its writers. Where R.J. Berger, which relied on the same basic premise (awkward outsider with physical deformity in hierarchical teen society), would have used eighteen lewd sex puns and a rant on better methods of self-harm, Awkward. limits itself to a "backdoor" reference and a self-deprecating voice-over by Jenna. Her inner monologue may not match the poetry of Angela Chase (Jenna's blog is titled, no joke, "That Girl Daily"), but it has a quick, Seth Cohen–level wit to counter the technique's moonier tendencies.
If Awkward. has heart where R.J. Berger had knowingness, it also has plausible parties where Skins had drug-laced orgies. The kids of Awkward. partake in naughty behavior — there's smoking, drinking, skipping class, having sex behind Dumpsters, spreading STDs in hot tubs, and texting topless photos of Jenna around school — but unlike in the U.S. version of Skins, it's not provocative at the expense of being believable. On Awkward., partying is window dressing, not the main event.
Awkward. hits all the right notes in terms of tone and respectably edgy content, but what it really nails is teenage longing, in all its embarrassment. Jenna is a girl who likes a boy. Sure, she regularly demonstrates a refreshing amount of backbone for a modern 15-year-old — she charges onto pep rally stages in a neck brace, barges into exclusive parties uninvited, and, most boldly, actually corners the class hottie for that much-dreaded, seldom-attempted DTR — but she still has a debilitating crush (on that same hottie). Awkward. re-creates this common, if momentous, experience honestly. When Jenna logs on to her Facebook-like site to post a status message about "needing a hero," it's cheesy, cringe-inducing, and exactly the sort of excruciating public gesture a 15-year-old would make. It's exactly the sort of moment Awkward. is full of.

*Corrected to show that this season of Awkward. is not six episodes long. It's twelve, and the finale will air on October 4.