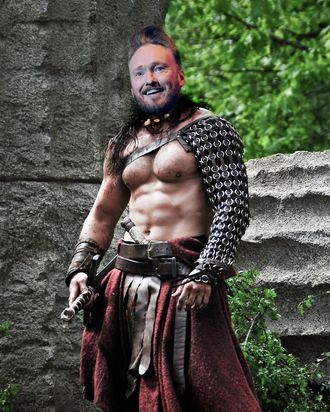 Photo: Mary-Louise Price; Photos: Jason Merritt/Getty Images for Malaria No More; Lionsgate/GUY ROLAND - guyrolando@gmail.com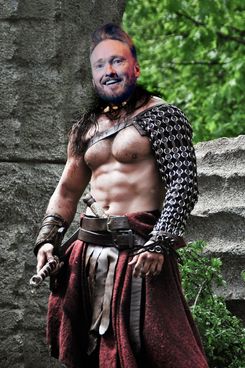 Conan O'Brien has previously explained that, as a youth, he was regularly teased for having the same name as Conan the Barbarian. This was particularly hurtful not only because little Conan O'Brien was being compared to a not-at-all-little barbarian played by Arnold Schwarzenegger, but because when Conan O'Brien was a kid, the name came in two distinct pronunciations. In the 1982 Schwarzenegger film, the name was pronounced Co-NAN, rather than the way O'Brien says it, CO-nin. But if one is looking for proof that the carrot (top) can be more powerful than the stick, look no further: In the new Conan the Barbarian, out Friday, Co-NAN has now become a CO-nin. Behold.
Here's the trailer for the 1982 movie. Clearly, the Barbarian answers to
"Co-NAN."
Now here's the trailer for the upcoming film. At the 1:48 mark, a woman clearly screams Conan's name and says it "CO-nin"! (In this TV spot, the official movie announcer tries to put a little "A" spin on the last syllable, but the voice saying the name right after does no such thing.)
So what happened? In the near 30 years since Conan the Barbarian was in theaters, it seems O'Brien has become America's preeminent Conan, and the pronunciation of the name has evolved to reflect this development. When we ran this discovery by the reigning Conan, the talk-show host was proud of his new dominance: "Clearly my mythology has overtaken that of Conan the Barbarian," he e-mailed us. "If you notice the close-ups of his pectorals, they are freckled." We will be sure to take a closer look.