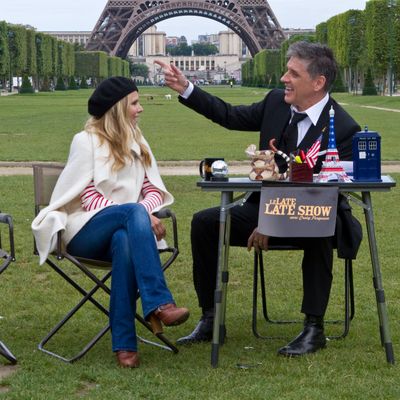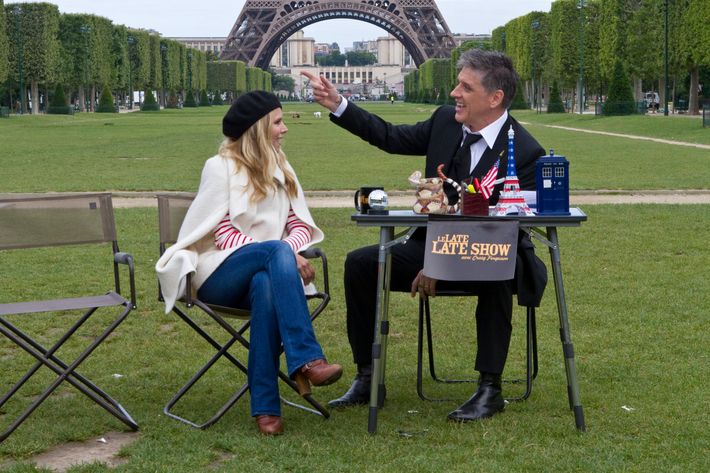 Tonight marks the start of Le Late Late Show Avec Craig Ferguson, a week of Ferguson's post-Letterman show being taped in Paris. The temporary title change isn't just an attempt to be cute (though it is cute!); Ferguson isn't merely importing his usual studio-based show to the City of Lights and subbing out a slightly jaded Los Angeles studio audience for an even more jaded French one. Instead, he's ditching the typical talk-show format (desk, couches, etc.) and presenting episodes filmed on location in and around various Parisian landmarks, including the Louvre and the Moulin Rouge. He'll be joined all week by robot sidekick Geoff, as well as actress Kristen Bell, and guests including Eddie Izzard, Jean Reno, and Christian Louboutin. To help mark the very French occasion, Vulture asked Ferguson what he learned from his time filming in Paris. Yes, mimes and baguettes figure in the answers.
Eight things that Craig Ferguson learned in Paris, in the words of Craig Ferguson:
I learned
… That baguettes are a wonderful complement to the French culinary experience. And that they're also pretty great back-scratchers.
… That it's a myth mimes never speak. They have plenty to say after a
swift kick to the nuts.
… That Paris is the second most romantic city in the world. The most romantic is Tallahassee, because it has the word ass in it.
… That Paris is less than 700 miles away from the Cumbernauld, my hometown. Nobody tells you that growing up. If they did, Cumbernauld would be empty.
… That you can spend a whole week in Paris and only see a tiny fraction of the major sights. But that's because my hotel had "free HBO."
… That you can enjoy a delightful meal at Tour D'Argent with Kristen Bell and Jean Reno, and still skip out early to avoid picking up the check.
… That even though I missed seeing the Tour de France, no one could stop me from wearing bicycle shorts the whole time.
… That if anyone ever suggests it's a great idea to tape a week of shows in the bustling capital of a non-English-speaking country where no one's ever heard of you, they are wrong. Very, very wrong.