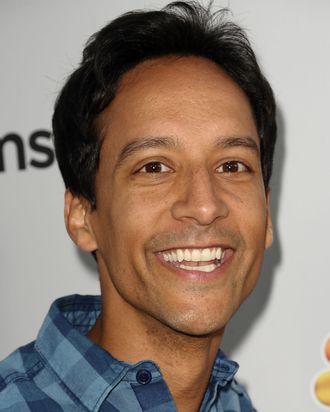 Photo: Jason LaVeris/2011 Jason LaVeris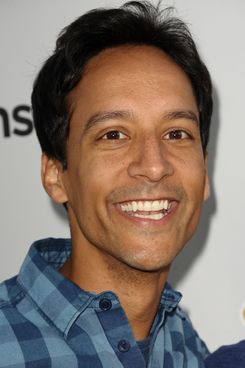 The season finale of Community included plenty of heroics (and a dash of romanticism) on the part of amateur filmmaker Abed (Danny Pudi). He not only got to play (space) cowboy, but he also got the girl, locking lips with Annie in a climactic kiss. As hinted at by Abed's monosyllabic post-smooth reaction ("Cool"), and creator Dan Harmon's interview with Vulture last month, it's unlikely the relationship will burn bright next season. So what will be happening with Abed this fall? One word: cohabitation.
"Troy and Abed are moving in together," Pudi told us Monday night at NBC's swanky TV Critics Association bash at Beverly Hills' the Bazaar by José Andrés. "Abed was reluctant at the end of season one … but this year, they're just going for it. They've gotten to the level where they know they're the only two people who understand each other. And they've got a lot of serious projects to put together. Kickpuncher needs a fourth movie." Pudi says he thinks the new living arrangement will allow fans to find out more about Abed's true personality. "We get to see a little more of Abed's world at home," he says. "Like, I've always wondered: How long does Abed brush his teeth? 43 seconds?"
Then there's the Greendale gang's new biology professor, played by Michael K. Williams (Omar from The Wire). When we asked Pudi how Williams was on set, he reacted with a very serious, very loud, "DUDE!" Pudi then elaborated: "He's a beast. Last year was genre-heavy, and the characters were going on a lot of adventures. Right away with Michael K. Williams, and also John Goodman, there's a lot of intensity, an outside threat. He's a great addition. He doesn't take a lot of bullshit. And it's fun to see a character who doesn't take a lot of bullshit dealing with a group that is all bullshit." Pudi calls Williams's character "this menacing kind of guy. He's charismatic and you're captivated by him. But you're also scared. It's a very interesting dynamic."
Pudi didn't have much intel on upcoming story lines, telling us he tries to stay in the dark about plot twists as much as he can. "I never really know where the show is going to go," he says. "And as an actor I like that, because I just get to react. It's more organic." That's not to say there aren't exceptions: "If we're doing something like the My Dinner With Andre episode, and I've never seen the movie, then yeah, I ask them to tell me in advance," Pudi says.