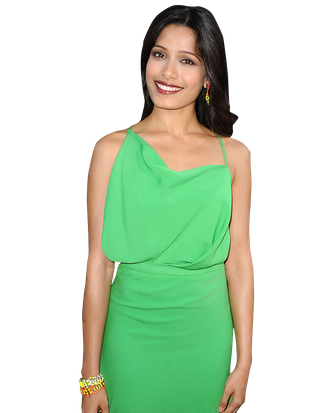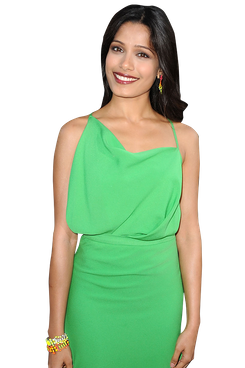 Freida Pinto and Dev Patel both broke out in a big way when Slumdog Millionaire became an Oscar-winning sleeper hit back in 2008, but only Pinto has managed to fully capitalize on the moment: She lined up four new films, including indies with Woody Allen and Julian Schnabel, and quickly became a fashion-magazine staple. Still, did the Mumbai-born beauty choose wisely? This weekend's Rise of the Planet of the Apes will rep her most high-profile film since Slumdog, and while the movie is suddenly riding a wave of good reviews and ecstatic buzz for its motion-capture performance from Andy Serkis, Pinto herself seems overlooked. We decided to put the 26-year-old actress to the test by asking industry insiders one simple question: If Freida Pinto were a stock, would you buy, sell, or hold?
Stock History: Pinto modeled, hosted, and studied acting in India before Slumdog came along. Off of that movie, she booked a supporting role in Woody Allen's You Will Meet a Tall Dark Stranger, then landed a lead in Julian Schnabel's controversial Miral. After Apes, she'll continue her current foray into big-budget pictures with the love interest part in Tarsem Singh's Greek fantasy Immortals, and then she has Jean-Jacques Annaud's Black Gold and Michael Winterbottom's Trishna on tap.
Peers: Hollywood casting directors group her with older peers like Zoe Saldana (33), and Michelle Rodriguez (33), but she's running behind Rosario Dawson (32) and Jessica Alba (30).
Market Value: Yet to be determined. Slumdog was a monster hit that grossed almost $400 million worldwide, but Stranger and Miral both underperformed in limited release.
What Hollywood Thinks: "I haven't seen her do anything but stand there and look gorgeous," said one nonplussed agent we spoke to, while another added, "I don't know how deep her skills are. She was so bad in the trailer for Immortals, and if that's the best they could find, I worry. And as to Apes, people love it, but I don't hear people talking about her in it. She doesn't interest me at all."
"Both she and Dev Patel are good examples of people who were overhyped, and who were all about 'the moment' and not 'the big picture,'" says a top publicist. "They were totally part of the [Fox Searchlight/Slumdog Millionaire] machine. It served the movie, obviously, but I am not so sure it served either of them. If you want to be a movie star, leave 'em wanting more. Instead, she was everywhere with this 'We're so happy just to be here!' thing. There was a kind of sweetness there, but it came across [in the press] as boring and milquetoast."
Though Pinto's biggest movies are yet to come, one manager believes she's already lost some of her Slumdog buzz: "Woody Allen is a great gauge of 'the It factor' with actresses, which is why he put her in You Will Meet a Tall Dark Stranger, but it appears like she was up for all these big roles after Slumdog, and they just never crystallized. She's not really on the hot list anymore."
Still, this manager holds out hope that she might transcend the easy pigeonholing that Hollywood so loves. "The character [of Caroline Aranha in Apes] wasn't written at all for her; in the script, she's not what you'd think of when you see Frieda Pinto, so perhaps she should keep on actively targeting films where there isn't an obvious part for her. Or maybe do something unexpected, like a female comedy."
The Analysis: Pinto is in a tricky place where she'll have to prove she's capable of playing more than an eye-candy love interest — and the even tougher thing is that because of her race, she has to prove herself just to play that love interest, too. Here's how much the odds are stacked against her: At Comic-Con, Pinto mentioned that Singh didn't want to cast an Indian actress as the female lead in Immortals, even though Singh himself is one of Hollywood's few Indian directors.
Still, Pinto managed to convince him, and she's going to have to show Hollywood that she's got that burning desire, too. Like Halle Berry before her, Pinto needs to prove that she has more going on than meets the eye.
"The real question is drive," said the manager. "Does she have the determination? You'd think it would be talent that informs the outcome for clients, but the real factor is almost always, 'How badly do they want it? How hard are they willing to work?' It's almost never just talent or looks. I don't know what her drive is."
"The publicity part is easy for her — you can always put her in a photo shoot in a pretty dress — but the hard part is the material worth writing about," added the publicist. "She needs to prove herself again, because I don't think people think of her as anything other than pretty right now. Look at Charlize Theron and [Nicole] Kidman: They made it a point to push themselves — and their agents — to be thought of differently. So I actually think she needs to do something where you don't look perfect."
One of the agents we spoke to made the Berry comparison even more explicit in his advice to Pinto: "Go do Monster's Ball–y-wood!'
The Bottom Line: Even if Apes and Immortals do well, their success won't likely be attributable to Pinto, and though Miral indicated that she may have some real acting chops, it was underseen and she was only in about half the movie, despite her lead role. To advance to the next rung in Hollywood, Pinto will have to fight for a film that rests solely on her slim shoulders, and then she'll have to deliver.
Buy/Sell/Hold: Sell.