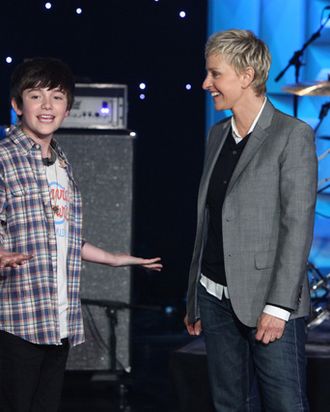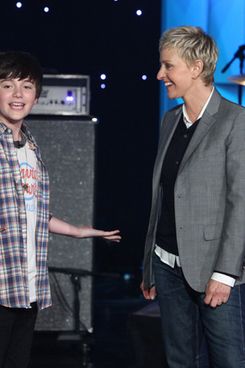 If you're not caught up on your tween-pop news, you might not realize that yesterday marked the release of Hold On Till the Night, the debut album from 14-year-old YouTube star turned legit recording artist Greyson Chance. That you have remained unaware of this release is probably not shocking, unless you spend a lot of time with teenagers or Ellen. But that most preteens seem equally unaware — or at least uninterested — is a bit surprising. Chance, once hailed as the Second Coming of Bieber after his cover of Lady Gaga's "Paparazzi" became a viral sensation, seemed poised to inherit the earnest tween fan base that Justin's so clearly trying to outgrow. He's cute! He actually can sing. And, as the video that made him famous proved, he really can melt junior-high hearts. So why, after 40 million YouTube views and an Ellen-sponsored recording deal, haven't we heard more about Greyson?
One reason might be that Chance started out as an Internet novelty, rather than an aspiring teen musician. Justin Bieber also started on YouTube, but while he gained fans organically, by posting regular videos and reaching out to viewers, Chance's fame exploded immediately: He ended up on Ellen days after his "Paparazzi" went viral, and much like Rebecca Black, he landed a recording contract on the strength of one ridiculously successful video. Meanwhile, his Internet fame was probably bigger with adults, who watched the talent-show video in a fit of junior-high nostalgia, than with the younger kids who might actually consider buying a 14-year-old's pop album.
And about that album: Chance, unlike Rebecca Black, obviously has some musical talent, both as a singer and as a pianist, and successful pop stars have certainly made do with less. But, also unlike Black, he didn't follow up on his Internet breakout hit quickly enough (though, admittedly, if he had gone fast enough, he might have put out something as dreadful as "My Moment"). More problematic, his original songs skew a little adult for a wannabe tween sensation; all mellow, piano-heavy tracks with earnest lyrics and plenty of room for Chance to belt while the rain falls down behind him. "Waiting Outside the Lines," his first single, is a well-executed, if not totally catchy inspiration ballad; "Unfriend You" is an upbeat breakup jam with hilarious and age-appropriate Facebook references. Vulture had high, Phil Collins–related hopes for "Take a Look at Me Now," but it turned out to be another empowerment song with soaring strings, rather than an angsty "Against All Odds" cover. None of these songs would be out of place on a Kelly Clarkson album — in fact, they'd probably sound good on a Kelly album. (Kelly, it's not too late!) But they sound slightly forced and incongruous when sung by a wide-eyed 14-year-old, and they're just not as fun as the song that launched him to stardom. Surely the kids want something peppier to bop around to?
This is the main problem, of course: There's plenty of peppier stuff out there, and it's all still coming from Justin Bieber. To be fair, the Bieber comparisons were sure to set Chance up for relative failure, and his team seems aware of that. His more wholesome, adult-contemporary sound feels like a conscious effort to separate the two. But why settle for a ballad from a sweet 14-year-old when you can jam out to Justin Bieber's undeniably superior "Somebody to Love" one more time? Tween hearts are nothing if not loyal, and they already have an object of eternal devotion in the Biebs. It'll take a lot more than 40 million YouTube views to unseat him.