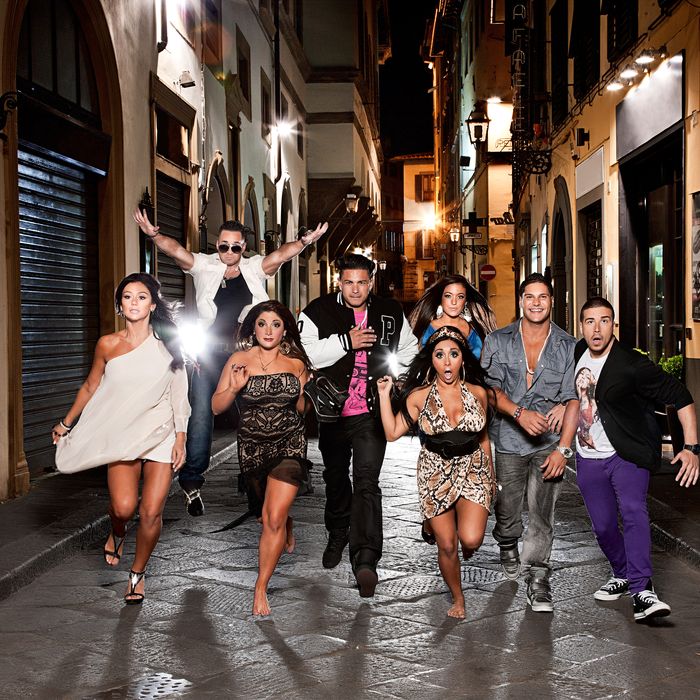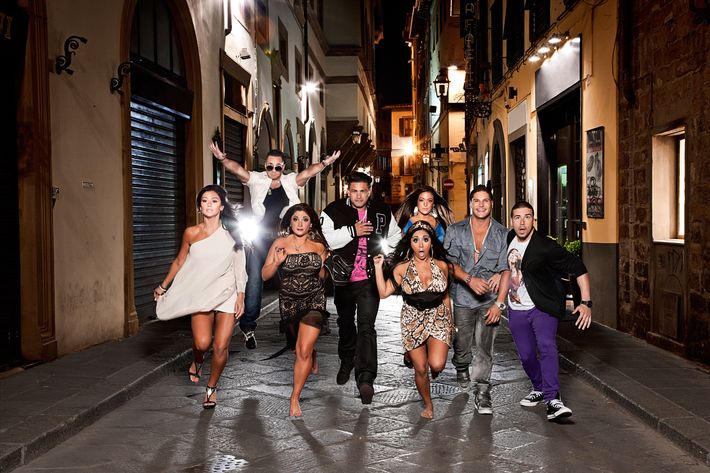 Lifetime's Russian Dolls premieres tonight, and despite being a pretty blah look at Brighton Beach, there is one noteworthy aspect to the show: It's one of the only Jersey Shore imitations to make it to air. Right after Jersey Shore premiered, it seemed like there was no end to the chatter about other incarnations: For Jews! For Koreans! For gay and lesbian Jersey Shore partiers! But a lot of the would-be shows never really had a shot in the first place, says reality casting director Doron Ofir, who cast Jersey Shore, among dozens of other shows. "The way the media works now, anyone with a Gmail account can issue a press release about a 'casting call,'" Ofir says, but networks generally only work with a small group of trusted producers. He gets the appeal, though: "Brilliance always brings out imitation," he says. So what ever happened to those imitations? Let's take a look!
Party Down South
Jersey Shore, but about: Southerners
Casting director Doron Ofir says this one is very much alive. The concept has now been refined to revolve around the Cajun-tinged communities of Louisiana: "When you think party, you think Mardi Gras," Ofir explains. An updated website for the show reveals that Ofir is currently conducting a nationwide search for "ragin' Cajuns" who call "gators your neighbors." PDS was originally planned for Comedy Central, but now looks like it could land on VH1 instead. If you want to "make your Maw Maw and Paw Paw proud," the show is still in casting.
Outlook: Possible.
Lake Shore
Jersey Shore, but about: Torontonians
"We are still in development," says executive producer Marayam Rahimi. The show's site has cast members and bios, and it's almost hard to believe that a show that lists its cast by their ethnicity ("The Jew," "The Vietnamese") didn't immediately land somewhere. "This is not a spoof," insists Rahimi.
Outlook: Unlikely to air, but the YouTube channel has plenty of "webisodes" for your Canadian racial-tension needs.
K-Town
Jersey Shore, but about: Asians
Since word first surfaced about the project in 2010, there's been little public movement. However, producers did cut a new sizzle reel and managed to get Entertainment Tonight's website to post it. That's something!

Yikes.
Outlook: It's been in the works for a very long time, which is a bad sign for a reality show like this.
Under the Boardwalk
Jersey Shore, but about: Jersey's GLBTQ Scene
Producers held several casting calls and talked to some local outlets about the show, but nothing has happened in recent months.
Outlook: Grim. The glut of Jersey-based programming might have passed this one by.
Brooklyn Beach
Jersey Shore, but about: Brooklynites
Producers haven't tweeted about the show in over a year, and the website once dedicated to casting now just redirects to the site for the show's would-be producers.
Outlook: Not happening.
Texas Proud, Lost in Austin
Jersey Shore, but about: Texans
Casting calls went out this spring, but so far, there's been no announcement of
any deals for an actual show (though we did find a casting notice
looking for folks to play the part of "Rich Texan" in Texas Proud.)
Outlook: Not likely. CMT and the Style Network rolled out a bunch of Lone Star programming already this summer, none of which has made much of a splash.
Wicked Summer, a.k.a. Massholes
Jersey Shore, but about: Massachusetts Residents
Wicked was in development at TruTV (not MTV as a lot of people assumed), but Ofir says there's been no progress on it. The company behind Lost in Austin, however, recently
posted a casting notice for The Real Beantown, so a Massachusetts show could theoretically still happen.
Outlook: Unlikely, but possible.
Untitled JAP Project
Jersey Shore, but about: Jews
There hasn't been a peep about a Hailey Glassman–led reality series (remember her? no?) since May 2010.
Outlook: Oy. No.
The Persian Version
Jersey Shore, but about: Persians
Ofir was working on this Shore clone and says he even locked in a cast at one point. "There was a major network involved, but they ultimately shied away from it," he says.
Outlook: Not happening. But at least one network likes the idea of Persian reality stars: Bravo recently green-lit Shahs of Sunset from producer Ryan Seacrest.
Overseas Shore clones have fared a little better, though.
The Only Way Is Essex
Jersey Shore, but about: People in Essex
It's a big hit! Not only does it have its own cute acronym (TOWIE), it beat out Downton Abbey for the BAFTA Audience Award earlier this year. By contrast, MTV didn't even submit Jersey Shore for Emmy consideration. Two seasons have already been produced and a third is on tap for the fall.
Geordie Shore
Jersey Shore, but about: Geordies
MTV U.K. green-lit production of the first official-ish Jersey clone back in January; it debuted in May and— shocker! — was a big hit, scoring record ratings for the British cable channel. After six episodes, the network ordered two more specials in which the cast all travels to Magaluf for some summer clubbing (wonder where they got that idea?). Based on the trailer for the specials, we're kinda bummed we can't watch:
Tamarreide
Jersey Shore, but about: Actual Italian People in Italy
After lots of local controversy, the series launched this summer to big numbers; ratings fell a bit as the weeks went on. No word yet on a second season.