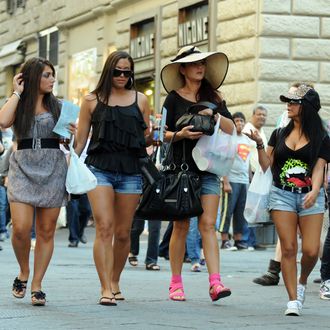 Photo: Jeff Daly/MTV/PictureGroup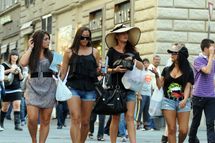 Well, this isn't surprising: Based on preliminary Nielsen data from the nation's biggest TV markets, MTV's Jersey Shore kicked off its new season Thursday with monster ratings. Per our source, Shore attracted an estimated 4.6 rating among adults 18 to 49 and a projected 9.7 million viewers overall, shattering last January's then-record debut. While the actual ratings will go down when final national numbers are released later this afternoon, it seems very likely Thursday's season-four opener will outdraw the season-three premiere, disappointing naysayers who had hoped the Jersey phenom would start cooling down by now. We'll update with final numbers when they come in. [UPDATE]: As expected, final numbers dropped a tad but were still huge.
Per Nielsen and MTV, Thursday's Jersey Shore attracted 8.8 million viewers, up 4 percent from January's bow. 6.5 million of those viewers were between the ages of 12 and 34, the same as season three's premiere.