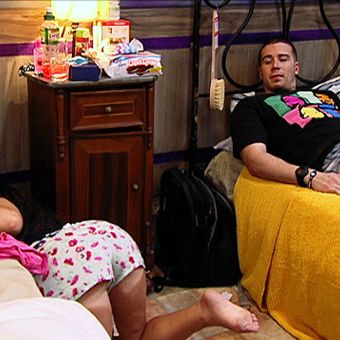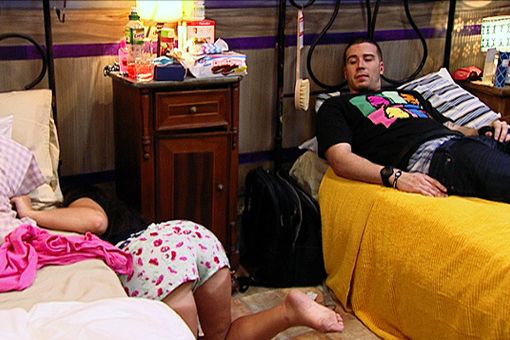 It was nice to see a Deena-centric episode; she seems to be the most "real" of the cast. If cameras weren't there, Deena's days and nights would likely consist of what you've seen of her thus far: drinking, pooping, banging, and falling down. Lots and lots of falling down (we lost count at five tonight). It was an episode that started and ended strong, with lots of fluff and filler in the middle. Just like Deena. Here are the filthy dozen of the week:

1. OH RIGHT, THAT HAPPENED!
The episode begins in the wake of that awful, bitey kiss between PaulyDeena. Pauly's face is the same one you'd make if you were kissing your mother, and your mother were a wet garbage bag filled with Osama Bin Laden's balls. The kiss leads the gang to wonder what it all means: Snooki calmly asks Pauly to "fuck Deena please," which is unusually polite of her. Pauly realizes that having sex with Deena would inevitably lead to her having "some kind of feelings somewhere," those "feelings" of course being a prickly heat and that "somewhere" being her face and/or anus.
2. BY THE END OF THE SEASON, PIERRE WILL BE PLACED SOMEWHERE HORRIBLE
Back at home, Deena falls twice and JWOWW show's her budding maturity by declaring that she'll try not to piss in public. Then we meet this season's version of Snooki's cummy stuffed alligator: a creepy marionette whom the housemates have inexplicably named "Pierre." Deena drunkenly walks Pierre over to the jacuzzi and faceplants into it: Deena seems okay, Pierre is grateful to be just a puppet, never, ever wishing to be a real boy until these eight monsters leave the country. RonRon, meanwhile, calls the mysterious "Hannah" on the phone and offers to have MTV fly her down! Meanwhile, in the most terrifying image of the night, Deena takes off her underwear and stares at Pauly while he fake sleeps. This is all shot in black and white/night vision with a lipstick camera, and the effect is so chilling it makes Paranormal Activity look like The Sisterhood of the Traveling Pants, without the pants.
3. "NICE WINDBREAKER, BRO"
Mark our words: Vinny's hilarious comment to Pauly about his jacket choice will soon be uttered every time a teenage boy farts in front of his friends. The next segment is the cast sort of/kind of pretending to be stupid while they shop in an Italian supermarket. This reminded us of our honeymoon in Turkey, when Melissa tried to ask someone at a store in the Istanbul airport, who didn't speak English, if they sold tampons. Not understanding her, Melissa tried to explain what tampons were: "napkins … for ladies?" Anyway, the gang was confused by the loaves of bread, since they were not clearly marked "Bread."
4. LOST IN TRANSLATION
There's some more time-wasting phony discord over who's going to cook Sunday dinner … the girls don't know how to use the dishwasher and are frightened by Italy's tiny strawberries, which of course turn out to be raspberries. Snooki sleeps all day and then fields a call from her boyfriend, Jionni. By the way, we just realized what's missing this season — the duckphone! We miss it! Why couldn't they dress up the one they have in a fun, Italy-centric way? They could have made it a "Calzphone" … or a "Sylvester Sta-phone." Missed opportunity. Anyway, Mike and his creepy lime green sweatpants continue his contrived romantic pursuit of Snooki, which feels like a blatant attempt at getting more airtime. It's as if MTV were going to cut him out of this season, and he desperately pleaded with them: "What if I try to bang Snooki all year?"
5. IF THERE WERE EVER A PLACE THAT NEEDED AN "EMPLOYEES MUST WASH HANDS" SIGN, IT'S THIS PIZZERIA
The new T-shirt Danny this season is a pizzeria owner named Marco, who informs the gang that they'll be "working" for him. A pizzeria? That's the most interesting place you could have these morons work? Thirty seconds into their "employee orientation," they'd already exhausted the "Snooki likes hot salami" jokes. On the way there, JWOWW has one of the most authentic lines of the night: "I'm going back to sleep after we do this shit." In one of her testimonials, Snooki is wearing a headband that makes her look like a chubby Cher and the Mighty Isis.
6. ASTOR
After they all spend the day trying to make a cup of coffee with predictably boring results, the gang heads out to the aptly named club "Astor," which is fitting since they're going on an AssTour of Florence (Or Rome … or Vatican City … the cast isn't sure). It's important to note that this and every club they've been to thus far looks exactly like Karma and every other bar at the shore. And the gang's behavior follows suit: Mike picks up a Casey Anthony–esque girl from Florida (more on her in a bit) and Ron starts to get all scary/drunk. He announces to nobody that Hannah's flying down in three weeks (thanks, MTV travel!).
7. THE MOOD TURNS/RONNIE IN "RARE" FORM
THIS is what we're talking about; enough unfunny "fish out of water" vignettes — give us the good stuff! When we're watching Jersey Shore, we want to feel tense and nauseous, and finally this episode started to deliver. One of the guys stated that Ronnie was in "rare" form at Astor. Let's see: He's sweaty, he's dancing like a violent weirdo, he's got toilet paper stuck to his face, he showed a stranger his shorn pubis, and it looks as if he could punch a cop any second. That's actually quite common form. On the way home, we get two drunk-walks: JWOWW and Ronnie (he falls, she gives a great look to the camera — maybe she got funny implants during the hiatus?) and Sammi/Deena. She falls AGAIN!
8. THAT GIRL'S POOR PARENTS …
Imagine for a moment you've spent a great deal of money to send your daughter for what you hope is an enriching and enlightening semester abroad in Italy, studying art or whatever. You're out mowing your lawn, and your neighbor says "Hey, Bill, we saw Britney on television last night! Yeah, MTV I think it was." "Really?" you reply, "she didn't tell us — what was she doing? Talking about art or music?" "Not so much, Bill. She was blowing some greasy juicehead named Mike in a room full of camera people before getting sent home in a cab."
9. THE LOVE-CUZZI
Snooki's sleeping all day AGAIN, so she probably has Lyme disease or a parasite. Then a curious thing happens: Vin and Ronnie take a jacuzzi together, but it's unclear whether this is something the producers suggested they do, or something they came up with on their own. Vinny offers to hot-tub nude. The only thing that's strange about this is that if Vinny's going to be Jacuzzi-ing with another guy in the cast, it's got to be Pauly. Vin has zero chemistry with Ron. And speaking of zero chemistry, Mike attempts to sexually assault/cuddle Deena in her bed. For Mike, the first season seems like it was fifteen years ago. Not only does he look horrible and creepy and weird (why is he bringing a cane to bed like Mr. Magoo?), but his spark and personality, the things that as much as his abs and nickname made him a star back in '09, seem to be gone. He seems destined to have a Bob Crane/Auto Focus arc of celebrity, doesn't he?
10. PAULY GIVES DEENA AN "ITALIAN BRACELET"
He does this to apologize for "putting her on blast" about Mike cuddling with her and — holy fuck, what does this all mean and why are we writing this sentence at seven in the morning? Sorry. Anyway, Pauly gives Deena an "Italian Bracelet," which sounds like the way David Carradine died. At the 21 Club, Deena falls AGAIN! and we're treated to a brief but quite awesome dance montage: Vin does the move from Showgirls. Snooki is doing some kind of sidecercize, and JWOWW is doing the Peter Fonda workout. All seems well until … oh … no. Sam … wants to talk … to Ron …
11. "SHE'S TOO YOUNG FOR YOU, BRO"
Anyone else feel like this priceless "bit" between the guys is Foxworthyish in its simplicity and brilliance? No? Vin and Pauly were musing on how to tell if they're chatting up underage girls with several zingers: "If the only DVD she owns is Snow White, she's too young for you bro" … "If she still plays Laser Tag (laser tag?), she's too young for you, bro." We disagree. If someone is still playing laser tag they're likely to be too old for you bro, since they've probably been playing for 25 years.
12) "FUCK ME IN THE ASS WITH A SPIKED BAT"
No thank you, Ron … is that an expression? It's a pretty violent image, but then, so are you. Ron was likening this to getting sucked back into the Sammi craziness. Over balsamic something, Sammi confessed her feelings for Ron, and we can pretty much see where this is going. We don't know who Hannah is yet, but we're quite certain she will get either: (a) punched in the face by Sammi or (b) punched in the beaver by Sammi.
TO SUM UP:
Strong end and beginning punctuated with a lot of dangerous falls. Deena being Deena. We want more of that and less "JWOWW can't make coffee" stuff. Oh! and that scene where Pauly offers his chapstick to a shirtless, sleeping Vin? What exactly was happening there?