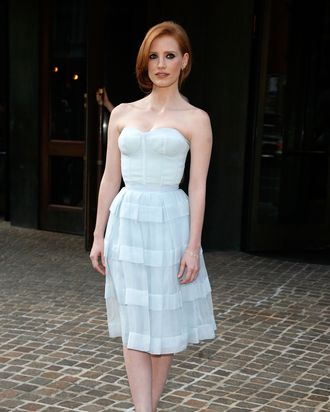 Photo: Andy Kropa/Getty Images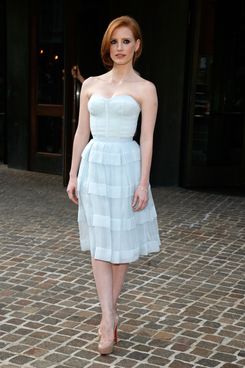 When 2011 is over, Jessica Chastain will have appeared in no fewer than six of the year's films. In addition to the already released Tree of Life and The Help, she's got Take Shelter, Coriolanus, Texas Killing Fields, and The Debt, which will be in theaters at the end of the month. (Not all of these movies were filmed in 2011, or 2010 for that matter.) In The Debt, which co-stars Sam Worthington, Chastain plays the younger version of a Mossad agent who, decades later, is forced to revisit a past mission; the older version of that same agent is played by Helen Mirren. We spoke with Chastain at the Tribeca Grand Hotel after a screening of the film last night about being an "It" girl, Worthington's action-movie advice, and how her Tree of Life co-star Sean Penn must have been misquoted when he said he didn't really get the movie.
John Madden, the director of The Debt, said that he was hoping this was going to be the first of your many films to come out this year, to introduce you to everyone …
[Giggles.] I think every director was thinking he'd be the first! But in a way, it kind of is. I think every role is so different that I'm playing, that every role is kind of the first to introduce me. Like this is my introduction to the action-thriller genre.
So do you feel like an "It" girl?
It's such a compliment, people are saying such nice things, but it's a little scary, because you think, How long is the "It" girl the "It" girl? I'm okay if the title goes away, and I'm just an actress. I want to make sure when I get a role it's because I'm right for the part, and we're part of a team, not because of a buzz thing.
What did you do to prep for the action part of this film?
Oh, I did so much research, krav maga training, I took a German course, I did a lot of research on the Holocaust and the medical research and the atrocities, the Mossad and how it came to be. And I think I was able to carry the weight of the knowledge into my performance. And Sam [Worthington] took it upon himself to be my action coach, and he taught me how to pump my arms like Tom Cruise when I run. A lot of times I see movies with girls in action sequences, and I don't buy it at all, but he helped me make it look really real. Because I'd never been in a fight in my life!
You have another film with Sam coming out, Texas Killing Fields.
Sam and I met on this film, and we now joke that we have a three-picture deal together.
And then next you're doing a full-length version of Andres Muschietti's Mama.
It's really scary! It's like The Ring, or The Orphanage. I'm the biggest chicken ever, and I'm really excited to tackle that genre. I'm going to be a little punk rock, Annabelle is a little punky, definitely more punky than Jessica Chastain!
What else are you going to do to get into character?
Someone had a great idea. I've heard stories of how some actors have little speakers in their ear and get their lines read to them, and I would never do that, because I'm too much of a rehearser, but I was thinking of doing that for my scary scenes when I'm by myself in the woods at night and have them play scary music. Think of the music from The Shining. If you're in the dark, by yourself, and that's in your ear? You don't have to do much. That's terrifying.
Did you see how Sean Penn recently said he didn't fully understand Tree of Life?
I feel like that comment might have been taken out of context, or mistranslated. I've had wonderful conversations with Sean about Tree of Life, and how supportive he is of the film, and how much he loves it. Because he's worked with Terry many times. I think sometimes comments can be twisted a little bit. I wasn't there when he gave that interview, but I know how supportive he was when we were making the film, and how supportive he was after. I was misquoted as saying my weight gain [for The Help] was torture, and I never said that. I was making a joke about wearing a girdle in the heat. That's torture! And then they changed it to say that I meant gaining weight, which is not [torture]. So I'm starting to learn now, things sometimes get misinterpreted.