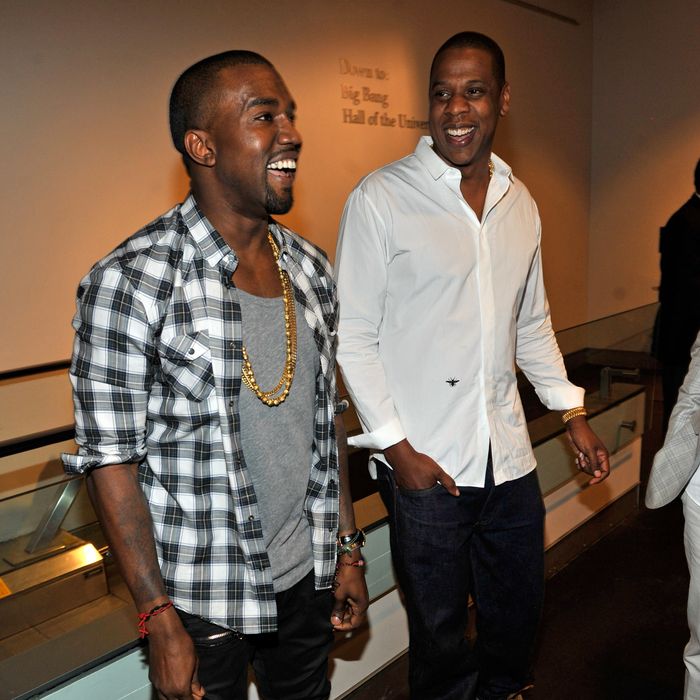 Photo: Kevin Mazur/2011 Kevin Mazur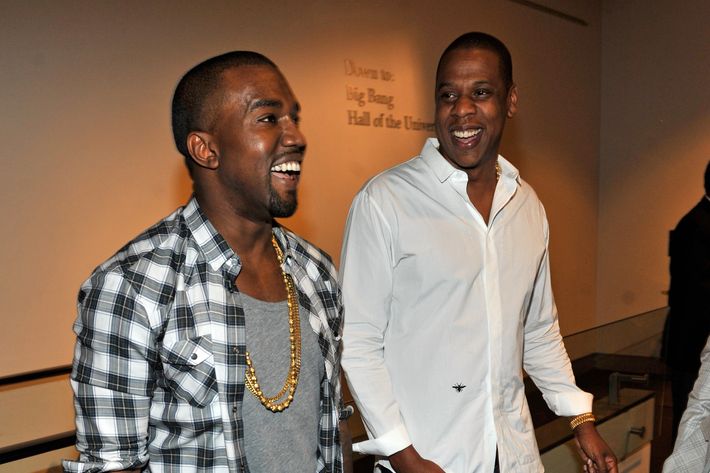 Three years ago, Vulture was at the American Museum of Natural History's One Step Beyond party when Kanye made a bonkers surprise appearance. Last night, Vulture was herded into the AMNH's Hayden Planetarium to hear Kanye and Jay-Z's (sorry, sorry: the Throne's) Watch the Throne. So the point is … um, museums are more fun when Kanye is at them?
Also spicing things up last night: the presence of Busta Rhymes, Pusha-T, Kelly Rowland, Q-Tip, Jada Pinkett Smith, Beyoncé (in jean shorts!), and mini-lobster-rolls. The listening session went down in the planetarium itself, with massive, chest-rattling speakers blasting WTT all the way through while the actual "Journey to the Stars" show played above. In case you're wondering, yes, that is a positive manner in which to experience music! A few spare highlights, then. (And feel free to check out Rap-Up's full track-by-track breakdown for a more detailed analysis.)
• Kanye, who threatened to "choke a South Park writer with a fish stick" on My Beautiful Dark Twisted Fantasy, is still kind of salted at the show. At one point, he says, "South Park had them all laughin.'" Ah, 'Ye, come on, buddy; it wasn't so bad!
• Odd Future's Frank Ocean's two cameos are both great, especially "Sweet Baby Jesus." Even better, surprisingly, is non-famous Kanye protégé Mr. Hudson's appearance on the last track, "Why I Love You," with a massive, totally cheesy, dumb-fun chorus.
• At one point, a snippet from Blades of Glory pops up, from the scene where Will Ferrell is convincing Napoleon Dynamite to figure skate to "My Humps": "No one knows what it means … but it's provocative." Also, as you may recall, Kanye quoted the "like a mix between Fergie and Jesus" line from Step Brothers on "See Me Now." So, just for the record, that's two albums in a row where 'Ye has simultaneously referenced Ferrell and Fergie.
• On the chorus to standout track "Lift Off," Beyoncé sings something along the lines of "we gon' take it to the moon, we gon' take it to the stars"; meanwhile, owing to the effects of the concurrent bit in the planetarium show, it felt like we were actually traveling into the moon and stars.