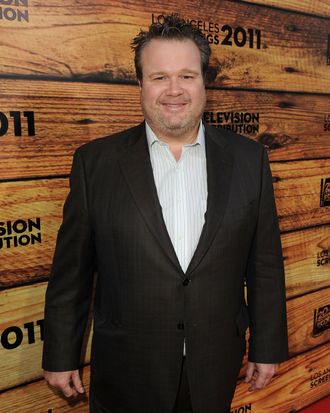 Photo: Kevin Winter/Getty Images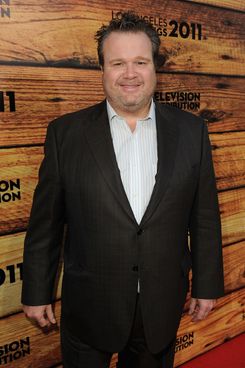 In his pilot for HBO's Boardwalk Empire, Martin Scorsese includes scenes from a Fatty Arbuckle movie in which the legendary silent-film star is seen burying a bottle of booze. Now, Vulture has learned that the pay cable network is planning to devote a lot more air time to Arbuckle and his legacy: Modern Family star Eric Stonestreet is attached to star as Arbuckle in The Day the Laughter Stopped, an HBO Films project in development that is being written by John Adams scribe Kirk Ellis with Barry Levinson attached to direct. The project, based on the book of the same name by David A. Yallop, promises to detail how, virtually overnight, false accusations of rape and murder against Arbuckle transformed one of the most popular and highest paid Hollywood stars into a showbiz pariah.

"He was the biggest and most loved star of the time, bigger than Chaplin, especially with children," Ellis says of Roscoe "Fatty" Arbuckle, who served as a mentor to Chaplin and gave Bob Hope his first break. His rapid, tragic descent began 90 years ago this Labor Day weekend, when the stocky thespian checked into a suite at San Francisco's St. Francis Hotel for what was to be a few days of rest and relaxation between movie shoots. Instead, following a rowdy (for the time) holiday party, Arbuckle found himself being charged with the rape and murder of another hotel guest, actress Virginia Rappe. While he would be acquitted of all the charges against him after three sordid trials, Hollywood didn't care: Arbuckle's career was over. When the charges were filed, Paramount had just wrapped production on three Arbuckle pictures worth, in today's terms, nearly $200 million, but the studio decided it couldn't wait for a verdict and shelved them all. With prohibition in effect, and the tabloid papers of William Randolph Hearst leading a tabloid campaign against Arbuckle, Hollywood decided that if it didn't deal quickly with its Arbuckle problem, the government might act against the industry. "It was the first trial by media of the 20th century … [and] there was a call to clean the place up. Arbuckle became the sacrificial lamb," says Ellis, who hopes to turn in a draft of the script early next year. "They decided to kiss off his career rather than risk the government coming in." Arbuckle was left a broken man, recounts one of the upcoming telefilm's executive producers, Ron West: "He was utterly unable to understand how a world which had so embraced him could turn on him so quickly."
Stonestreet has harbored the idea of one day playing Arbuckle since the late 1990s, well before he shot to fame on Modern Family. "In addition to the fact that I'm from Kansas and he's from Kansas, I just always found it to be such a fascinating and tragic story," Stonestreet told Vulture last week from Wyoming, where he was shooting the MF season premiere. "He went from this jolly person who fell down and entertained people into a sexual deviant. It's a true story people don't know about, with a twist." Over the years, Stonestreet would regularly check in with his reps about various rumors about potential Arbuckle projects: "I kept hoping his story was never made so I could be considered for the chance to play him," he joked. Once MF hit big, things started moving. The actor first met with EP Christine Vachon (Mildred Pierce) in New York, and while the powwow was intended to just be a getting-to-know-you meeting, it led to a discussion of Stonesteet's passion for the Arbuckle story. Vachon said she was interested in the idea; Ellis, who shares management with Stonestreet, was soon courted because of his deep historical knowledge via projects such as John Adams.
Despite having HBO-friendly assets such as Ellis and Vachon on board, Stonestreet decided not to take any chances before pitching the pay cable network on his project. Before meeting with execs there, he asked two well-known makeup-artist friends of his to turn him into Arbuckle via makeup and prosthetics; pictures from that session were then brought to the HBO pitch. "I thought it was important for them to see that I could transform, especially since Cam is such a specific character," Stonestreet says. He says the photos were "an important asset" to convincing HBO: "They saw that I could disappear into character."
While Laughter will revolve around Arbuckle's personal story, those involved say the movie won't be a simple biopic. Instead, the goal is to tell the tale of how America transformed from the exuberance that followed the end of World War I into a more repressive, conservative place during the era of prohibition. The film will also touch on Washington's relationship with Hollywood, as well as the role of media in modern society. Levinson, Vachon, Ellis, Stonestreet, West, Chris Henze and Steve Kavovit will all share exec producer credit on the project. Levinson will produce via his Baltimore Pictures banner, West and Henze through Tagline Pictures and Vachon via Killer Films.