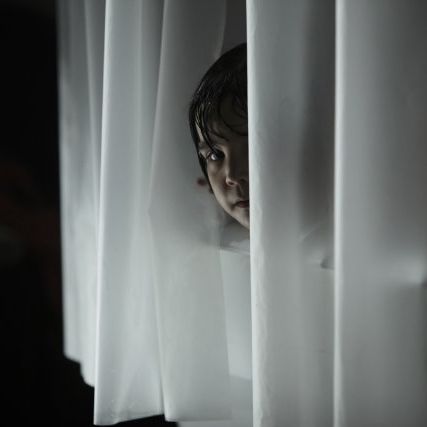 Photo: Carolyn Johns/Miramax Film Corp.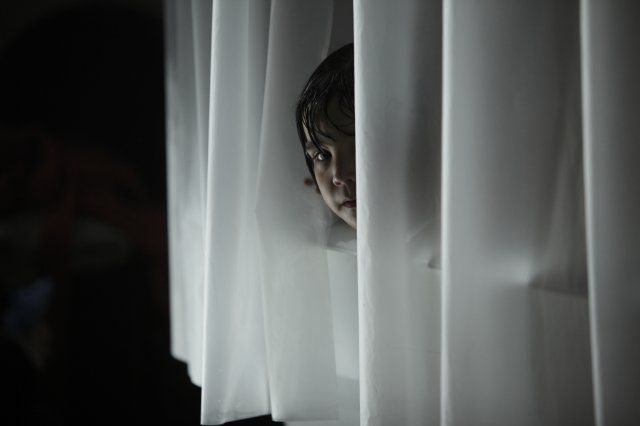 The generic title of Don't Be Afraid of the Dark says much about its contents: It's one of the most forgettable horror movies ever made — far more forgettable than films that are far worse. It's handsome, craftsmanlike, and snoozy, a Gothic exercise that never gets you exercised, full of long tracking shots down dark corridors and deep, from-the-bowels-of-hell rumbles. Shortly after a young girl, Sally (Bailee Madison), moves into the Gothic Blackwood Manor with her emotionally distant architect dad (Guy Pearce) and his dad's young girlfriend (Katie Holmes), she begins to detect signs of demonic little creatures in the basement: clawed, glowing-eyed homunculi that whisper to each other ("Her name is Sally" "Ooooh, Sally," "Nya-ha-ha," etc.) and gnash their teeth and attempt to induce the girl to — I'm not sure. Among the many mysteries is what, apart from general mayhem, the monsters aim to accomplish. I guess that's true of most movie demons, but here you really notice the lack.

The film was initiated by Guillermo Del Toro, whose name (as "presenter") looms so large on the posters that you'd think he directed it. He didn't — the credit goes to comic book writer-illustrator Troy Nixey. But it wouldn't surprise me if he loomed large on set and in the editing room, too (along with Holmes's hubby Tom Cruise, who reportedly offered much input). Del Toro has said that the original made-for-TV movie scared the willies out of him as a kid, and even though I don't remember seeing it, I believe him. Lots of slow-moving, low-budget TV gothics of the seventies scared me. Even Dark Shadows scared me, although mostly because Jonathan Frid could never remember his lines and the pauses were hair-raising. However, having been scared by something when you're small and poor doesn't mean you should remake it when you're big and rich — my hopes for Tim Burton's Dark Shadows notwithstanding.
The prologue involving a maid, a wire strung across the dank cellar steps, and some kind of spike and mallet is pretty gruesome, and it's a good, goofy effect when the camera passes through a grate and plunges down a shaft to the homunculi laying in wait. ("Sally … " "Nya-ha-ha … ") Katie Holmes isn't bad — her lopsided smile reminded me of Drew Barrymore's. Bailee Madison is a good little actress, credibly stricken by her mother's absence and father's non-presence (although Guy Pearce is so vacant here it's hard to believe she's missing out on anything). A scene in which Sally moves through a garden maze might remind you of how much more emotionally invested you were in Del Toro's Pan's Labyrinth. Which suggests that Del Toro had already — perhaps without realizing it — remade Don't Be Afraid of the Dark in a fascist instead of gothic milieu. So this one was forgettable and superfluous.