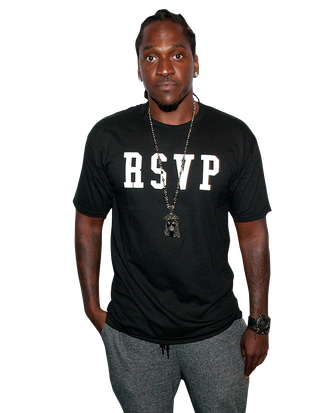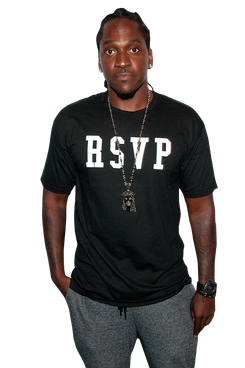 Pusha T first gained attention as one-half of the distinctly voiced, narcotic-loving, usually Neptunes-produced duet Clipse (the other half was his brother, rhymer turned novelist Malice). The pair put out three records, 2002's Lord Willin' , 2006's Hell Hath No Fury, and 2009's not as critically or commercially well-received Til the Casket Drops. Since then Pusha has nailed verses on Kanye West's My Beautiful Dark Twisted Fantasy and teamed up with Odd Future's Tyler, the Creator for "Trouble on My Mind." Pusha's EP Fear Of God: Let Us Pray, which is being released on Kanye's G.O.O.D. label and is an update of a mixtape that came out in March, is due out in September.* We spoke with Pusha about his disagreement with his former labelmate Consequence, working with Kanye, and dressing like a "couture thug."
What are your thoughts on Watch the Throne? I'm assuming you heard the whole thing a while ago.
It is so sophisticated, man. First of all it's already in the upper echelon of rap. It's like, royalty rap — rich rap. It's actually amazing. I used to make records and say "This is gonna be better than that. But I don't know who the hell they were competing with. I couldn't tell you. Maybe themselves? It wasn't any rapper, I will tell you that right now. No rapper has made rap that good — no one rapper has made music or made songs that were this good. Maybe they're competing with Bono.
You've been working with a few younger rappers lately. Do you feel like you can mentor them?
No, I just think the little guys know that I've been around the block a bit. [Big] Sean is always like "Man, I was listening to you and you did this and that … " Cyhi's the same way. They just know that I've been through the game. I offer insight when I can and I listen to those guys as well. Cyhi is really good to me, Sean is really good to me. Tyler, he honestly put a study in of what was going on when I first got into the game with Star Trak, and Pharrell and Chad. In our conversations, he's let me know he studied every ounce of the music that we've put out as a collective.
You've become quite the stylish gentleman over the years.
Before, I was on the streetwear thing, so much so that I have my own line for Play Cloths that's been four years in the making. But since I've been with Ye, it's just sorta been turned up a notch from where I was. Ye's walking around in Phillip Lim all day, [Kanye's manager] Don C. is walking around in Givenchy — the whole crew is really fresh. You know, just being exposed to that and putting your own spin on it is what I try to do. I've always been into high-end, but I just gotta "dope boy" it out. To me, Slick Rick was always in high-end clothes, but he looked like a couture thug. I try to do that.
What's the deal with Consequence? Ever since he was dropped from G.O.O.D. Music, he's accused you of stealing his lyrics and Kanye of stifling him creatively, among other things. Does he have any real reason to be so upset?
I just think it's pretty pathetic, man. It all boils down to royalty, and having certain principles. Nobody maliciously tries to do anything. This is a business, and sometimes things don't work — some artists don't pop. But I don't think you blame the head of that crew for it, especially in a business like this, which is so self-sufficient. It's really unfortunate, but what can you say?
I can understand his frustration, but It's not like he's the only guy who's been dropped from the label.
And might I add this is only one guy [acting this way]. I don't hear anything else about anybody else, and I've seen everybody, from Really D.O.E. (dropped) to GLC (dropped) … I don't understand it at all. And if people really, really knew what I saw, like in Hawaii during the making of My Beautiful Dark Twisted Fantasy, they'd be floored. People don't have a clue how inviting Ye was to everyone to contribute things to the album. I don't even wanna go into it … he was way too inviting. I ain't never been that inviting on my own album. Hell no! But anyone who had something amazing to say had free range to just go out and do it. Whether or not it was up to Ye's standards? Now that's a different thing. But everyone had a shot.
Speaking of Hawaii, I know you got to travel to Abu Dhabi as well to record. See anything interesting over there?
Hell no. Abu Dhabi is so strict — they ain't let you do nothing. After hearing the stories of what you can or can't do to get arrested, I was like "You know what? I'd rather just chill." Abu Dhabi was an experience. It was great that … we got outta there early.
So I noticed Diddy is screaming during the intro of Fear of God. How'd that happen?
There has never been anything in the world better to me than Diddy when he's screaming over the top of a track, like in '95 — that whole Bad Boy mixtape era. I wanted to have that feel for the mixtape. I didn't want to lose the street edge of it. That polish isn't always good to me.
*This posted has been corrected to show that Pusha's EP will be released in three weeks.