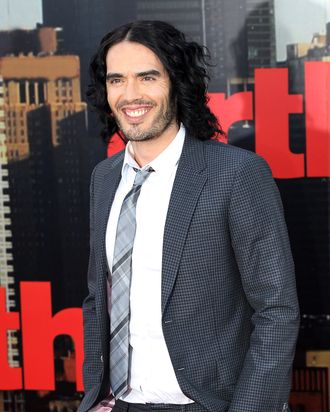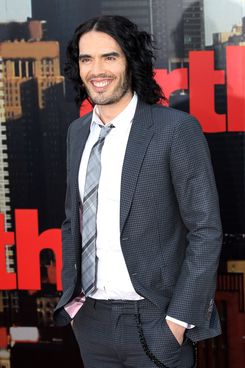 Sometimes, it's a relief to hear from a celebrity who can express himself not just in under 140 characters, but in nearly 1,800 complete words. That's the size of Russell Brand's sprawling new editorial in the Guardian, where the comedian grapples with the questions raised by the U.K. riots, all the while acknowledging, "I don't know enough about politics to ponder a solution and my hands are sticky with blood money from representing corporate interests through film, television and commercials." Still, Brand probes the psyche of the rioters from an unusual place: He's someone who's been there.
I should here admit that I have been arrested for criminal damage for my part in anti-capitalist protest earlier in this decade. I often attended protests and then, in my early 20s, and on drugs, I enjoyed it when the protests lost direction and became chaotic, hostile even. I was intrigued by the anarchist "Black bloc", hooded and masked, as, in retrospect, was their agenda, but was more viscerally affected by the football "casuals" who'd turn up because the veneer of the protest's idealistic objective gave them the perfect opportunity to wreck stuff and have a row with the Old Bill.
That was never my cup of tea though. For one thing, policemen are generally pretty good fighters and second, it registered that the accent they shouted at me with was closer to my own than that of some of those singing about the red flag making the wall of plastic shields between us seem thinner.
I found those protests exciting, yes, because I was young and a bit of a twerp but also, I suppose, because there was a void in me. A lack of direction, a sense that I was not invested in the dominant culture, that government existed not to look after the interests of the people it was elected to represent but the big businesses that they were in bed with.
I felt that, and I had a mum who loved me, a dad who told me that nothing was beyond my reach, an education, a grant from Essex council (to train as an actor of all things!!!) and several charities that gave me money for maintenance. I shudder to think how disenfranchised I would have felt if I had been deprived of that long list of privileges.
That state of deprivation though is, of course, the condition that many of those rioting endure as their unbending reality. No education, a weakened family unit, no money and no way of getting any. JD Sports is probably easier to desecrate if you can't afford what's in there and the few poorly paid jobs there are taken. Amidst the bleakness of this social landscape, squinting all the while in the glare of a culture that radiates ultraviolet consumerism and infrared celebrity. That daily, hourly, incessantly enforces the egregious, deceitful message that you are what you wear, what you drive, what you watch and what you watch it on, in livid, neon pixels. The only light in their lives comes from these luminous corporate messages. No wonder they have their fucking hoods up.
Big Brother isn't watching you [Guardian UK]