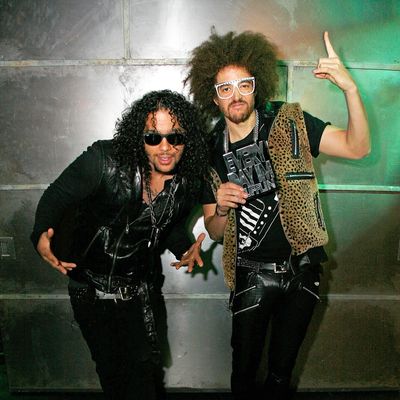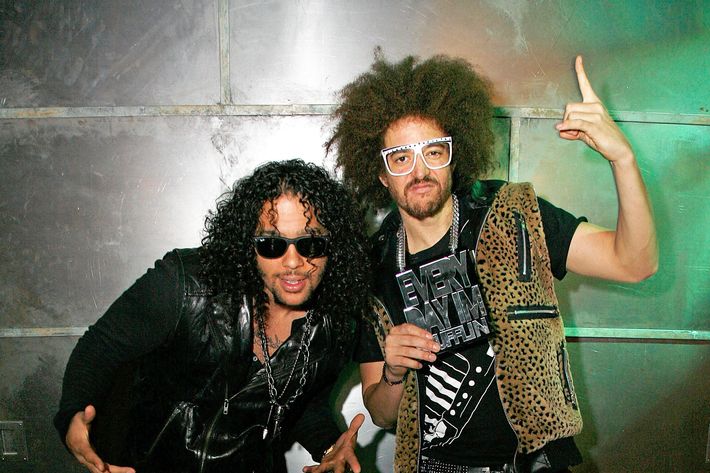 Since Vulture last checked in with the Song of the Summer race, the scene has really heated up. The biggest development of all: Adele's "Rolling in the Deep," a staunch presence at No. 1 on the "Hot 100" throughout most of the sunny season, finally gave up its perch, and Vulture can't pretend not to be happy about it. Not because "Rolling in the Deep" isn't a great track; it is! (Realistically, it will have more longevity than anything else big on the charts this summer.) But if "Rolling" had held on, we would have the jarring presence of a sad SoS, and that just will never feel right. Appropriately, then, the track that's taken its place is the very essence of frothy pop radio nothingness. Congrats, LMFAO's "Party Rock Anthem" — a contrived, effective bit of nonsense about how, because "party rock is in the house tonight," "everybody's gonna have a good time" — you are the song for now.
But that's not all! Katy Perry is one song away from being the first artist to launch five No. 1 singles from the same album since MJ, and her Vulture-approved "Last Friday Night (T.G.I.F.)," at No. 2 on the charts, is nipping at the heels of LMFAO. (The track has already reached No. 1 on the pop charts, giving Perry five No. 1s on that chart, which is a record all on its own.) At this point, it'd be a shame if Perry didn't reach that pinnacle. And, with all due respect to LMFAO, "Party Rock" doesn't seem like it has what it takes to stop the KP machine. Meaning: When this all shakes out, it may still be Katy on top. Just like last year. Oh boy.
A few other chart anomalies: Nicki Minaj's "Super Bass" has quietly snuck up all the way to number three; Lil Wayne's ballad "How to Love" has improbably cracked the top ten; and something or someone called Hot Chelle Rae has the number eight song in the country with a track called "Tonight Tonight" that has nothing to do with Billy Corgan.
Before Vulture leaves you here, one last thing: Kelly Rowland's "Motivation" won't be our Song of the Summer, no — but it deserves some recognition in this space nonetheless. It's notable enough that Rowland shook off the long shadow of Beyoncé and launched her very own radio hit this summer. It's even more notable that she did it with a song about, you know, s-e-x. And it's even more more notable that it's a sex song with, when you really sit down and think about it, such weird lyrics. Let's sit down and think about it:
"Oh lover, don't you dare slow down
Go longer, you can last more rounds
Push harder, you're almost there now
So go lover, make mama proud"
Okay, so here's the primary issue: Kelly, as far as we can tell, is not interested in her own pleasure in this situation. She just wants the dude to "make mama proud" (barf) by "go[ing] longer." It sounds like she's a sexual behavior researcher too involved in her lab trials.
"And when we're done, I don't wanna feel my legs
And when we're done, I just wanna feel your hands all over me, baby"
More in line with traditional sex-song lyrics. She wants to be tired, touched, etc. Fine, fine.
"But you can't stop there, music still playing in the background
And you're almost there
You can do it, I believe in you, baby"
Ahhh! What?!! Everything was going fine! How did we get to motivational speaker/sports movie clichés?!!
"Baby I can be your motivation."
Um, thanks, Kelly.